SYNCHRONIC
Two New Orleans paramedics' lives are ripped apart after they encounter a series of horrific deaths linked to a designer drug with bizarre, otherworldly effects.
2019 | UK|102 mins | Signature Entertainment |Drama, Horror, Sci Fi
Release Date:  29 January 2021
Directors:  Justin Benson, Aaron Moorhead
Starring:  Anthony Mackie, Jamie Dornan, Katie Aselton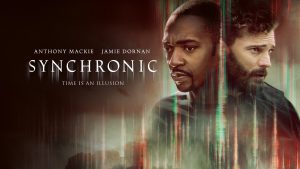 Set in New Orleans, best friends, Steve (Anthony Mackie) and Dennis (Jamie Dornan) are a couple of paramedics who work the nightshift, mainly dealing with hangovers interspersed with long bouts of boredom whilst waiting for any callouts.  However, one night, things change and suddenly they find themselves on high alert, as they are called to a hotel room where one of the inhabitants appears to have died from a venomous snakebite. They are left perplexed, since there is no sign of the snake and how did it get there in the first place?
The strange happenings continue, as they are called out to a house where the inhabitants appear to be in the clutches of a strange substance.
Dennis tends to the casualties, whilst Steve moves through the house looking for something which will make sense of the eerie scene.  All he finds is what appears to be a misshapen antique coin, near one of the bodies.
In the days that follow, they are called out to more bizarre death scenes, all of them as a result of a new designer drug, Synchronic, which induces hallucinations but has not yet been banned.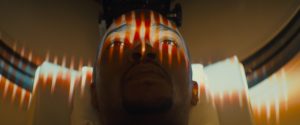 Whilst all this is going on, Steve learns that he has a brain tumour which will more than likely kill him within 6 weeks, if he doesn't seek treatment but when Dennis' daughter, Brianna (Ally Ioannides) suddenly disappears from a party after taking Synchronic, he decides not to tell Dennis what he is going through.  Instead, he makes a point of trying to locate all sources of the drug in town, buying them up in the hope that it will save lives.
Little does he know that he is now the proud owner of a large stash of time travel pills.
Okay, the storyline is far-fetched but that doesn't stop it from being watchable – although I have to say the first 10minutes left me wondering whether or not I wanted to continue with it… but hang in there, gradually it did start to grip me and there are a few scares and shocks along the way.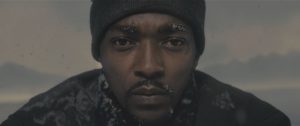 Unfortunately, with screenings cancelled and having to resort to streaming links on a laptop or tablet, it is taking me some time to embrace this mode of viewing films.
I need to feel immersed, which is why I enjoy the big screen – not for me, viewing from the outside looking in, so to speak. It really isn't my cup of tea, but I suppose, needs must.
Anyway, gripes aside, Mackie and Dornan held my attention, but I was a little disappointed with the SFX. 
The highlight for me was Hawking (Steve's dog), who bring some lightness to the film and puts in a very credible performance where his facial expressions (or perhaps they are tics?) are concerned.  Regardless, he should go far!
Joking apart, worth watching but won't 'knock your socks off'!
Twitch Factor:  Zero
THE EXCEPTION (Undtagelsen)
Four women work together at a small NGO in Copenhagen that specialises in genocide. When two of them receive death threats, they suspect a Serbian war criminal; but then they start suspecting and turning against each other.
2019 |Denmark| 115mins |Parkland Entertainment |Thriller (Danish with English subtitles)
Release Date:  22 January 2021 (digital platforms only)
Director:  Jesper W Nielsen

Starring:  Amanda Collin; Sidse Babett Knudsen; Lene Maria Christensen; Danica Curcic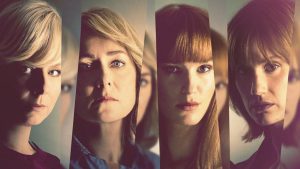 The Exception is based on the 2006 best seller by Christian Jungersen and has been adapted into a screenplay by Christian Torpe.
This moody and atmospheric drama is set in Copenhagen where four female co-workers share an office at a small NGO:   Iben (Danica Curcic), Malene (Amanda Collin), Anne-Lise (Sidse Babett Knudsen) and Camilla (Lene Maria Christensen).
Tension runs quite high in the office where issues of genocide and war criminality are the order of the day.
Anna-Lise is the 'outsider' of the group, who has recently been turned down for a job she really wanted and tries desperately to become part of the group.  When she relays her fears to the office supervisor, they are brought to task which only serves to make them dislike her more.
Camilla has a dark secret concerning a previous affair while Marlene is becoming increasingly bitter over the fact that arthritis is taking its toll on her still youthful body.  Her friend, Iben, is haunted by a past traumatic experience.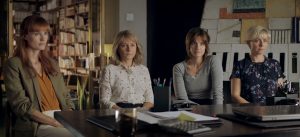 They're currently gathering evidence against a Serbian war criminal and when the former two receive anonymous threatening emails, they immediately suspect that he is behind them.
Paranoia reigns supreme as all four women find themselves confronted by their own dark secrets which threaten to slowly corrupt them and show their own moral failings.
The bullying scenes work well but are disquieting to watch, especially given the fact that it is precisely this sort of behaviour which people are trying to eradicate in everyday life. 
The film is well directed by Jesper W Nielsen and of the four actresses, Danica Curcic's fine performance stands out.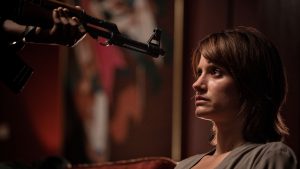 I was left with no empathetic feelings for any of the characters, since they were all as bad as each other i.e. weak and self-indulgent and needed a good slap!  I know, I shouldn't be saying things like that… but there you go.
This is not a film with any happy endings but it is well worth watching, nevertheless.
The Exception will be released across all major UK digital platforms on 22 January 2021 including iTunes, Apple TV, Sky Store, Google Play, Amazon, Virgin, Curzon Home Cinema, & Chili (BT on rental only from 1 February 2021).
Twitch Factor:  Sub Zero


Autor: Liliana Dalla Piana