SUNSET (Napszállta)
In 1913, a woman scours the streets of Budapest, Hungary, to find the brother she never knew she had.
2018 | Artificial Eye | Hungary | 142 mins | Drama | 15 (Hungarian and German with English subtitles)
Release Date:  31 May 2019
Directed by: László Nemes
Starring: Susanne Wuest, Juli Jakab and Levente Molnár.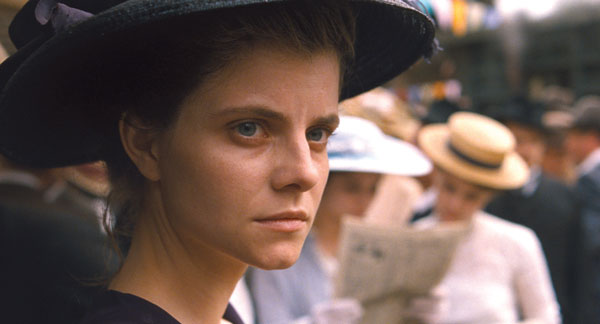 The year is 1913 and Budapest is in the death throes of the Austro-Hungarian empire.
Irisz Leiter (Juli Jakab) is an intense but haunted young woman who has returned to Budapest, intent on finding a job as a milliner at the celebrated Leiter store, which was originally owned by her late parents, who died in a fire on the premises.  After being rebuilt, the store was reopened but still kept the brand name of 'Leiter' and is now being run by a businessman, Oszkár Brill (Vlad Ivanov).
When she turns up at the store unexpectedly, Brill turns her away and instead sends her to spend the night in a seedy house where other store employees live. It is here that she learns that she has a brother, Kálmán, who appears to be a radical, as well as a murderer and a man of mystery, who has not been seen publicly for years. She is told not to seek him out.
But of course, human nature dictates and off she trots. Eventually she finds him, in a compound full of hostile men.  Once again, she is told that it is not a place for her and the warning is clear…
Very well directed by Nemes, using his signature long takes and close-up shots of the lead character's face, where everything else fades into the background.
Mátyás Erdély's cinematography is stunning and uses a bleached-out effect, with sepia overtones to recall the beauty of a bygone age.
Jakab, looking remarkably like Emma Watson (sans makeup) gives a finely nuanced performance as Irisz.  You cannot take your eyes off of her.
Down 2,016 this week
View rank on IMDbPro »
It is a very mysterious film and at times downright bizarre, but it is nonetheless, very absorbing.
One not to be missed, even though it could have been cut by 20 minutes.
Twitch Factor:  Sub Zero
* * *
SOMETIMES ALWAYS NEVER (aka Triple Word Score)
A detective fantasy/family drama where a love of words helps a father reconnect with a missing son.
2018 |UK | Hurricane Films | 91mins | Comedy, Drama | 15 
Release Date:  14 June 2019
Directed by:  Carl Hunter
Starring:  Billy Nighy, Sam Riley, Alice Lowe, Jenny Agutter, Tim McInnerny
Alan (Billy Nighy) is a retired stylish tailor from Merseyside who has spent years searching for his missing son, Michael, who stormed out during a game of scrabble, after an argument over the use of the word 'Zo' and its admissibility.
Decades have passed and Alan has never given up his quest, much to the consternation of his younger son, Peter (Sam Riley) who feels that he was always second-best.  He is obsessed with Scrabble and has become a grandmaster and even resorts to hustling – shown to humourous effect, when Alan is contacted by the police to say that a body has turned up which might be his long-lost son.
Peter decides he will travel with his father to identify the body and they book into a B&B for the night where they meet another couple, Arthur (Tim McInnerny) and Margaret (Jenny Agutter) unbeknownst to them, who are also there to identify the body.  To while away the evening, they play a game of Scrabble which, of course, Alan wins and Arthur, being a man, sulks.
The body isn't Michael and they return home where Alan has temporarily ensconced himself with Peter and his wife Sue, (Alice Lowe) and their withdrawn, teenage son, Jack (Louis Healy).  It is there, while playing Scrabble online, that he encounters a virtual opponent whose style is reminiscent of Michael and who deploys the controversial word 'Zo'.  Is Michael trying to contact him?
The film is based on a short story called Triple Word Score, written by the scriptwriter, Frank Cottrel Boyce and it is Carl Hunter's debut and what a beautiful job he has done.  His direction is stylistically playful and makes use of back projections, animation, captions on 70s wallpaper and even a cameo from Alexei Sayle, to bind it all together.
Nighy is easy to watch, as usual, with his signature dour delivery, dapper clothes (for the most part) and jaunty walk.  His Liverpool accent could have been better, but Nighy can be forgiven.
Riley is excellent as the long-suffering son and Lowe is perfect as his understanding wife who has more patience and tolerance for his father.
Agutter and McInnerny are superb in their roles and bring some lightness to the film.
A slow-burner, but then gains a little momentum.  It revels in its quirkiness and whimsy, so you do have to be in a certain mood.  Nevertheless, it is well worth watching, for the Scrabble alone.
As an aside, in case you are wondering, the film's title refers to the order in which a jacket should be buttoned-up.
Twitch Factor:  Sub Zero
* * *
GWEN
A dark folk tale set in the hills of Wales during the industrial revolution.
2018 |UK |Bulldog Film Distribution| 84 mins | Drama, History, Horror | 15 
Release Date:  19 July 2019
Directed by:   William McGregor
Starring:   Maxine Peake, Eleanor Worthington-Cox, Richard Harrington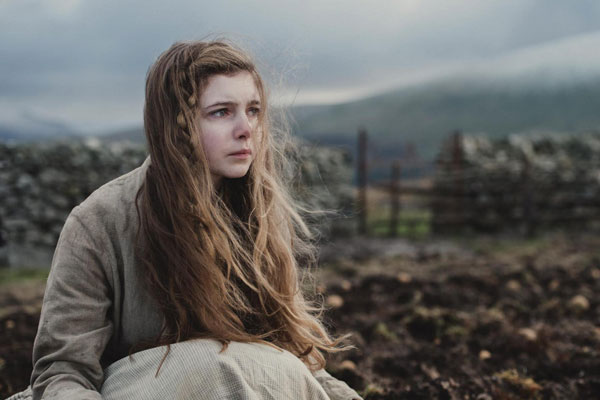 The setting is Snowdonia in North Wales during the mid-19th century and the story is told through the eyes of a spirited teenager, Gwen (Eleanor Worthington-Cox) who lives with her younger sister, Mari (Jodi Innes) and mother, Elen (Maxine Peake) in an austere stone farm cottage.
Elen is a stern disciplinarian who is struggling to conceal her worsening epilepsy from her daughters, while at the same time trying to make ends meet until the safe return of her husband from war.
Meanwhile, Elen is being pressurised to sell the farm to the local quarry so that the land can be mined.  But she remains adamant that she will never sell their home.
Whilst attending chapel, Elen suffers another fit and the kindly Dr Wren (Kobna Holdbrook-Smith) prescribes a further 3 bottles of medicine which they can ill afford, but he agrees to provide one bottle in advance of payment.
Elen's health, mentally and physically, is worsening and Gwen walks in on her as she is cutting her arm.  When she mentions this to the doctor, he responds that some people believe they need to suffer to rid themselves of sin.  Is Elen self-harming due to some terrible guilty secret?
The men from the quarry visit the farm to apply more pressure but Elen stands firm against their bullying tactics and sends them on their way.
But with her rapidly deteriorating condition, how long can she hold out?
Gwen is William McGregor's debut feature and is known for his strong use of landscape, character-focused storytelling and often gothic themes and Gwen is no exception.  It is a beautifully directed film and he is very adept at setting the tense, eerie atmosphere.
Adam Etherington's cinematography is stunning, making good use of the Welsh barren land and candlelit interiors.
Peake's performance, whilst very good, as always, is slightly marred by the fact that the narrative never quite delivers on its promise of shock twists or dramatic depth.
However, it is the amazing breakout performance from Eleanor Worthington-Cox which keeps the viewer engaged and prevents the film from becoming too bleak.  She is definitely an actor to watch and she has the smallest waist I have ever seen – aside from 'Barbie' or 'Sindy'…
It isn't an easy film, since it is so full of despair, with no happy ending in sight but it is a stunningly crafted film, with standout performances from Peake and Worthington-Cox.  It is also a slow-burner, so stick with it.
A film to watch on a very hot summer's day, since the film captures the howling gales and icy winds extremely well and you won't need to crank up the air conditioning…
Twitch Factor:  Zero
* * *
ROCKETMAN
A musical extravaganza offering the uncensored human story of the breakthrough years of famed musician Sir Elton John.
2019 | Paramount Pictures | USA | 121 mins | Drama, Biopic |
Release Date:  22 May 2019
Directed by: Dexter Fletcher
Starring: Taron Egerton, Richard Madden, Bryce Dallas Howard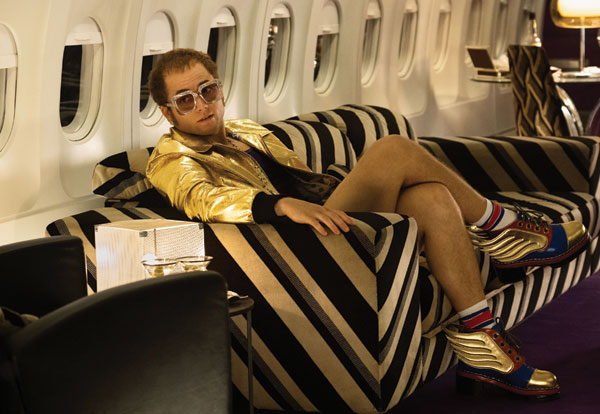 The opening scene of Rocketman is my absolute favourite.  Elton (Taron Egerton), attired in a red/orange, sparkly, horned-demon ensemble, complete with feathered wings and platform boots, strides into a group therapy session where he declares he is an alcoholic, sexaholic, shopaholic and is addicted to cocaine, as well as being bulimic.  "I started acting like a c*** in 1975," he tells the group. "I just forgot to stop."  He has reached rock bottom…
This opening allows us to segue neatly into scenes from Elton's early life:  his childhood in Pinner as 'Reggie', a piano playing prodigy, whom we see desperately trying to gain the attention of his father, Stanley (Steven Mackintosh) and his mother, Sheila (Bryce Dallas Howard) who only seems to be interested in lounging around and reading fashion magazines; his first meeting with the lyricist, Bernie Taupin (Jamie Bell); his relationship with John Reid (Richard Madden) who was his lover and managed his affairs for 28 years before they ended up in Court and his attempted suicides.  All interspersed with a glorious soundtrack used to great effect to highlight the story being told.
Dexter Fletcher, once again, proves how well he can direct modern screen musicals, with his trademark enthusiasm and confidence.
Musical Director, Giles Martin (son of George) works wonders with Elton's staggering back catalogue. All credit too, to Production Designer, Marcus Rowland and Costume Designer, Julian Day.
Egerton gives an outstanding and energetic performance and his voice is not dissimilar to Elton's.  But his looks and body aren't quite 'Elton' enough … a hint, perhaps, that Elton still retains a little of his narcissistic streak?
Matthew Illesley in his debut feature film appearance, is very credible as the young 'Reggie' and I am certain we will be seeing more of him in the future.
Whilst Dallas Howard is very good as his mum, I have no idea why they cast an American actor to play an English woman, especially when Americans' accents, when playing English people, always sound too perfect and 'not quite right'.  Perhaps they all use the same dialect coach?  But ours is not to reason why…
A far cry from 'Line of Duty', Stephen Graham is excellent as the music publisher, Dick James.
Rocketman wasn't as 'warts and all' as it should or could have been.  Basically, it is a feel-good movie for the audience, as well as making Elton feel good and look good.  Concentrating more on him not having been loved, hence his alcoholism, sex addiction etc., etc., rather than delving into his 'tantrums and tiaras' abusive behaviour…
I suppose he has a young family now and would rather paint a 'poor me' picture…
Must see film, if only to compare it with Bohemian Rhapsody – which was also directed by Dexter Fletcher.
Twitch Factor:  Sub Zero