UNSANE
A young woman is involuntarily committed to a mental institution, where she is confronted by her greatest fear – but is it real or a product of her delusion?
2018 | USA | 20th Century Fox | 98 mins | Horror, Thriller |
Release Date: 23/03/2018
Director: Steven Soderbergh
Cast: Claire Foy, Joshua Leonard, Jay Pharoah, Juno Temple, Aimee Mullins, Amy Irving
In order to escape a man who has been stalking her for the past two years, Sawyer Valentini (Claire Foy) has relocated from Boston to Pennsylvania, where she has a new job and a new home.
Whilst taking part in an experimental therapy session, she divulges that she has in fact thought about suicide which immediately rings alarm bells with the therapist who whips out some documents, asks her to sign them and before she knows it, she is locked up for a 'voluntary' 24hr stay, in a mental facility.  However, once it becomes apparent that her confinement is going to be much longer, the more Sawyer tries to convince everyone that she is perfectly sane and in control, her anger and frustration add fuel to the fire and the staff begin to question her sanity.
The other inmates make fun of her and Violet (Juno Temple) a deranged young woman, (with horrendous cornrows), takes great delight in goading and tormenting her.
Her perception of reality soon comes into question when she imagines that her stalker, David Strine (Joshua Leonard), is one of the male nurses, ('George') working at the institution, a claim he vehemently denies and why wouldn't they believe him?
Her only ally would appear to be Nate, (Jay Pharoah) a calm and sympathetic fellow inmate.   When she finds out that he has a hidden cell phone, she wastes no time in trying to convince him that she needs to call her mother, (played by Amy Irving ) in order to get her released.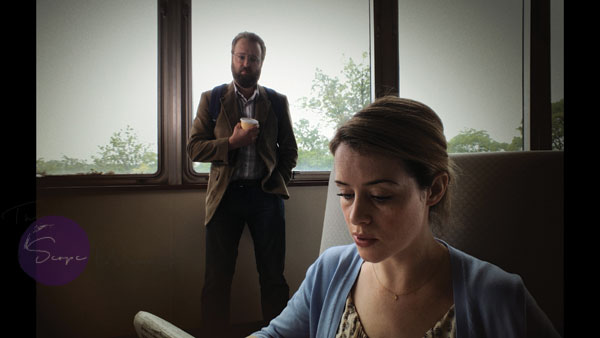 Although not the first director to shoot a feature film on an iPhone – I believe Tangerine (2015) was the first, using an iPhone 5S – Soderbergh is the most well established.   Here he uses the iPhone 7 Plus to good effect helping to add a creepy ambience to the film, although the interior shots have suffered as a result, since the colour is somewhat distorted.
Foy's fragility is used to great effect at the beginning of the film as we quickly see the true strength of character which lies underneath as her sense of survival at whatever cost, either to herself or her fellow inmates, comes to the fore.   
Pharoah (the rapper and comedian) gives a laid-back performance which is the perfect foil to Foy's angry young woman.  There is a subtle, underlying chemistry between them which lifts the film when it is in danger of dragging the audience down to darker realms.
Temple tries to make the most of her role, but fails miserably on all counts.  Her acting is over-the-top and you can't help thinking that someone should put an end to her misery (and ours).  A lesson could be learned from watching Angelina Jolie's performance in Girl Interrupted (1999), which might have given her a few pointers in understated acting.  By the way, if you haven't seen that film, it should be a definite 'must' for this year and is probably one of Jolie's finest roles – but, I digress.
A great, psychological thriller, but bear with the first 20 minutes or so, since it is a little slow, but soon gains momentum and keeps you hooked, right up until the end.
Spoiler alert:  Watch out for the cameo appearance from one of my favourite 'A' listers.
Twitch Factor:  Sub Zero
* * *
LET THE SUNSHINE IN (UN BEAU SOLEIL INTERIEUR)
2017 |France, Belgium| Curzon Artificial Eye | 94 mins |Comedy, Drama, Romance | French with English subtitles
Release Date:  20/04/2018
Director:  Claire Denis
Cast:  Juliette Binoche, Gerard Depardieu, Xavier Beauvois, Nicolas Duvauchelle
Isabelle (Juliette Binoche) is a 40-something divorcee, working as an artist in Paris who is hell-bent on a mission to find true love, or at least, someone with whom she can have a long term relationship.
Her current liaison, is with a middle-aged, tubby banker ((Xavier Beauvois) who is so unattractive and conceited, no woman in their right mind would touch him with someone else's barge pole, let alone their own.  They say that 'beauty is in the eye of the beholder', but given the motley crew she is attracted to, (I can only imagine they keep their 'talents' firmly wrapped in cling film), I think she should be more worried about her eyesight than finding a man!
She flits from one man to another, ever the optimist; a young actor (Nicolas Duvauchelle); a fellow artist (Alex Descas) and the best looking man of the bunch, Sylvain (Paul Blain), interspersed with sporadic bouts of elation when she feels she may have found 'the one'.  You know she is on a losing battle when, at one point, she ends up in bed with her ex-husband – a recipe for disaster, if ever there was one.  With all her self-introspection, she cannot seem to grasp that perhaps the fault lies within her, rather than the men she frequently picks up en route to her 'Holy Grail'.  Simply put, I think she needs to get out more and have some real fun…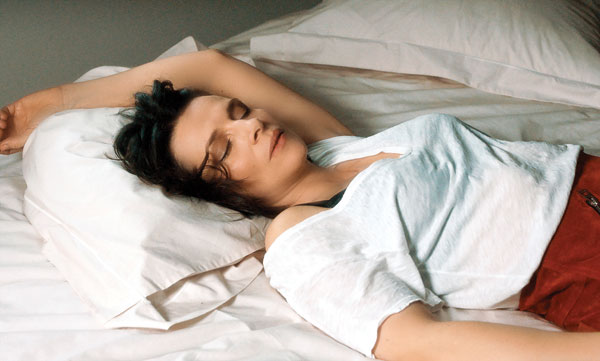 I felt no sympathy for Isabelle – all I wanted to do was slap her and tell her to 'get a grip'.  I was just not in the mood for a woman who, at times, was acting more like a love-struck teen, rather than an intelligent adult, who should not have been giving any of these men the time of day, let alone having sex with them.   
For me, the most interesting part of the film was the sequence shown over the final credits when Isabelle visits a New Age therapist (Gérard Depardieu).  By the end of it, you are left wondering just who should be seeking help here… he is unable to give her any specific advice, only telling her to be 'emotionally open' with none too subtle references to his own availability.  Perhaps there will be a sequel – now that, I would love to see.
This is a stylish, well-made film which has been beautifully directed by Claire Denis.
Binoche gives an outstanding performance and Depardieu's role, albeit small, rounds off the film very nicely, thank you.
I was 'twitching' (never a good sign) throughout the film, but that says more about the person that I am, and the female character on screen, rather than the quality of the film. So, be prepared to be perhaps a little bored, but that said, still a film worth watching if only for Binoche and Depardieu.
Twitch Factor: Plus Zero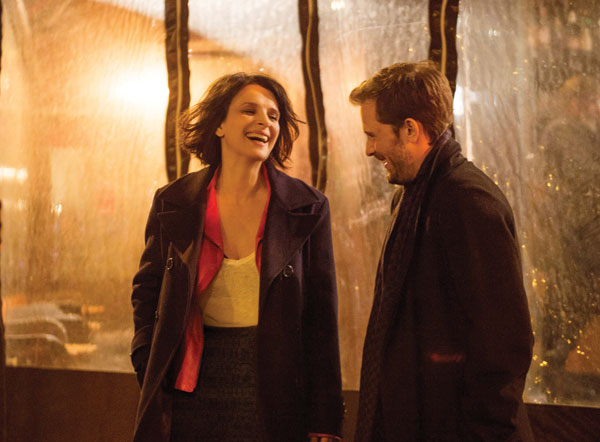 * * *
MY FRIEND DAHMER 
A young Jeffrey Dahmer struggles to belong in high school.
2017|USA|Altitude |107 mins | Biography, Drama, Horror | 
Release Date: 01/06/2018
Director/Writer:  Marc Meyers
Cast: Ross Lynch, Anne Heche, Dallas Roberts, Alex Wolff, Vincent Kartheiser

It is the 70s and Jeffrey Dahmer (Ross Lynch) a moping, shuffling teen is coming to the end of his junior year at Revere High School, in Akron, Ohio with no friends, no obvious ambitions and his only extra-curricular activity is playing in the school band.
His family life is dysfunctional and is slowly disintegrating around him.  He is happiest when collecting road kill which he brings back to his bolt-hole (a shed in his back garden) where he proceeds to drop them into glass jars of acid, after which he collects the bones 'for research'.  He also spends much time observing and 'stalking', Dr Matthews (Vincent Kartheiser) a neighbour who regularly jogs past his home.
His mother, Joyce (Anne Heche) is manic, to say the least, and amuses herself by shopping for items which the family cannot afford, steadily ignoring Dahmer, but lavishing attention on his younger sibling.  A pattern is unfolding before our eyes and we are gripped.
His father spends a lot of time at work, but even he can see that there is something not quite right about his eldest son.  At one point, he confronts him in his shed and empties out all the glass jars and the contents therein, into the garden and demands that his son join some after school clubs in order to make friends.  A tethered rage is beginning to brew.
He catches the eye of a group of friends, 'Derf' (Alex Wolff), Neil (Tommy Nelson) and Mike (Harrison Holzer) who, although not quite outcasts, are not the favoured elite.  He soon realises that by 'acting-out' ie faking epileptic convulsions, (later to be known as, 'doing the Dahmer') he can gain some sort of popularity in school and, for a while, it seems to work.
Jeffrey struggles more and more to conceal his urges, his sexuality and alcohol abuse.
The film is based on John 'Derf' Backderf's 2012 graphic novel My Friend Dahmer, who became one of Dahmer's coterie of 'friends' and Marc Meyers adaptation, has tried to remain faithful to the original.
When writing an early draft, he met the author who took him around his hometown and showed him the spots portrayed in the book, including the High School and Dahmer's childhood home.  It was at that point that the decision was made to film at the house.  "It's a serene home, perched on a hill.  The sounds of birds and crickets at night, reminded me of my youth."
Ross Lynch, as Dahmer, made a name for himself as Austin Moone in the Disney Channel hit comedy series, 'Austin and Ally' which ran four seasons.  He is also the lead singer of 'R5'.  His portrayal of Dahmer captures perfectly a lonely soul who is desperate to be accepted, whilst battling with his inner demons and sexuality.
The script contains moments of light and dark humour, a large amount coming from Heche who gives a commendable performance as Joyce Dahmer, an argumentative shrew of a woman.
There are empathetic performances from Tommy Nelson and Alex Wolff, who are appearing as Jeffrey's main friends throughout his final school year and serve to highlight the social disparity between Dahmer and his peers.
If you're expecting to see a series of horrific 'blood and gore' murders, you will be sorely disappointed.  This is an intriguing study of a serial killer, as a young boy, who is a social outcast, with no friends and a family unit which is slowly disintegrating around him.  A hauntingly sad, true story of Dahmer's initial foray into blood lust.
On the evening of 22 July 1991, Jeffrey Dahmer was handcuffed and taken to Milwaukee Police Station after picking up what turns out to be his final intended victim – Tracey Edwards – in his car. 

An interesting fact to note:  When John Backderf's wife called him to say that someone who had graduated with him had just been arrested in Wisconsin and was being charged with murdering 17 young men, she asked him to guess who he thought it was.  By his own admission, Jeffrey Dahmer was not the first name which came to mind.
An excellent film, small budget film, with a good ensemble cast which should set you thinking – just how well do you know your friends?
Twitch Factor:  Sub Zero
* * *
PETER RABBIT
Feature adaptation of Beatrix Potter's classic tale of a rebellious rabbit trying to sneak into a farmer's vegetable garden.
2018|Australia, USA|Columbia Pictures |95 mins |Animation, Adventure, Comedy| 
Release Date: 16 /03 /2018
Director:   Will Gluck
Cast (Voices):   James Corden, Sam Neill, Rose Byrne, Domhnall Gleeson, Margot Robbie
Who doesn't remember Beatrix Potter from their youth?  Tales of Jemima Puddle-Duck, Mrs Tiggy-Winkle, Flopsy, Mopsy, Cotton-tail and, of course, Peter Rabbit himself.
The film opens on a country garden scene, where an old man, Mr McGregor (Sam Neill), can be seen tending his vegetable patch, while Peter (James Corden) is waiting to lead his sisters, Flopsy (Margo Robbie), Mopsy (Elizabeth Depicki) and Cotton-tail (Daisy Ridley), together with their cousin, Benjamin (Colin Moody) on a raid to divest McGregor of his beloved veggies.  Never let it be said that Peter is not a cunning Oryctolagus Cuniculus – if ever there was one… 
Bea (Rose Byrne) lives in the cottage next door and spends most of her time drawing images of Peter Rabbit and his friends.  When old McGregor suddenly keels over and departs the mortal coil, Peter envisages the rest of his life being spent in the house which he feels should rightly belong to him and his family.  But fate intervenes in the shape of McGregor's equally mean-spirited, great nephew, Thomas (Domhnall Gleeson) who inherits the house and land.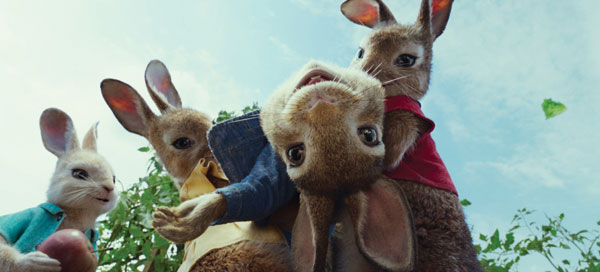 Thomas, a city boy at heart, preferring to live in London where he is the manager of Harrods Toy Department, and is constantly being overlooked for promotion, wastes no time in visiting the house in order to put everything up-for-sale.
What he doesn't count on, however, are Bea's charms who introduces herself upon his arrival.  It soon becomes clear that, in her eyes, Peter and his friends, can do no wrong, much to Thomas's consternation.  From there a battle of wills ensues between Peter and Thomas and the rest of the film is a series of mishaps and contrived machinations, but love eventually wins the day – doesn't it always?
I thoroughly enjoyed this film, as did my guests.  I know that there was a lot of bitching, but as with all animation of this ilk, nothing should be taken too seriously, as long as the CGI is good, with plenty of light-hearted banter and a reasonably good soundtrack, you have a film which will entertain the whole family.
Again, much adverse comment has been made of the 'allergy scene' and I can only say that having spoken to people with allergies (who obviously have not lost their sense of humour) neither they, nor I, could see a problem, in fact no offence was taken at all.  At the end of the day, it is a minor part of the film and if you don't like it, move on or get out.
More importantly, I think, there are many good lessons to be learned from the film – for adults and children alike – the importance of family and friendships, being able to admit when we are wrong and apologising when it is necessary.  Something we should all take on board, lest we forget and it is so easy to forget…
Great soundtrack too.
Twitch Factor:  Sub Zero