New Style Cinema. May 2020
A WHITE, WHITE DAY
An off-duty policeman begins to suspect a local man for having had an affair with his recently deceased wife.  Gradually, his obsession for finding out the truth, accumulates and inevitably begins to endanger himself and his loved ones.
2019 | Iceland, Denmark, Sweden | Peccadillo Pictures | 109 mins | Drama (Icelandic with English subtitles)

Release Date: 1 May 2020

Director: Hylnur Palmason
Starring: Ingvar Eggert Sigurðsson, Ída Mekkín Hlynsdóttir, Hilmir Snaer Gudnason  
This is Icelandic writer-director, Hlynur Palmason's second feature and charts the gradual breakdown of Ingimundur (Ingvar Eggert Sigurdsson), a police chief who is on a sabbatical after losing his wife in a tragic accident.
Grief stricken, he channels his grief into renovating a house for his daughter and granddaughter, Salka (Ída Mekkín Hlynsdóttir) on whom he clearly dotes. 
It is while going through a box of his deceased wife's belongings, that he comes across some tapes and the very relationship he held so dear, now appears to have been a sham and his attention has now been drawn towards a local man whom he suspects had an affair with his wife.  This suspicion turns into an obsession, leading him into an ever increasing downward spiral.
From the beginning of the film, as we are grimly advised that, "The dead can still talk to those who are still living on certain days, when the white of the sky matches the white on the ground", whilst watching a car precariously wending its way down a country road through zero visibility, you know this is not going to be a run-of-the-mill film.  And in that respect, it doesn't disappoint.
Palmason's storytelling is powerful and well thought out and he is certainly a talent to watch out for.
Stunning camera work from Cinematographer, Maria von Hausswolff; especially the scene which shows the isolated location of the house he is renovating, with the use of ever-exquisite light highlighting the passing seasons and changing climate conditions.
The two main characters are splendidly portrayed by Ingvar Eggert Sigurðsson and Ída Mekkín Hlynsdóttir.  Together, they are a force to be reckoned with. 
Sigurðsson is a large, imposing presence on screen and whilst his increasingly violent behaviour is disturbing to watch, any sympathy you may have felt for him in the beginning, quickly diminishes. 
Hlynsdóttir is a revelation and for me held the whole film together.  She is totally mesmerising and steals every scene in which she appears.  A born natural.
This is powerful storytelling at its best.
Must see.
Twitch Factor:  Sub Zero
* * *
BACURAU
A woman travels to her home village where a string of sinister events, begin to grip the local residents.
2019 | Brazil | Mubi | 131 mins | Science Fiction, Thriller, Western 
Release Date: 13 March 2020
Directors: Kleber Mendonça Filho, Juliano Dornelles

Starring: Barbara Colen, Thomas Aquino, Silvero Pereira, Thardelly
Lima, Rubens Santos, Wilson Rabelo

It was a Sunday morning, in the middle of March and luckily for me (and you) this was the last film I saw before all screenings were closed-down. 
The first film on the agenda was Les Misérables – no, not the Victor Hugo version – I hasten to add. I very nearly didn't attend, but then read the synopsis and realised that this was an entirely different story.  Since reviews have been embargoed, you will have to wait until sometime in the future – but it is worth every minute/hour/day of the wait.  You heard it here first…
Bacurau , a settlement in northern Brazil, is trying to come to terms with the death of its matriarch, Carmelita and at the same time, making preparations for her funeral. 
Her granddaughter, Teresa, (Bárbara Colen) is on her way to pay her last respects and as she nears the village, she encounters an overturned truck with coffins scattered along the road. Personally, I would have run the other way, since this cannot be a good omen – especially when you are attending a funeral.  But there you go… it takes all sorts to make the world go round.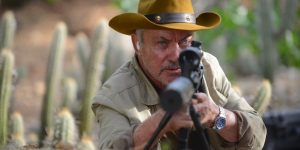 Once she arrives, things only get weirder and weirder; the water supply is cut off, there is no mobile phone service, Bacurau has disappeared from satellite maps and a drone modelled on a UFO makes an appearance. Under threat from unknown forces, Bacurau braces itself for a brutal fight for survival.
To say more about Kleber Mendonça Filho and Juliano Dornelles's thriller, would actually spoil the impact of this multi-layered 'wild ride', suffice to say, it won the Jury Prize and was nominated for the Palme d'Or at Cannes 2019.
Bacurau is a gripping and well directed film, rounded off by off by Pedro Sotero's stunning cinematography.  The casting is perfect and includes the 'King of Baddies', German actor, Udo Keir.  That is all I will divulge.
Once we are all free of lockdown (and who knows when that will be), just sit back and enjoy.  As you can see, it was released on 13 March and is available on mubi.com where, at the moment, you can get 3 months viewing for £ 1!  Go for it…
So all it needs is for me to say, 'goodbye' for now and wish everyone safe and well, until we all meet on the 'other side' of this terrible pandemic in which we find ourselves.
A 'must see' – you will be gripped.
Twitch Factor:  Sub, Sub Zero