WEST SIDE STORY
Two youngsters from rival New York City gangs fall in love, but tensions between their respective friends build toward tragedy.
1961 | USA | United Artists |153 mins | Crime, Drama, Musical
Original Release Date:     27 February 1962
Directors: Robert Wise, Jerome Robbins (Choreographer)
Starring: Natalie Wood, Richard Beymer, George Chakiris, Rita Moreno, Russ Tamblyn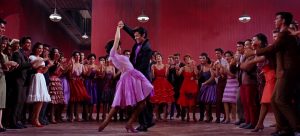 Set during the summer of 1957, it is a retelling of the age-old story of Shakespeare's Romeo and Juliet, from opposites sides of two warring factions – in this case, the Jets (white American boys) and the Sharks (Hispanics from Puerto Rico). 
Tony (Richard Beymer) and Maria (Natalie Wood) are caught in the middle.  Her brother, Bernardo (George Chakiris) is the leader of the Sharks, whilst Tony is the co-founder of the Jets (who has now left them) and his best friend, Rif (Russ Tamblyn) remains as the leader.
After another brawl erupts, which is broken up by police officers, the Jets decide to challenge the Sharks to a 'rumble' at an upcoming dance for neighbourhood control.
Rif wants Tony to attend, who at first declines, since he is making amends for his past misdeeds, but Rif is insistent.  Reluctantly he agrees to go.
Meanwhile, Maria tells her brother's girlfriend, Anita (Rita Moreno) how excited she is about the forthcoming dance.
Tony arrives at the gym where the dance is being held and sees Maria across the room and their eyes meet – it is love at first sight and thus the stage is set…
"Two gangs, both alike in dignity,
In fair NYC, where we lay our scene,
From ancient grudge break to new mutiny,
Where civil blood makes civil hands unclean.
From forth the existence of these two foes
A pair of star-cross'd lovers take their life;
Whole misadventured piteous overthrows
Do with their death bury their gangs' strife."
With profound apologies to William Shakespeare for the reinterpretation of his beautiful words…
This is one of my all-time favourite movies and represents a gritty 50s New York, filmed entirely in NYC, apart from the interiors which were filmed in the MGM Studios. 
There is a Spielberg remake, which is due to hit the screens in time for Christmas (Covid-19 permitting) and I am sure will pay equal homage to this vibrant city and I hope to have a review for you, once I have had a chance to see it.
Moving on, whilst I am sure everyone has seen at least one version of this amazing film – whether on stage or screen – for me, the film will always take precedence.
The instrumental score is one of the most memorable ever written and Leonard Bernstein was a tortured genius beyond compare.  Together with Steven Sondheim's beautiful lyrics – who can ever forget, 'Maria', 'I feel Pretty', 'America', 'One Hand, One Heart'/'A Boy like that', 'I have a Love' and finally, Somewhere' which is also sung in the final scene and was 'bastardised' by P J Proby in 1964… check it out on You Tube!  Along with Robert Wise's direction and Jerome Robbins stunning choreography, the film may never have hit the dizzy heights it achieved, being nominated for 11 Oscars and winning 10.
Boris Leven, the Production Designer took an unprecedented stance that for the film, the settings should not be stylised in a theatrical manner – they should represent reality.  Stylisation was to be used only for specific reasons eg dramatic emphasis/accents and each locale should be photographed as a stage setting, straight on, rather than at an angle. 
Both Beymer and Wood's acting didn't win any Oscar nominations, it was his wholesome fresh-face and her stunning looks that defined their roles. Wood's accent was flawed and her voice was dubbed (by the wonderful Marni Nixon), as was Beymer's voice (Jimmy Bryant) and yet, somehow it all worked…  I especially love the rooftop scene, where she is a vision of grace and innocence, as she awaits the arrival of her love.
Rita Moreno, as Anita, delivers what is probably her best film role performance ever (she won best Supporting Actress) and her dancing in particular is superb.
George Chakiris gives a very convincing performance as the leader of the Sharks (he won Best Supporting Actor) and Russ Tamblyn has never really been given the recognition he deserved
With a great ensemble cast, and fabulous, memorable soundtrack, it is a veritable feast of visual entertainment, which has traversed the decades and still resonates today.
Must see, all time classic

Twitch Factor:  Sub, Sub, Sub, Sub Zero

* * *

THREE COINS IN THE FOUNTAIN

Three American women working in Rome, share a spacious apartment and the desire to find love and marriage, each experiencing a few bumps in their journey to romance.
1954 | USA |20th Century Fox |102 mins | Drama, Romance 
Release Date: 1954
Director:  Jean Negulesco 
Starring: Dorothy McGuire, Clifton Webb, Jean Peters, Rosanno Brazzi, Maggie McNamara, Louis Jourda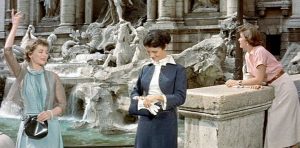 Our final city is Rome where, opening the film, three young ladies are casting coins into the Fountain of Trevi, in the hope of marrying the men they will meet.
One coin; you will return to Rome
Two coins: you will fall in love with an attractive Italian
Three coins; you will marry the person that you meet
But in order to achieve your dream, the coin(s) must be thrown with the right hand, over the left shoulder.
The ladies in question are Americans who share an apartment, while they are working in Rome and each one is hoping to find romance and marriage…
Frances (Dorothy McGuire) the oldest of the three, has been working for a novelist, John Frederick Shadwell (Clifton Webb) for the past 15 years.  She loves him but his reclusive nature leads most people to believe he has long expired.
Anita (Jean Peters) has only one week left in Rome before she returns to the USA (on the pretext of getting married) but ends up breaking company rules, getting caught, when she accepts an invitation from Giorgio (Rosanno Brazzi), a co-worker to attend his sister's nuptials.
Maria (Maggie McNamara) is the newest addition to the trio and she soon sets her sights on Dino di Cessi (Louis Jourdan), a prince with a reputation as a womaniser.
A wonderful sightseeing tour of Rome, with a side-trip to Venice, thrown in for good measure and not a mask in sight!  A fluffy storyline but just right for the climate in which we find ourselves.  Just sit back, relax and relish the simplicity of it all.
The title song (featuring an uncredited Frank Sinatra) won an Oscar in 1955 for Best Original Song and was written by Luklie STyne, with lyrics by Sammy Cahn.
 A charming film, worth revisiting and remembering those gorgeous leading men of yesteryear.
Must see


Twitch Factor:  Sub Zero

* * *
MIDNIGHT IN PARIS
While on a trip to Paris with his fiancée's family, a nostalgic screenwriter finds himself mysteriously going back to the 1920s, every day at midnight.
2011|Spain, USA, France|Sony Pictures Classics|96 mins|Comedy, Fantasy, Romance
Release Date: 7 October 2011
Directors: Woody Allen
Starring: Owen Wilson, Rachel McAdams, Kurt Fuller, Mimi Kennedy, Michael Sheen, Marion Cotillard, Kathy Bates
Gil (Owen Wilson) is a successful Hollywood writer, who is struggling with his first novel.  His fiancée, Inez (Rachel McAdams) is travelling with him to Paris, where her parents have gone on a business trip.
He is mesmerised by the city and tells Inez that they should move there and get married.  His head is full of romantic notions which his fiancée doesn't quite share.  He is fixated on the idea of a 1920s golden age Paris…
When Inez goes off dancing with her friends, Gil decides to take a midnight stroll and soon discovers what could be the ultimate source of inspiration for his writing.  One walk turns into a daily midnight foray into another world which only he understands, taking him closer to the heart of Paris, but further from that of his fiancée.Darius Khondji's cinematography evokes the gorgeously inviting City of Light, while Allen's direction has the concise and snappy pace of his best work.
 
This is Allen's love letter to Paris and one of his best and more watchable films in recent years.
Playing Allen's alter ego, Gil, is definitely Wilson's best screen performance to-date – currently he is the face of a very lucrative advertising campaign for the UK sofa retailer, Sofology, but I understand there are films in the pipeline awaiting a release. 
McAdams is wonderful as the pushy, Inez, full of argumentative energy and given the chance, someone from whom you would probably run a mile.
The film has a fine supporting cast which includes, Marion Cotillard, the object of Gil's desire, Kathy Bates as Gertrude Stein, Michael Sheen as the know-it-all friend and Adrien Brody as Dalí, not to forget Corey Stoll as Hemingway. 
Midnight in Paris is a constant delight and a perfect film to watch during these trying times.  A little bit of fantasy never did anyone any harm and will help to soothe the troubled soul.
Not to be missed…


Twitch Factor:  Sub, Sub Zero