FILM STARS DON'T DIE IN LIVERPOOL
An unlikely romance sparks between a young struggling actor and a Hollywood actress.
2017 | UK | Lionsgate | 105 mins | Romance, Drama |
Release Date: 17/11/2017
Cast: Annette Bening, Jamie Bell, Julie Walters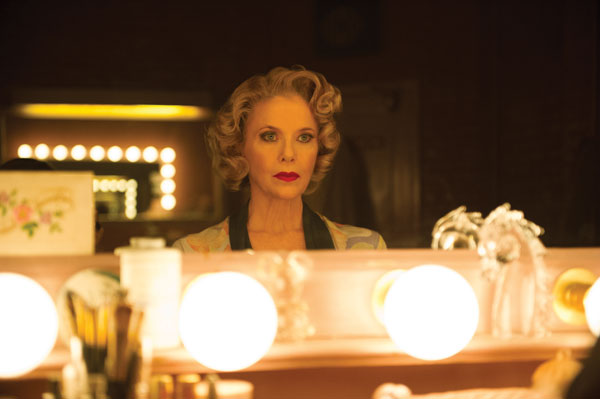 Peter Turner (Jamie Bell) is a struggling young actor, whilst a 'mature' Gloria Grahame (Annette Bening), is in the final years of her waning career, and is in denial over her failing health.  She has moved to London in the hope of finding work as a theatre actress.  They are both living in the same house in North London and one day, as Turner passes her room, he spots her reading a script through the open door.  She immediately calls him in to help her, since she needs a dance partner with whom to practice, for an upcoming role.  From there a bond is formed and soon they are 'an item', albeit a surreptitious one.
Peter even takes Gloria to Liverpool to meet his mother, Bella (Julie Walters), father, Joe (Kenneth Cranham) and the rest of the brood.  Soon she is enveloped in the bosom of a down-to-earth family, and we get an inkling that all the warmth, and in time, love, bestowed upon her, is something which appears to have eluded her throughout her four marriages.
When Gloria has to return to New York, she asks Peter to accompany her which would mean him putting his career 'on hold.'  However, once there, her increasingly secret 'appointments' threaten their relationship and everything starts to unravel, one seam at a time.  When Peter's agent calls him to say that there is an audition for him back in the UK, a petulant Gloria tells him to go and thus marks the beginning of the end of the relationship.
Sometime after the affair fizzles out, Peter receives a phone call telling him that Gloria has collapsed in her dressing room while on tour in the UK and is asking if she can stay with him and his family in Liverpool, in the hope that she can recuperate and regain her strength.  Once again, she is welcomed back into the fold with open arms and although she is still very fond of him, you are only too painfully aware that he still harbours more than affection for her.
What a truly delightful film, evoking memories of a long-ago era, as well as the more recent 80s.  It is a heartbreaking story, told with pathos and humour, but at the same time, also very heartwarming.    
Peter Turner's memoir, 'Film Stars Don't Die in Liverpool' has been adapted by Matt Greenhalgh and relies more on the compassion and humanity of Turner's story, rather than the scandals which plagued Gloria, and from which her career never really recovered.
Better known for his work in television, Paul McGuigan has directed this film with great sensitivity, and is a big departure from his usual fare, 'Gangster No 1' (2000); Lucky Number Slevin (2006) and Wicker Park (2004).  However, he does prove that there is more to him, than he has already shown and perhaps there is still even more to come.   
Fabulous chemistry between Bell and Bening and their laid-back, relaxed performances complement each other perfectly. Bening is at once romantic, enticing, and vulnerable whilst Bell seems to vacillate between being madly in love, being exasperated and angry and then feeling completely bereft as her illness takes hold.
Benning is a stunning multi-talented actress and should be a main contender for an Oscar nomination and perhaps actually win this time, since it has eluded her over 4 nominations.  Here's hoping for 5th time lucky.
Bell's portrayal of a young man who meets and falls in love with a real life Hollywood star, is one of his best performances to-date.
Like Bell and Bening, Kenneth Cranham and Julie Walters are a great pairing as Peter's parents.  Vanessa Redgrave plays Gloria's mother with her usual panache and Frances Barber is in her element as Gloria's bitchy and sarcastic sibling.    
If you are a fan of Oklahoma, Gloria Grahame will stand out as the young woman who sang, "I'm just a girl who cain't say no".  I will always remember her in this role, as the young woman looking for love, but never taken seriously since she was not averse to 'using her charms' – so to speak.  I would say she was a girl before her time … and not just the role she was portraying.
The beautiful Elvis Costello penned song over the closing credits says it all – "You Shouldn't Look at Me That Way."
Must see …
Twitch Factor:  Sub, Sub Zero
***
MUDBOUND
Two men return home from World War II to work on a farm in rural Mississippi, where they struggle to deal with racism and adjusting to life after war.
2017 | USA |Netflix| 134 mins | Drama|
Release Date: 17/11/2017
Cast: Carey Mulligan, Garrett Hedlund, Jason Clarke, Jason Mitchell, Mary J Blige, Rob Morgan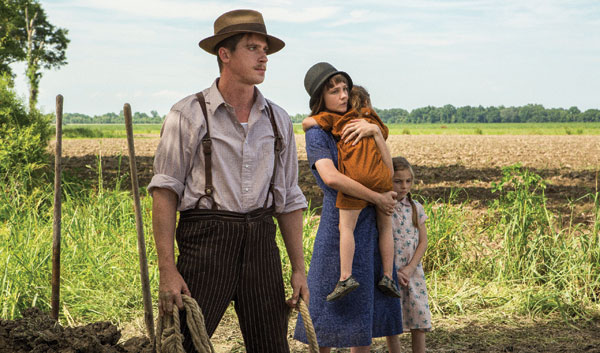 Hillary Jordan's 1940s set novel has been adapted by Dee Rees, in collaboration with the television writer, Virgil Williams.  It is a tale of two families, one black and one white, an innocent and naïve friendship and love lost – all tightly wound up by racial tensions and friction which eventually ignite.
The opening scenes are actually, the concluding part of the film and then we are whisked away to where it all starts …
We first meet Laura as a 31 year old who, to all intents and purposes, is still a virgin with no visible light at the end of the tunnel … Her mother practically pounces on Henry McAllan (Jason Clarke) and does her level best, with no subtlety in play, to push the two of them together, much to Laura's embarrassment, but we note that perhaps, behind her coyness, lurks some unbridled passion.  Taking the hint, Henry starts dating Laura and eventually he proposes, although it is not as romantic she perhaps imagined.  His dashing brother, Jamie (Garrett Hedlund) seems to provide more of a spark for her, but there you go, desperation fuels decisions made in haste.  Laura accepts Henry's proposal and two daughters later, all appears to be domestic bliss.
Then one day Henry announces that he has bought a farm on the Mississippi Delta and they will need to relocate.  Laura is not happy at all, since she has had no say in the matter and it has been presented to her as a 'fait accompli'.  She makes her feelings known, however, when it is clear that Henry is bringing his father, Pappy McAllan (Jonathan Banks) to live with them – a nasty piece of work, who makes you cringe every time he opens his mouth.  While Pappy expects to live with them in the main house, Laura puts her foot down and much to his disgust, is relegated to live in an outhouse.
Part of their land is leased to a black sharecropper family, Hap Jackson (Rob Morgan), his wife, Florence (Mary J Blige) and their children.  Both families have common struggles, but this is still a white dominated land, where blacks are segregated and live in fear of being abused, both physically and verbally.
Meanwhile, with the onset of World War II, Ronsel (Jason Mitchell) the Jacksons' eldest son is posted to Europe, while Jamie becomes a fighter pilot.
Both sons return from war, affected by their experiences and the loss of their friends.  Life as they knew it, has changed.  Jamie turns to alcohol to numb his pain and Ronsel has to hide the fact that he found love whilst he was away, but a feeling of duty to his family, impels him to return home.
Through his alcoholic haze, Jamie can see that there is no-one to whom he can relate, other than Ronsel.  They share a common bond. He is desperately in need to friendship, and one day offers Ronsel a lift into town.  At first he refuses, since being seen sitting next to a white man, in a truck, would cause no end of grief for them both.  But Jamie will not take no for an answer and an unlikely and secret friendship develops between them – each using the other as a sounding board to vent their respective frustrations. However, Jamie's innocent action ignites Pappy McAllan's fury which puts his new found friend in danger.
Dee Rees's masterful direction produces a well-modulated film which rises, then falls to release a sense of foreboding, only to eventually rise again, since hope prevails.
Rachel Morrison's cinematography is stunning, with retro hues, and use of widescreen frame which is filled with images that capture a time and place, as well as the mood of the drama unfolding onscreen.
Mulligan brings sensitivity and depth to a pre-feminist woman who finds herself in a marriage where there is little warmth or any regard for her thoughts and feelings, but acquiesces to her husband's needs.
Hedlund and Mitchell have a lovely relaxed rapport and it is easy to believe that these two people have found each other and that perhaps not all white men are bigots and racists.
Rob Morgan as Hap is astounding – a hard-working and honest man who preaches on a Sunday in a dilapidated church and Clarke shows Henry as a socially awkward man, whose actions are dictated by what he has been brought up to believe in.
This is Mary J Blige's most demanding role to-date as the care-worn mother who is waiting for the day that her son returns home from war, safe and soun; not for one minute believing that he would not come back.  She is the backbone of the family.
Banks gives a 'no holds barred' chilling performance as the racist, Pappy McAllan, so much so, that you will feel the bile rising in your throat.
A beautiful film, with a powerful depiction of simmering racial tensions and a terrific ensemble cast which, hopefully, will receive nominations it so richly deserves.
Twitch Factor:  Sub, Sub Zero
***
THE KILLING OF A SACRED DEER
A surgeon is forced to make an unthinkable sacrifice after his life starts to fall apart as the behavior of a teenage boy he has taken under his wing turns sinister.
2017 | UK, Ireland | Element Pictures | 121 mins | Drama, Horror, Mystery |
Release Date: 03/11/2017
Director: Yorgos Lanthimos
Cast: Nicole Kidman, Colin Farrell, Alicia Silverstone
The plot centres around Dr. Steven Murphy (Colin Farrell) who is a well-respected cardiovascular surgeon, married to an opthalmologist, Anna (Nicole Kidman).  They have two, almost too perfect, children – 14 year old Kim (Raffey Cassidy) and 12 year old, Bob (Sunny Suljian).  In normal social circles, Steven would be described as strange and this is backed-up by his apparent OCD fetish with watches and his kinky sex involving the words, "general anaesthetic" – don't ask.  His wife is almost robotic in her compliance but who is to say that she doesn't enjoy it?  Maybe it is their version of 'safe sex'?
Anyway, I digress …
Behind the idyllic suburban existence, something appears to be amiss in the amount of time Steven is apart from his family.  A 16 year old boy, Martin (Barry Keoghan) is starting to show up unannounced at the hospital where Steven works.  We see him buying him an expensive watch, and we are left wondering what it is that Martin wants from him.  Perhaps he is a secret illegitimate son?  The visits to the hospital are becoming increasingly more frequent and Steven decides to invite him to his home for dinner, to meet his family.  Martin turns up at the house, and the conversation, from the off, is strange with Raffey announcing that she has just started menstruating!  If that isn't a dampener to the start of the evening, I don't know what is.  But the family take it all in their stride, without a hint of embarrassment. Bob has his bit to say too, at the dinner table, when he asks if Martin has hair under his arms.  Strange does not even cover this family.
Gradually, we learn that perhaps this friendship is borne more out of guilt than anything else, and that Martin obviously bears a grudge against the surgeon.  As a result, Steven will have to suffer the consequences and suffer he does … Martin demands that he make a sacrifice in order to make amends for his wrong-doing and if he does not, each member of his family will die, in turn.  At first the threat is taken lightly, but soon he has to face up to reality.
I don't think there is a middle ground with Yorgos Lanthimos – you either love him or hate him and I have to say, I am in the former team.  Lanthimos relishes the discomfort which he brings to bear on his audience and his script, co-written, once again, with Efthimis Filippou is sharp, with a smattering of humour to lighten the heavy load.
To get a greater understanding of the man, you can do no better than watch The Lobster – an off-kilter film, to say the least – but excellent. It was nominated for an Oscar in the Best Original Screenplay category in 2017, as well as being presented in Competition at the 68th Cannes Film Festival.
The soundtrack was very well chosen and I loved the use of twanging chords, which were used to great effect to heighten the drama and reminded me of the horror B- movies of yesteryear.
This is Farrell's second consecutive collaboration with Lanthimos after working with him on The Lobster and obviously he is a 'glutton for punishment' in the best possible sense of the phrase. It cannot be easy to deliver such robotic lines which have become the trademark of Lanthimos/Filippou's screenplays.   
Farrell and Kidman are such gifted actors that although the dialogue is telling us one thing, they are able to convey the sub-text by communicating only with their eyes and in this they excel.   
After seeing Aronofsky's 'Mother' I thought that it would win – hands down – 'Most Polarising Film of the Season' accolade; however, I was wrong.  This award definitely should go to 'Sacred Deer'.  After watching the first 10 minutes I actually thought I would hate it, but it gradually grew on me and instead of feeling as though I should walk out, I actually wanted to stay.  Stick with it, it is definitely worth it.
My only gripe is that it is never quite understood how the protagonist was able to control the children on a whim or maybe I missed something?
I await the next film with bated breath …
Twitch Factor:  Sub, Sub Zero
***
CALL ME BY YOUR NAME
A student interning at an idyllic Italian villa over the summer falls for the professor's son.
2017 | Italy, France, Brazil, USA | Columbia Pictures | 132 mins | Drama | 15
Release date: 27/10/2017
Cast: Armie Hammer, Timothée Chalamet, Michael Stuhlbarg, Amira Cesar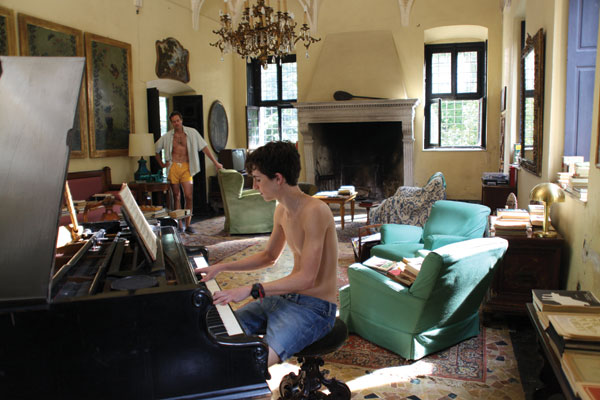 This exquisite, erotic and sensual film is set in Northern Italy, in the early 80s and has been adapted by James Ivory from André Aciman's novel about a coming-of-age love story between an older man and a 17 year old boy.
Perlman (Michael Stuhlbarg) is a professor of antiquities who, every year, invites a graduate student to his home in order to help him out through the summer months.  He and his wife, Annella (Amira Cesar) live in a stylish Italian villa with their son, Elio (Timothée Chalamet) a very talented musical prodigy who, when not composing piano variations on J S Bach, can be found moping around the house, restless and not knowing what to do to amuse himself.
But help is at hand in the guise of Oliver (Armie Hammer) all 6'5" of American, testosterone-fuelled masculinity who, to all intents and purposes, looks like one of the statues in Perlman's reference files.    On arrival, after promptly introducing himself, he asks to be shown to his room where he throws himself onto the bed and falls asleep.
Elio doesn't know what to make of their guest and at first finds him mildly irritating with his voracious appetite for life, learning and food.  Speaking of which, Guadagnino is a master of sensuality and who knew that a boiled egg and peach – not together, I hasten to add – could be so erotic?  Suffice to say, that this film will do for peaches, what Bertolucci's Last Tango in Paris did for butter.  Enough said …
The relationship starts off slowly and is more brotherly, rather than anything else and when Oliver isn't working, they take leisurely bike rides into town, go swimming and enjoy each other's company.  Eventually, the friendship takes a different turn, which comes as a surprise to both of them.
However, Oliver meets a local young woman and begins a relationship with her. Elio is lost in his confusion and turns to his on-off girlfriend, Marzia (Esther Garrel), whom he has known since childhood, since he has feelings for her as well as Oliver.  There is a wonderful disco scene, where all the boys are looking at Oliver and wishing they were him, with his easy confidence, as he gyrates on the dancefloor with his new conquest, and all the girls are wishing that they were up on the dancefloor with him.  Elio just stands and watches as the scene unfolds.
In between the relationships with girls, both carry on with their friendship which is now blossoming into a full romantic involvement.
Elio is like a puppy dog who is eager to please his 'master' and it is OIiver who shows him how to take his time, savour the moments and let things develop at their own pace.
The film is a revelation and will hopefully garner deserved accolades for Luca Guadagnino and his two leads – such perfect casting.
I make no bones about it, but I am a great fan of Luca Guadagnino. His previous films, I am Love (2009) and A Bigger Splash (2015) were amazing works of art – he has an aesthetic eye for both detail and the actors he casts.
A stunning performance from Armie Hammer at his all-time best.  I don't think I have seen Hammer do so well since playing the Winklevoss twins in Social Network, but the two roles (or three) cannot be compared.  Hopefully, we will see him choose more 'offbeat' roles, since he can obviously handle them.
Timothée Chalamet, is superb and gives a finely nuanced performance that a seasoned performer would have found difficult, let alone a 21 year old, relative newcomer.
Michael Stuhlbarg's gentle monologue which was taken almost verbatim, from Aciman's book, is one of the most heart-rending and eloquent speeches I have ever heard on film and had me riveted.  In truth, you could have heard a pin drop and I don't think there was a dry eye in the screening room.
This is a love story, pure and simple, which lifts and soars only to be brought back down to earth, with an almighty bump.
Give me more …
Twitch Factor:  Sub, Sub, Sub Zero