FABERGÉ: A LIFE OF ITS OWN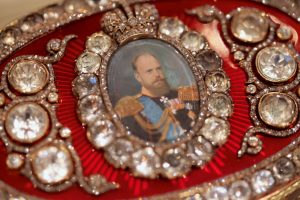 A remarkable documentary which charts the rich history behind the iconic luxury brand Fabergé, from the monumental rise of 'artist jeweller' Peter Carl Fabergé in the 19th Century to the enduring legacy of Fabergé today. The compelling history of the Fabergé brand, told by two of Peter Carl Fabergé's great-granddaughters Tatiana Fabergé recalls the dramatic upheaval of the House of Fabergé from Russia to Europe during the Russian Revolution, whilst Sarah Fabergé introduces                                                           the modern incarnations of Fabergé's jewellery.
2014/UK/ArtsAlliance/82mins/Documentary Release Date: 29/06/2015
Director: Patrick Mark
Cast: Narrator: Samuel West
This documentary has collected the award for Outstanding Achievement in Film making at the Newport Beach Film Festival; Best Documentary at Palm Beach International Film Festival and the Jury Award: Documentary at the Beverly Hills Film Festival.
The viewer is given an incredible insight into the techniques used to create magnificent, opulent, jewel-encrusted Fabergé masterpieces and explain the centuries-long appeal of this iconic luxury brand.
The film also chronicles the story of a lost Imperial Egg which was long believed to be lost until its surprise discovery by a scrap metal dealer last year, and will be revealed to the public for the very first time, having already been sold privately for an estimated $30 million.
The 'Pearl Egg' is the first 'Imperial Class' Egg produced for
over 99 years and was commissioned to mark 100 years since the production of the last Imperial Egg for Tsar Nicolas II, and will be unveiled to audiences in exquisite close-up detail. A spectacular objet d'art, it features over 3,000 diamonds and natural pearls, carved rock crystal and Mother of Pearl set on white and yellow gold and opens like an oyster to reveal an ultra-rare radiant grey pearl. It took 20 work masters 18 months to create this homage to Carl Fabergé.
One of my favourites is the mechanical peacock which is delicately exquisite and the 'Swan Egg' which is fashioned in gold and then silver plated and opens to reveal the unfurling neck of a swan – words fail me with its beauty.
With most Fabergé pieces held in private ownership or confined to a small number of museums, the audience is given a rare chance to experience these magnificent creations on the big screen, and the only opportunity to see two historical pieces before they return to the secrecy of their very private collections.
To think that all these creations were the brainchild of a 'mere mortal'…
Twitch Factor: Sub, Sub, Sub Zero