The Belgian fashion designer, Raf Simons, takes over the House of Dior as Creative Director in 2012 and is given just eight weeks to put together his first ever haute couture  show – an enormous undertaking which usually requires five or six months.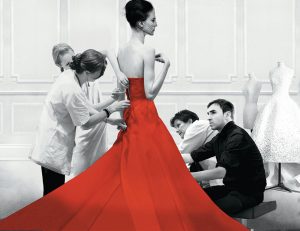 2014/France/90mins/Dogwoof/Documentary
        Release Date: 27/03/2015
         Director: Frédéric Tcheng
         Starring: Raf Simons, Marion Cotillard, Anna Wintour
'Dior and I' refers to the connection between the 47-year-old Simons and the late designer, and is revealed through narrated segments (voiced by Omar Berrada) from his 1956 memoir, 'Christian Dior & I', together with vintage footage. There are many parallels.  Both men are more comfortable in the quiet company of a few trusted friends; both contemplate their outward persona as opposed to their true selves and both worry about dealing with the press.
Prior to meeting with Raf Simons, Tcheng had been in discussions with Dior about making a documentary following his successful, 'Valentino:  The Last Emperor (2008) and Diana Vreeland: The Eye Has to Travel (2011).  Once it was announced that Raf Simons was the new Creative Director following the very public dismissal of John Galliano in 2011 following a public anti-semitic outburst, he wrote to him outlining his ideas for a documentary.
Raf Simons agreed to being filmed with one proviso: the film needed to have a down-to-earth approach – in this respect, Tcheng succeeds.
But what the film does best is highlighting the extremely hard work that it takes to create a collection which appears effortless.
We have no idea what goes on behind the scenes to produce a collection, let alone stage a show during Fashion Week – whether it is New York, London, Paris or Milan.  It appears to 'just happen'.  However, as anyone who has worked in Haute Couture knows well, nothing could be further from the truth.  Behind it are the atelier staff who must work together in order to create the designer's vision.
These veteran seamstresses and craftsmen, some of whom have worked for Dior for 40 years, are dedicated to perpetuating his legacy and have an emotional bond with the clothes they create. They play a big role in the film, as they should and are characters in their own right.  Especially the atelier's première, Florence Chehet, who appears to have a 'soft spot' for the flirty and charming, Pieter Mulier, who is Raf's longtime second-in-command.
Pressure is applied when the gets an idea that he would like to create dresses inspired by the abstract paintings of his longtime friend, the American modern artist, Sterling Ruby. However, this will require a complicated and decades-old thread-printing technique.  Adding to the pressure, Simons hits upon the idea of renting a Paris mansion for his debut show, and covering the walls in blankets of flowers: one room with all the walls enrobed with blue delphiniums, another with white orchids, etc. The effect is breathtakingly vibrant.
When the big day finally dawns to display his debut collection, Simons is reticent to step out before the glittering and admiring crowd to bask in the customary applause (seated in the front row are Sharon Stone, Marion Cotillard, Anna Wintour and Jennifer Lawrence (sat next to a hirsute, Harvey Weinstein – sans wife, Georgina Chapman). You also feel his discomfort as he's forced to be photographed alongside movie stars on the red carpet.
Although Simons is all business, there is no doubt that the tears he sheds at the end of his debut show, are authentic, in comparison to the artificial world of fashion. On camera he is seen for most of the time as a commanding creative figure; however, we learn little about his personal life – in that respect, he remains elusive.
There are so many lovely and real, heartfelt and stressful, funny and compassionate moments that have been captured in this beautiful film and it is an incredible insight into one of fashion's biggest appointments.
A film not to be missed, especially if you are a fashionista.
Twitch Factor:  Sub Zero