New Style Cinema. June 2017
CERTAIN WOMEN
The lives of three women intersect in small-town America, where each is imperfectly blazing a trail.
2016|USA|Park Circus|107mins|Drama|12A
Release Date: 3/3/2017
Director: Kelly Reichardt
Cast: Michelle Williams, Kristen Stewart, Laura Dern, Lily Gladstone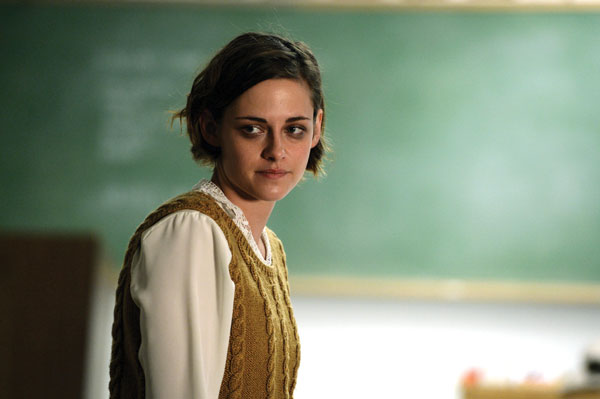 Certain Women is an adaptation of three short stories by Maile Meloy which are set in rural Montana.  Not an easy ride for city dwellers … at the best of times.
It is a portrait of three women, each striving to make their own way in life but encountering resistance and apathy at every turn.
Laura (Laura Dern) is a small town lawyer, who is struggling with an unpredictable client who is refusing to accept that he will not be successful with an appeal against a personal injury claim payment, since he readily banked the original payout and, therefore, sometime later, cannot reverse that decision.  At the same time, he is using her as an emotional crutch as he spirals towards depression.
Gina (Michelle Williams) wants to build her dream home but her husband and daughter appear to be working against her which only makes her the more determined in her quest.  However, along with her obduracy, comes the inevitable friction which threatens their joint lives.
The star of the film has to be the extraordinary Lily Gladstone who plays a rancher (we are never introduced to her by name) who is on a winter farm job with only the horses and a mad dog (who loves chasing tractors), for company.
Her loneliness is tangible and one night, out of curiosity, she stumbles upon a night class taught by a young, brow-beaten, legal graduate, Elizabeth (Kristen Stewart).  After the class, they go to a local diner where Elizabeth sits eating and talking, whilst the rancher watches and listens, with the glimpse of a smile on her face.  She is imagining an opportunity which will bring them closer, whilst Elizabeth is beleaguered by the fact that it takes her 4hrs to drive each way, twice a week, in order to teach the class, whilst holding a full time job at the same time.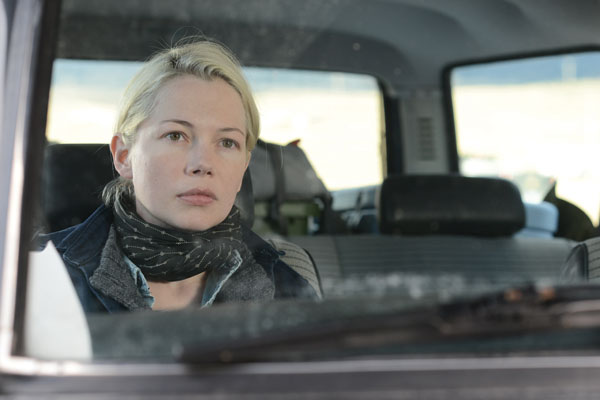 It is this third and final chapter which elevates the film into a masterpiece of subtlety and 'subtle' is not a word which is synonymous with American actors.  There is a chemistry between Gladstone and Stewart which is palpable and is not often seen or felt on screen.
Michelle Williams' performance is one of her best and holds your attention throughout.  Whilst Laura Dern's role is finely nuanced, drifting from harried lover, hassled lawyer to empathetic listener within a small space of time.
Kelly Reichardt, the director, is known for her low-key, intimate films which draw you in, whether or not you want to be.  Her work is not for mainstream cinema enthusiasts, however, but more for those who appreciate 'real life' – 'natural' being the key element here.owever
The cinematography (Christopher Blauvelt) is stunning, even in its bleakness.
As you may have already guessed, this is not a fast-paced film, but it is beautifully crafted. It won't appeal to everyone, but I urge you to give it a try, since as long as you keep an open mind, it will surely grab you when you least expect it.
Twitch Factor:  Sub, Sub Zero
===========================================================================
LIFE
A team of scientists aboard the International Space Station discover a rapidly evolving life form that caused extinction on Mars, and now threatens the crew and all life on Earth.
2017|USA|Sony Entertainment|104mins|Horror/Sci Fi/Thriller|15
Release Date: 24/3/2017
Director:   Daniel Espinosa
Cast: Jake Gyllenhaal, Ryan Reynolds, Rebecca Ferguson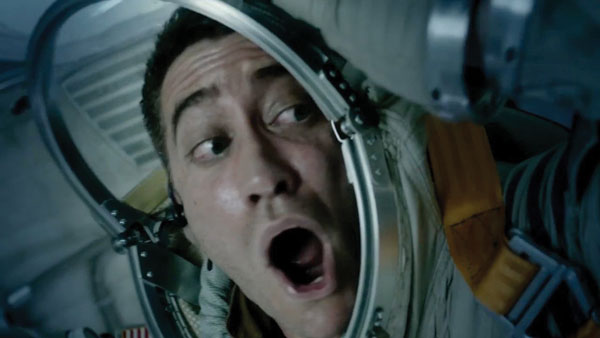 The six-man crew (technically two men; Hugh Derry (Ariyon Bakare), Sho Murakami (Hiroyuki Sanada), two women; Miranda North (Rebecca Ferguson) and Ekaterina Golovkina (Olga Dihovichnaya) and two 'gods' – Rory Adams (Ryan Reynolds) and David Jordan (Jake Gyllenhaal) are working on an International Space Station when a satellite containing Martian soil samples, uncovers a cute little stringy entity which appears to be laying dormant.  Thus confirming that there is irrefutable life on Mars.
You can imagine the excitement on board.  The head researcher, Hugh Derry    (Ariyon Bakare) decides to take the little critter under his wing and proceeds to bring it out of stasis, stopping short of 'mouth-to-mouth' – understandably so, since you would be hard put to find its mouth at this stage of the game.   
Soon everyone on board is marvelling at its level of growth and it is given a name – 'Calvin' – by a little girl on Earth where children have been tasked to find a name for this Martian alien.  I have no idea why 'Calvin' and I am not 100% sure that anyone cares either way, least of all 'Calvin' since he is already on his way to the bank to open an account where, no doubt, he will be making a lot of money once he lands on Earth.
But I digress.  Soon it all becomes very much apparent, that this little fella yearns for world domination and, like Russell Brand, he isn't taking 'No' for an answer.  He is on a mission and will let no-one stand in his way.
Much mayhem, gory and nail-biting moments ensue and the methods of annihilation are quite inspired.   
Ryan Reynolds is the joker on board, endeavouring to keep everyone's spirits high, although at some point, even he has to ask himself, why?
Jake Gyllenhaal's character is melancholic and feels that there is nothing left for him on Earth and is quite happy to be stranded in space for the rest of his days.  You never disbelieve him for one minute.  He does 'brooding' and 'soulful' extremely well.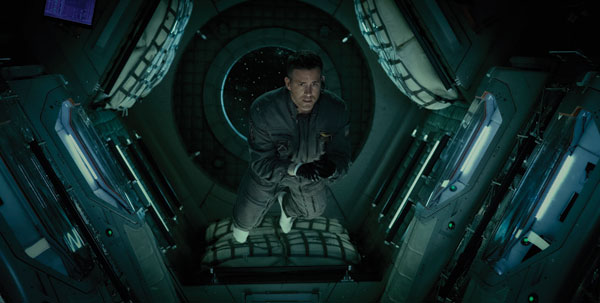 All in all, the international cast works well as an ensemble, something not easily discernible until you actually start filming.
Daniel Espinosa's direction is very good and using zero gravity to his advantage, allows himself to engage in full pelt horror/panic mode to eke out every last drop (literally) of life force from the crew.  No spoiler alert here, it has to happen, but who gets away?
Seamus McGarvey's cinematography doesn't quite match up to Emmanuel Lubezki's Oscar winning turn on Gravity, but nevertheless, at times gets pretty close to it.
Script-wise, I would have expected more from the Deadpool/Zombieland duo of Rhett Reese and Paul Wernick.  By the way, if you haven't seen Deadpool, I urge you to download it on Sky or whatever other medium you choose.  You will not be disappointed but I think I should warn you, that there is more than the average amount of swearing, so if you are sensitive to the use of very colloquial English, this film would not be for you.
Well, Alien it isn't, but nevertheless, it is still gripping in parts – just like the gelatinous blob which is invading the ship.
Do see the film if you are into 'Alien'-type films, but don't expect anything new.  I went to see it because I like Jake Gyllenhaal and I had nothing better to do and, for the most part, I wasn't too disappointed.
Twitch Factor:  Sub Zero
===========================================================================
THE BOSS BABY
A suit-wearing baby and his 7 year-old brother team up to defeat an evil businessman's masterplan.
2017| USA| 20th Century Fox|97mins|Animation|U
Release date: 07/04/2017
Director: Tom McGrath
Cast (voices): Miles Christopher Bakshi, Alec Baldwin, Lisa Kudrow, Jimmy Kimmel, Steve Buscemi
Narrated by:  Toby Maguire (adult Tim)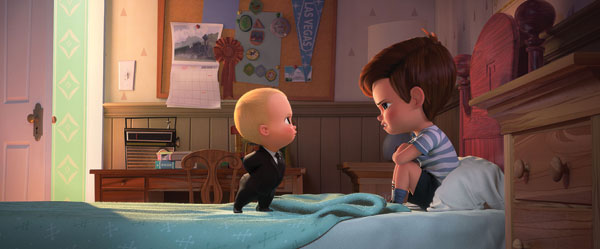 The Boss Baby is loosely based on the 2010 children's book of the same name, which was written and illustrated by Marla Frazee.  Luckily, Dreamworks has created a far cuter version from Frazee's original illustration of 'Boss Baby'.
Tim Templeton (Miles Bakshi) is living the dream.  He is 7 years old, has no siblings, and has the undivided attention of his doting and loving parents, Ted (Jimmy Kimmel) and Janice (Lisa Kudrow), all to himself.  It never once enters his head that he could end up with a 'baby interloper' putting paid to his idyllic way of life once and for all.
However, when 'Baby Boss' (Alec Baldwin) arrives, everyone's life is turned upside down.  The impact on Tim is instantaneous and he finds himself constantly in a battle of wills, which apparently is rapidly being won by his little brother.
No longer do his parents have the time or energy to play with him – not even to read him is bedtime routine of three stories, five hugs and his special song.  Now, they are mere puppets being manipulated by a 'grumpy-old-man' baby, in a suit-onesie, with his cute-baby-butt stretching his pants to the max.
Tim becomes suspicious of his briefcase-toting sibling and even more so, when he realizes that he can talk like a fully grown adult and one day, finds him actually conducting business on a secret mission.  Boss Baby reveals that he was sent by the head of Baby Corp to stop the launch of a new product from Puppy Co which could seriously undermine the amount of love in the world for babies.
They form a pact – if Tim helps him to locate the 'new product', he can then return to Baby Corp, be promoted and Tim's life would be restored back to normal.
The film is directed by Tom McGrath who co-helmed the lucrative Madagascar franchise and is has taken him 6 years to bring the film to screen.  He wanted to create something for the whole family to be entertained.  He understands what it is to be a child and the sequences where Tim's imagination is running amok – one minute he is a Ninja and the next he is 'tackling' a gorilla – hit familiar notes.  Not that I imagined myself as a pirate or gorilla-fighting guerrilla – I was more into ballet and delicate, feminine pursuits …
It is both funny and heartwarming and from its 1950s/60s inspired graphics to beautiful use of colour and visual flair, it cannot fail to please both adults and children alike.
This is a tale of sibling rivalry and a metaphor for the havoc and mayhem which is created when a baby is brought into the familial fold.
By the way, a little known fact, were you aware that 1.2m puppies are born every day, but only 360,000 babies?  There you go, you have learnt something really useful today!
Screenwriter Michael McCullers script is funny and doesn't lack imagination, although it is a trifle
Alec Baldwin is obviously the star of the piece.  If you are a 30 Rock aficionado, you are going to love this, since he has brought his Jack Donaghy persona to the silver screen and it works brilliantly too.
Miles Christopher Bakshi is a perfect foil to Baldwin's adult-voiced 'baby' and in fact, he is so good that this film could work as an invaluable teaching tool for families going through a similar situation (a new born baby, that is, not a 'sibling from hell'.
Very cute film, with some genuinely funny moments. A 'must see' for everyone, and could be used, also, as an alternative to any form of contraception.  After seeing this film, just the idea of unprotected sex, will send you running to the nearest nunnery/monastery!
Enjoy!
Twitch Factor:  Sub Zero
New Style Cinema