CRAZY RICH ASIANS
This contemporary romantic comedy, based on a global bestseller, follows native New Yorker Rachel Chu to Singapore to meet her boyfriend's family.
2018 | USA | Warner Bros. | 120 mins| Comedy, Romance | 12A
Release Date:  14 September 2018
Director: John M. Chu
Cast: Constance Wu, Henry Golding, Michelle Yeoh, Gemma Chan, Awkwafina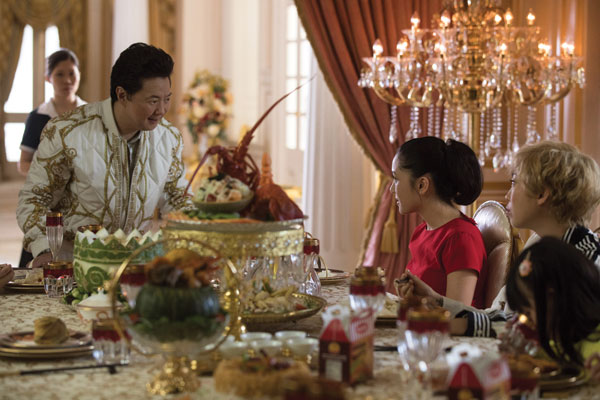 An Asian rom com Cinderella story which has been faithfully adapted from the first book in Kevin Kwan's bestselling trilogy.
Our young heroine, Rachel (Constance Wu) is an Economics professor teaching game theory at NYU and has been brought up by a single mother, (Kheng Hua Tan).  She has a gorgeous Historian boyfriend, Nick (Henry Golding), who, unbeknownst to her, is actually the son of one of the wealthiest families in Singapore.
Nick's best friend is about to get married in Singapore and he asks Rachel to accompany him to what is probably the event of the year on the social calendar.  At first, she is a little hesitant, since she knows that at some point she will be introduced to his family of whom, she knows very little and Nick downplays the extent of his family's wealth.
Her antenna is certainly raised when they arrive at the airport and she is made aware that they will be travelling First Class, rather than their more usual mode of air travel – Economy class.  During the flight, Rachel quizzes Nick and slowly it dawns on her, that she has no idea just what she is letting herself in for.
Now, the fun really begins and she finds herself transported into a world in which she is totally unprepared for – from Nick's elegant, traditional, quietly bitchy mother, Eleanor (Michelle Yeoh), to the many socialites who think nothing of dropping a cool $1m on an item of jewellery and using their private planes, as we might use taxis.  To them, Rachel is but an 'Asian American' – the lowest of the low and they cannot believe that Nick has chosen someone like that, over them. But Nick's cousin, Astrid (Gemma Chan) is on hand to help lighten Rachel's load, whilst trying to bolster her own husband's lack of confidence.  Her good friend, Peik Lin (Awkwafina) whose mother, Neenah (Koh Chieng Mun) and father, Wye Mun (Ken Jeong) are deemed 'nouveau riche' and thus not worthy of the snobby elite and tries to help Rachel overcome her perceived inferiority.
A fun-filled, tongue-in-cheek peek into the secretive and insular world of crazy rich Asians, literally, awash with gorgeous women and handsome men.  Hopefully, something to please everyone.
This Asian-centric film marks a watershed moment for both Hollywood and all those involved in the making of it. It appears that the general public, worldwide (apart from China) has fully embraced Crazy Rich Asians and I am sure that the two sequels – China Rich Girlfriend and Rich People Problems will, hopefully, follow in quick succession.  I can hear the 'kerching' reverberating through the global Box Office coffers.
Lovely cinematography from Vanja Cernjul, bringing to life the excesses of this secretive world – the wedding scene, in particular, is very funny and cringeworthy – to say the least.
Lovely performances from Wu, Golding (making his feature film debut) and Chan, with her ethereal and refined beauty but it is Awkwafina who steals the film, along with her shamelessly over-the-top father, played by the former MD, Ken Jeong, better known as 'Mr Chow' in the Hangover series of films.
A must-see, for some light-hearted and fun entertainment.  We don't get much of that, these days.
Twitch Factor:  Sub, Sub, Sub Zero.
* * *
BAD TIMES AT THE EL ROYALE
Seven strangers, each with a secret to bury, meet at Lake Tahoe's El Royale, a rundown hotel with a dark past. Over the course of one fateful night, everyone will have a last shot at redemption – before everything goes to hell.
2018| USA | 20th Century Fox | 146 mins| Thriller, Mystery | 15
Release Date:  12 October 2018
Director: Drew Goddard
Cast:, Jeff Bridges, Jon Hamm, Cynthia Erivo, Lewis Pullman, Cailee Spaeny, Dakota Johnson, Chris Hemsworth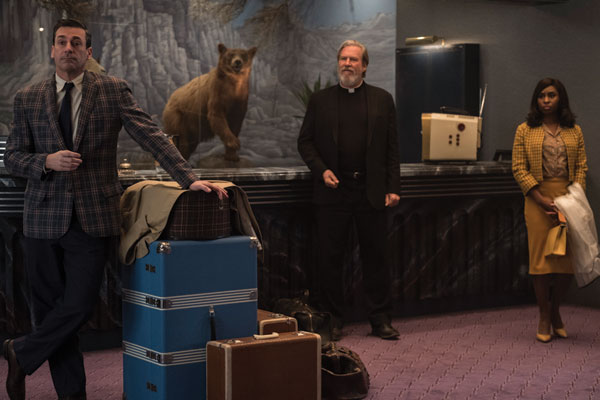 In the opening moments, you would be forgiven for thinking you are watching a 1950s stage set but minutes later, we are transported forward by 10 years, to the 60s.
One by one, a motley crew descend upon the motel: a priest, Fr Daniel Flynn (Jeff Bridges), a vacuum-cleaner salesman by the name of Laramie Seymour Sullivan, (Jon Hamm) and a backup singer, Darleen Sweet (Cynthia Erivo).  They all stand in the empty lobby and we are left wondering what is going to happen next.  Other than this disparate group, no-one can be seen or heard.
Eventually, a nervous young man, Miles Miller (Lewis Pullman) appears from behind closed doors and begins to give them the motel sales pitch that there is a line running through the lobby which straddles the California/Nevada border, so you can choose which state you will stay in and if you happen to be on the Nevada side, you need only cross over to 'California', for a drink.
While the rooms are being allocated, with Sullivan emphatic that he should have the Honeymoon Suite, a car pulls up outside and in walks a shotgun-toting, leggy brunette, Emily Summerspring (Dakota Johnson) wearing West Coast hippie garb.  She is the last to arrive, or is she?
Little by little, with the aid of flashback sequences, the 'guests' back stories are revealed. No-one is who they say they are and to all intents and purposes, Emily appears to be a kidnapper.
With all that is happening on screen, the audience is left to ponder whether this is a set-up or perhaps a joke?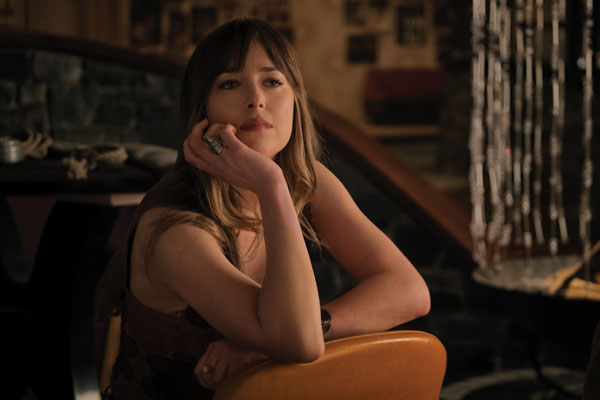 Is it a set up or perhaps a joke?
I loved this film – yes, it has touches of Tarantino, (with enough blood to keep the most ardent of fans, happy), with a smidgen of Wes Anderson's Budapest Hotel, thrown in for good measure.  Although a 'slow-burner', don't give up, since things begin to 'liven-up' during an interaction between Darleen and Fr Flynn – you will know exactly what I mean, when it happens!
Well directed by Drew Goddard with stunning camera work, as always, by Seamus McGarvey (The Greatest Showman and Nocturnal Animals) and      Martin Whist's production design is excellent with a great sense of subdued dramatic style.
A talented ensemble cast, especially Cailee Spaeny as Emily's younger sister, and Pullman.  But it is Erivo who steals the show for me.  She inhabits her role with her stillness and inner strength and is the one character who draws you in and you want to root for.
Well worth seeing and the predominantly 60s soundtrack, is superb!
Twitch Factor:  Sub Sub Zero
* * *
OPERATION FINALE
A team of secret agents set out to track down the Nazi officer who masterminded the Holocaust.
2018| USA | Netflix | 122 mins| Drama | 
Release Date:  3 October 2018
Director: Chris Weitz
Starring: Ben Kingsley, Oscar Isaac, Mélanie Laurent, Joe Alwyn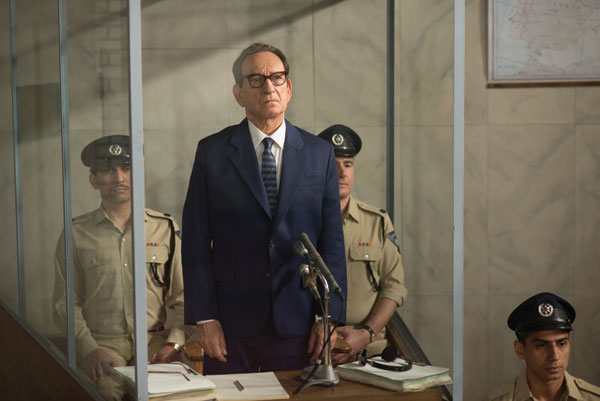 Operation Finale is a dramatisation of the 1960 mission to bring Adolf Eichmann to trial for war crimes committed.
The film begins with the Mossad trying to confirm the whereabouts of Eichmann.  He is finally tracked down to Buenos Aires, where he is living in anonymity, under the name of Ricardo Klement, with his wife, Vera (Greta Scacchi) and son, Klaus (Joe Alwyn) and is working as a welder and mechanic at a Mercedes-Benz plant.
Meanwhile, the Israelis gather together a team of Mossad spies which will kidnap Eichmann once they arrive in Buenos Aires and is led by Peter Malkin (Oscar Isaac).  It also includes Hanna (Mélanie Laurent) a doctor with whom Peter has had an on-off relationship, who will be in charge of subduing Eichmann, once he has been captured.
One night, as Klement (Eichmann) returns home from work, he is kidnapped by the Israelis and transferred to a safe house, where he is kept blindfolded and tied to a chair.
Not everything goes according to plan, since they find out that due to extradition laws prevailing at the time, they will be unable to simply put him on a plane and take him to Israel.  First, they will need to get his signature on an official document consenting to being transported to Israel, rather than the usual practice of standing trial in the country, where the crimes have been committed.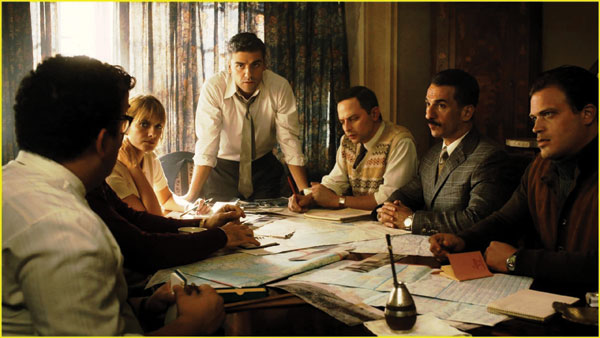 Eichmann steadfastly refuses to sign anything until Peter decides to take matters into his own hands, in order to persuade him otherwise.
There is a very tense scene when, on arrival at the airport, the Israelis find that they do not have a copy of their flight documentation and it is left to Peter to run back to the air traffic controllers to get a duplicate copy.  I was actually sitting on the edge of my seat, such was the build-up, even though I knew that eventually Eichmann's flight did take off.
Operation Finale is well directed by Chris Weitz but the script is a little weak in places.  That said, I found the film very entertaining but it did feel as though the story line was being padded out for dramatic purposes eg there was never a raid on the safe house and Hanna, the doctor, was in fact a male.     
There are strong performances from Isaac and Kingsley and Alwyn, is scarily well cast as Eichmann's son.   
Another Netflix film which is available to watch, now.
Twitch Factor:  Sub, Sub Zero
* * *
PRIVATE LIFE
An author is undergoing multiple fertility therapies to get pregnant, putting her relationship with her husband on edge.
2018| USA | Netflix | 132 mins| Drama | 15
Release Date:  5 October 2018
Director: Tamara Jenkins
Cast: Kathryn Hahn, Paul Giamatti, Kayli Carter, Molly Shannon, John Carroll Lynch

This is Tamara Jenkins' long-awaited follow up to The Savages 2007 (starring the much-missed Philip Seymour Hoffman) and tells the story of two forty-something writers, Rachel (Kathryn Hahn) and Richard (Paul Giamatti), who are living in New York's East Village.
Desperate for a child, they have tried all possible options available to them and now find themselves secretly embarking on IVF treatment – which is going to cost them $ 10,000.
The process starts with some humour as the nervous Rachel waits in the doctor's surgery, gowned and ready for action, with Paul trying to produce sperm to-order, which he is unable to fulfil, even with the aid of a second-rate porno film.
So, $10,000 follows the unfertilised egg, down the drain – metaphorically speaking.
The doctor has one final recommendation: an egg donor.  Already pumped up with hormones, Rachel blows a gasket and will not consider this option.  However, talking it through, Richard eventually persuades her to reconsider the idea and you see them combing through specific websites, much akin to online dating sites, giving profiles of would-be donors.
Meanwhile, Richard's niece, Sadie (Kayli Carter), tiring of her studies at Bard, decides to abandon her course and asks if she can crash with them, blissfully unaware of their frustrations.
One morning, over breakfast, they broach the idea of being an egg donor, with Sadie and lo and behold, she says, yes.
Fast-forward to the family Thanksgiving dinner, as everyone passes round the table with their individual 'grateful-fors', Sadie decides to announce to all and sundry, that she is going to be an egg donor for her aunt and uncle.  Oops, much embarrassment all round, while her mother, Cynthia (Molly Shannon) is absolutely adamant that this will not happen.
This is a heart-rending and intimate portrait of a marriage that is tested to its limits.
Albeit a tad too long, nevertheless, it is worth watching, even if you have no prior knowledge or interest in the subject matter at hand.   
You genuinely empathise with this couple, who it appears have 'missed the boat' – fertility-wise – and are now left to explore the only other options available to them.
Tamara Jenkins, once again, proves what a talented director and writer she is.  er The
The actors are all perfectly cast; Paul Giamatti, who can do no wrong in my book, brings pathos and humour as the put-upon, but strong, husband; Kathleen Hahn as the hormonal wife whose main aim is to find herself pregnant; Shannon as Sadie's, pushy mother and a beautiful break-out feature film performance from Carter as Sadie.
The film can currently be seen on Netflix and at selected cinemas.
Twitch Factor:  Sub Zero