BEN IS BACK
A teenage drug addict shows up unexpectedly at his family's home on Christmas Eve.
2019 | US | STX International | 103 mins | Drama | 15 
Release Date:  15 March 2019
Directed by Peter Hedges
Starring: Julia Roberts, Lucas Hedges
It's Christmas Eve and Holly Burns (Julia Roberts) is making last-minute preparations for Christmas with her family, when her son, Ben (Lucas Hedges) turns up unexpectedly, having checked himself out of rehab.  Whilst his mother is nervously ecstatic, his stepfather, Neal (Courtney B Vance) and his sister, Ivy (Kathryn Newton) view his sudden appearance as meaning only trouble ahead.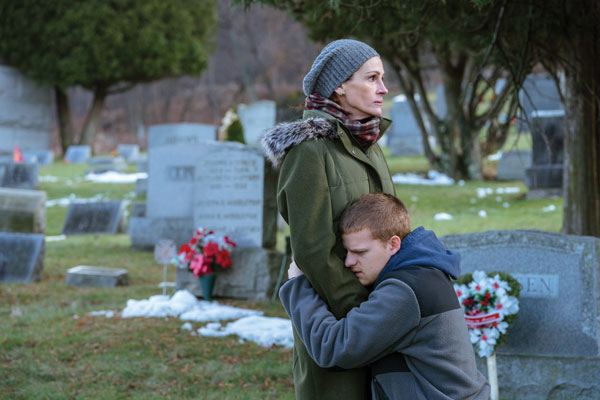 He informs them that his sponsor thought that a last-minute trip back home for the holidays, away from the confines of rehab, could be good for him.
On the face of it, Holly wants to believe her son, however, out of sight, she busies herself hiding jewellery and prescription drugs – anything that will put temptation in his way.  She also makes a pact with him that he must never be out of her sight – something easier said, than done.
I have to admit that having read the short synopsis, I didn't really want to 'endure' another drug-addiction movie.  But, since I had guests staying with me, and for wont of something better to do, we decided to give-it-a-go.
Wow, what a surprise.  I am so pleased I didn't give in to my inner grumblings.
Peter Hedges decision to restrict the film to a 24hr period works well and mercifully, it is devoid of flashbacks – something which has been used in abundance in films this past year.
While father and son did not intend to make a film together, once Lucas had read the script, to show support, everything changed.
Roberts is convincing as a parent who is forced to come to terms with her son's addiction, but at the same time needs to trust him, as well as show him her trust.  Her varied range as an actress is used to good effect, while the onscreen chemistry between her and Hedges is palpable.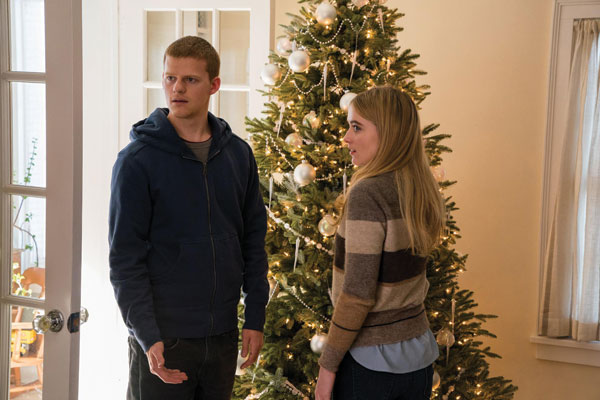 Hedges has gone from strength to strength since Moonrise Kingdom and is always a pleasure to watch.  He is skilled at making us believe how his charm has let him abuse people's trust (including his family) so often.
A lovely, thought-provoking film with brilliant stand-out performances from Roberts and Hedges.
A definite 'must-see'.
Twitch Factor:  Sub, Sub Zero
* * *
GIRL
Lara is a 15-year-old girl, in a boy's body, who dreams of becoming a ballerina.
2018| Belgium, Netherlands |Curzon |109 mins | Drama |15 (Flemish/French with English subtitles)
Release Date:  15 March 2019
Directed by:  Lukas Dhont
Starring: Victor Polster, Arieh Worthalter, Oliver Bodart
Based on the true story of a ballerina named Nora Monsecour, Girl follows the struggles of Lara (Victor Polster) who having recently moved home with her father, Mathias (Arieh Worthalter) and younger brother, Milo (Oliver Bodart) finds that she has been given a temporary place at an elite ballet school, with the proviso that she will have to prove that she can 'keep-up' with the other girls.
Moments are spent in front of a mirror, examining her face and body, especially when she is undergoing hormone therapy prior to 'going under the the knife'.
We feel her struggles as a girl living inside a masculine body; every day looking at a body that you feel is not your own.
Her classmates begin to question why she never showers after class or in fact undresses in front of them.  All is revealed, so to speak, when she is invited to a sleepover and being a young girl, she is eager to cement friendships with her classmates.  However, the evening ends in her being 'outed' and becoming a figure of ridicule.
But she never gives up, even in the face of adversity and relentlessly carries on with her life – even attempting to start a relationship with a young man living close by.
A remarkable filmmaking debut from Belgian writer/director, Lukas Dhont.  I remember trying to get into one of the screenings at last year's Cannes Film Festival and unfortunately being unable to get tickets.  But it was certainly the talk of Cannes and won the Camera d'Or for best first feature as well as the Queer Palm. Girl was also nominated for a Golden Globe for Best Foreign Language Film.
Frank van den Eeden's cinematography is exquisite and stunning, especially the more sensitive scenes, ie watching Lara's daily ritual of 'taping and tucking' in preparation for her ballet classes, or examining her changing body and the heartbreaking scenes between her and Milo.
This is Polster's first acting role and what an achievement it is.  He is a natural and his mesmerising performance tugs at the emotions – whether heart-wrenching in its complex issues or stoically rooting for Lara and what she stands for.
Ariel Worthalter puts in a very warm and sympathetic performance as the father who has to watch while his 'daughter' has to face, not only the frustrations and challenges of adolescence, but also the fact that she has chosen to undergo gender reassignment, while pushing her body to the limits with her dream of becoming a ballerina.
There is a beautiful chemistry between Bodart and Polster which cannot be faked.  In one particular scene, where Milo calls his sister by her birth name 'Victor' in a moment of anger, the tears which flow down Lara's face seem very real.  For such a young child, Oliver's performance is breathtakingly natural, such that it almost appears as if the camera is filming a private moment in time.
Very believable performances from the three central characters and a film which will remain with you long after the credits have rolled.
A definite 'must-see', whatever your persuasion.  A life lesson, if you will.
Twitch Factor:  Sub, Sub, Zero
* * *
INSTANT FAMILY
A couple find themselves in over their heads when they foster three children.
2018 | US | Paramount Pictures | 118 mins | Comedy, Drama | 12A
Release Date:  14 February 2019
Directed by: Sean Anders
Starring: Mark Wahlberg, Rose Byrne, Octavia Spencer, Tig Notaro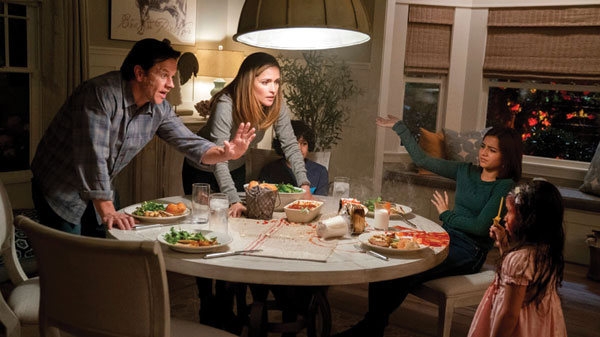 Happily married Pete (Mark Whalberg) and Ellie (Rose Byrne) seem content working as a pair of home renovators, who purchase run-down properties, fix them up, sell them on and live quite well, off the proceeds.
Everything looks hunky dory but something is missing.  Perhaps it is the pitter patter of tiny feet?  They both decide that there are a lot of children out there who need to be loved and why not foster a child and possibly adopt at a later stage?  How difficult can that be?
One thing leads to another and Pete and Ellie enrol in a foster parent course, (who knew?) run by two social workers, Karen (Octavia Spencer) and Sharon (Tig Notaro).
After completing the course, hopeful parents are given the chance to meet with children in need of a home at a supervised 'Foster Fair' and this is where Pete and Ellie meet Lizzy (Isabel Moner), a smart-arse 15-year-old, who makes a lasting impression on the pair.
They soon learn that Lizzy's mother is a recovering drug addict, who is currently in prison and to cap-it-all, she has a younger brother and sister, Juan (Gustavo Escobar) and Lita (Julianna Gamiz)and they come as a package!
Despite having concerns, since originally they were prepared to foster one child and now they find themselves with three, they go with it.  After all, how hard can it be – they have an instant family…
Anders has struck a wonderful balance here, since the film is both moving and very funny.  Whilst there is a lot of fun to be had, the central core of the film is a serious topic about fostering – with all the trials and tribulations on either side, which this entails.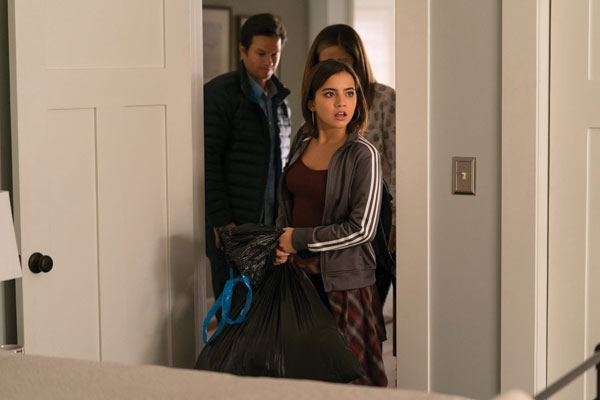 Whalberg has come a long way from his 'Marky Mark' music days and infamous Calvin Klein ad campaign, where his 'crown jewels' were crammed into tighty-whitey boxers. I was (still am) a great fan…but enough of lascivious thoughts and onto his acting. He gives a very sympathetic performance as a young married man, who suddenly finds himself a 'daddy' and doing quite well at it.
Rose Byrne gives a great performance as the wife, who takes her new job as 'mother' very seriously and even frets when one of the children calls her husband 'dad' before she even gets a look-in as 'mum'.
Notaro and Spencer make a wonderful comic pairing – one po-faced, whilst the other always with a big grin on her face.       
This film was a revelation.  Again, as with Ben is Back, I had preconceived ideas and I am beginning to learn that you can miss out on a lot of entertaining films, by doing this.
A fun, light-hearted film for everyone.
Twitch Factor:  Sub, Sub Zero
* * *
US
A family's serenity turns to chaos when a group of doppelgängers begins to terrorise them.
2019 | US | Universal | 116 mins | Thriller, Horror | 15 
Release Date:  22 March 2019
Directed by: Jordan Peele
Starring: Lupita Nyong'o, Winston Duke, Elisabeth Moss, Shahadi Wright Joseph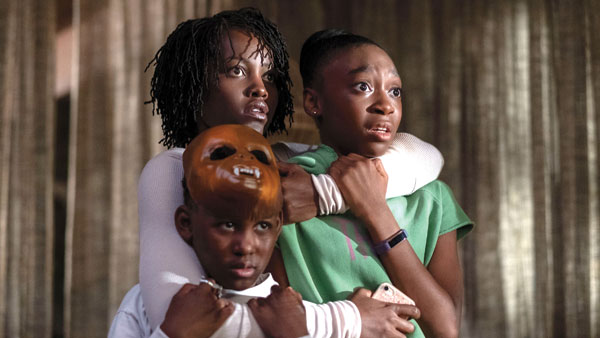 It is 1986 and a mother, father and young daughter are walking through a Santa Cruz beach fairground.  At one point, the young girl dressed in a Thriller t-shirt wanders away from her parents and finds herself in Vision Quest, Hall of Mirrors.  So far, so good.  Of course, she enters the Hall and then finds herself unable to find her way out. The scene ends with the young girl seeing her reflection in one of the mirrors, having lost her way and there is a look of abject horror on her face.
Some thirty years later, Adelaide (Lupita Nyong'o) begrudgingly returns to the same beach, with her annoying husband, Gabe (Winston Duke), argumentative teen daughter, Zora (Shahadi Wright Joseph) and nervous son, Jason (Evan Alex) who is never without his monster mask – either wearing it to hide his face or on the odd occasion, on his head. Without having consulted her, Gabe has made arrangements for them to meet up there with their friends, the Tylers.
Still haunted by her childhood, Adelaide is a woman of few words, particularly in the company of other people and she is less than communicative, preferring her own company.  She confides in her husband that she doesn't feel like herself and that she wants to leave but Gabe doesn't want to hear about it, that is until one evening, a shadowy family arrive on their holiday home doorstep…
An ominous opening statement, "There are thousands of miles of tunnels beneath the continental US.  Many have no purpose at all." This sets the tone for the rest of the film and I waited with bated breath.  Fortunately, not too long after, I did start to breathe again, since my excitement was short-lived. 
While Get Out's script was so sharp and witty, this script was left wanting.  On reflection, I cannot articulate exactly what was missing, but I think it could have been a lack of balance between the comedic and dramatic.  It didn't seem to know in which direction it should be going and therefore, everything was thrown in at once.  There should have been less of the comedic dialogue, especially when dealing with dramatic events, since it diluted scenes which should have been much more scary, had it not been for throw-away lines – which I didn't necessarily find so funny.  Don't get me wrong, the premise was enticing, but the balance was far more subtle in Get Out, which is probably why the film worked so well and appealed to so many people across the board.
But hey, maybe I'm just old and grumpy…
Even the great score from Michael Abel, with undertones of Jerry Goldsmith's 'Ave Satani' from The Omen, failed to keep me in suspense.   
Lupita Nyong'o as usual, put in a brilliant performance, doubly so and I loved Shahadi Wright Joseph as the sassy teenage daughter.
Elisabeth Moss, who is usually so riveting on screen, seemed to be struggling a little and again, I couldn't get to grips with Winston Duke, but that says more about the script rather than their individual performances.
I so enjoyed Get Out and perhaps I was expecting something much more and for me, it didn't quite happen.  I had the feeling that it wasn't quite sure what it should be and how far it should go.
Don't let me put you off, since I am sure I am sure in the minority here and perhaps I was having an 'off-day' – who knows and who actually cares?  At the end of the day, it is an individual viewpoint.
Twitch Factor: Zero