New Style Cinema. March 2021
THE UNITED STATES versus BILLIE HOLIDAY
Follows Holiday during her career as she is targeted by the Federal Department of Narcotics with an undercover sting operation led by black Feder Agent Jimmy Fletcher, with whom she had a tumultuous affair.
2021 | USA| Sierra Affinity | 130mins |Biography, Drama, Music
Release Date: 27 February 2021 (internet)
Director:  Lee Daniels
Starring:  Andra Day,  Trevante Rhodes, Garrett Hedlund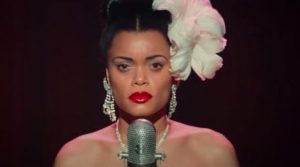 The film is based on the book, Chasing the Scream: The First and Last Days of the War on Drugs by Johann Hari.
In 1947 Holiday (Andra Day) was convicted to a sentence of one year and a day for possession of narcotics but it was her unflinching refusal to stop performing Abel Meeropol's anti-lynching ballad, 'Strange Fruit' which became the anthem for civil rights awareness and activism, that was the final straw.  But it was perhaps the greatest indication of her indomitable spirit, which despite horrific childhood abuse and tough upbringing, she rose to superstardom during a time of extreme racial and sexual prejudice.
Jimmy Fletcher (Trevante Rhodes) is the handsome undercover narcotics agent who is assigned by Harry Anslinger (Garrett Hedlund), the Narcotics Bureau Chief, to infiltrate Holiday's inner circle, in order that he may gather evidence of her drug use, a job which he readily accepted because of his own aversion to drugs and their effect on Black Americans.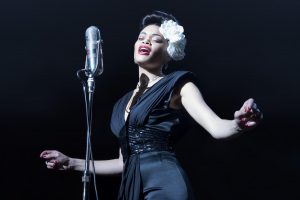 Even when Jimmy is exposed, the singer and her entourage continue to tolerate his presence.  The sympathy he shows her – in sharp contrast to Holiday's abusive relationships with other men – soon turns to him sharing both her confidence and her bed. 
The film travels backwards and forwards, through her life, interspersed with real-life footage but it is not a biopic.  Artistic licence has been used but has been readily documented as such.  Only a die-hard Billie Holiday afficionado, will be able to discern what is 'true' and what has been fictionalised for the screen.
One of the lighter moments in the film is when Jimmy (in order to give Holiday some support) shows up at the funeral of someone he supposes was a very close friend of Holiday, but he soon finds out otherwise…
Very well directed by Daniels with beautiful production design by Daniel T Dorrance.  Paolo Nieddu's gorgeous costumes are to-die-for, and Andrew Dunn's cinematography is stunning, but at the end of the day the film belongs to Day. 
She is magnetic and mesmerising, lighting up the screen with every close-up.  An extraordinary performance, given that she is a singer, and this is her first acting role, but it is her performance which carries the film and has garnered her a Golden Globe for Best Performance by an Actress in a Motion Picture – Drama, to prove it.
A definite must see.
Twitch Factor:  Sub, Sub Zero
* * *
THE COLUMNIST (DE KUTHOER)
Columnist and author Femke is flooded with anonymous nasty messages and death threats on social media.  One day she has enough and decides to take revenge.
2019 |Netherlands| 86mins | Vertigo Releasing |Comedy, Crime, Drama (Dutch with English subtitles)
Release Date: 12 March 2021 (Internet)
Director: Ivo van Aart
Starring:  Katja Herbers, Claire Porro, Bram van der Kelen
Femke Boot (Katja Herbers) is a columnist and, as usually goes with the territory, she cannot stop checking and obsessing over her social media, something to which we can all relate to in smaller or greater measures. 
In the opening scene, Femke is being interviewed on a talk show where she is arguing for kindness and courtesy online, since she has been targeted by online trolls after publishing an article calling for the end of 'Zwarte Piet' ('Black Peter') who is the companion of Saint Nicholas in the folklore of the Low Countries where Dutch citizens dress up in blackface.
Her 'competitor' on the show is crime novelist Steven Dood (Bram van der Kelen) who opposes everything she says and when she meets him again at a book launch, he explains his behaviour as nothing more than a means to generate book sales.  Obviously, this doesn't appear to affect her too much, since she then embarks on a romantic relationship with him and despite his outwardly arrogant persona and penchant for 'Goth' makeup and eccentric garb, he soon proves that you simply cannot judge a book by its cover.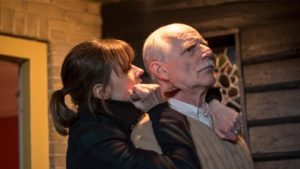 In fact, he turns out to be an incredibly kind and domestic partner and a surrogate father to Anna (Claire Porro), Femke's outspoken daughter.
Femke is also writing a book but is finding it very difficult to put words to paper and isn't helped much by the fact that she has an unsympathetic publisher who only complains about missing deadlines and no one supports her ambition to be outspoken or political.
Notwithstanding all that, she is now on a mission for revenge against all the online trolls.
Starting with her next door neighbour, Arjen Tol (Rein Hofman) who appears to be quite affable in person, but is among the group of men posting offensive and vulgar Tweets about her.
To begin with, she tries to take no notice, but he appears to be on a home improvement kick, thus making a lot of noise so that she finds herself unable to think and when he starts to build an ugly fence which blocks her view, she responds in a 'subtle' manner.  However, the hint not having been taken, she takes matters into her own hands… and thus the downward spiral is born.
The Columnist is a satirical take on female rage and the negative impact of social media on mental health as well as giving an insight of living online while being female.  That said, it is not exclusively female gender related, since this will strike a chord with anyone who has ever experienced online trolling, as well as hateful or spiteful comments.
But the moral of the story is, think before you post vile and hurtful comments on social media – it may come back to bite you on the bum, or worse!
Fabulous performance from Herbers with her quasi wide-eyed innocence, hiding a vengeful streak.  Superb.  You will find yourself rooting for her from the start – although you may feel a little guilty by the end of the film.
Cannot recommend this film enough.  It is well directed, with great camera work, a sharp script and an excellent ensemble cast.  It also satisfied my bloodlust (no better way to serve out time during 'Covid incarceration').
Give it a try!
Twitch Factor:  Sub, Sub Zero