BIRDS OF PASSAGE (Pájaros de Verano)
During the marijuana bonanza, a violent decade that saw the origins of drug trafficking in Colombia, Rapayet and his indigenous family get involved in a war to control the business that ends up destroying their lives and their culture.
2018 |Colombia |Curzon Artificial Eye|125mins | Drama|15 (Wayúu, Spanish & Wiwa with English subtitles)
Release Date:    17 May 2019
Directed by:   Cristina Gallego, Ciro Guerra
Starring:  Carmiña Martínez, José Acosta, Natalia Reyes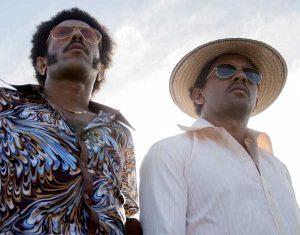 Here we have a familiar subject, the Colombian drugs scene during the 60s and 70s, which morphs into a very watchable Godfather-like drama, wrapped around a classical romance.  Family is everything and is central to the action ie warring drug cartels, such as they were at the time.
Birds of Passage is divided into five cantos (songs) spanning approximately15 years – Wild Grass, the Graves, Prosperity, the War and Limbo.
The drama unfolds with the Wayúu ceremony for a woman's coming-of- age: Zaida (Natalia Reyes) has spent a year of literal confinement, under the guidance of her mother, Úrsula (Carmiña Martínez), learning handicrafts (weaving and knitting) and eventually emerging before her clan in a stunning red silk dress and beautiful face paint.
The young man who chooses to court her, Rapayet (José Acosta), joins her and together they dance, an intricate courting ritual which is being closely scrutinised by her mother.  But can he offer the expensive dowry which is being asked?  He is a poor orphan, raised by his uncle, Peregrino (José Vicente Cote), who has a special role in Wayúu society – he is a 'messenger' and it is he who mediates and carries word between parties involved in disputes.
Zaida's family, however, the Pushainas, are wealthy and Rapayet has no hope of ever being able to come up with the dowry, being a low-level trader of coffee and alcohol.  But on the trading circuit that he shares with his friend, Moisés ('Moncho') (Jhon Narváez), he learns that some American Peace Corps volunteers, are trying in vain to purchase marijuana and he has an idea where he can get some and thus make some fast money.
So begins a means to an end, but at what cost?
A stunning film from the filmmakers, Cristina Gallego and Ciro Guerra who also brought us the Oscar nominated, Embrace of the Serpent and is based on a true story of a drug war that raged from the late 60s, through to the early 80s, which engulfed a Wayúu family.
The vivid imagery and use of colour are a feast for the eyes and the film is beautifully directed.   David Gallego's cinematography is breath-taking and is put to good use, capturing the vast, mainly barren, sunbaked plains, to great effect.
Superb, and authentic performances from Acosta, Reyes and Martínez.
Unfortunately, Birds of Passage became an Oscar-battle casualty.  Although having made the shortlist of nine, for foreign language film contenders, it was rejected at the final five.
Well worth watching, especially for the insight into the customs and a culture far removed from ours.  Did you know that a Wayúu knee can never touch the earth, not even to pick up something from the floor?  I didn't think so…
Twitch Factor:  Sub Zero
* * *
WILD ROSE
Bursting with raw talent, charisma and cheek, fresh-out-of-prison Rose-Lynn Harlan is desperate to escape Glasgow and make it as a Nashville country singer.
2018 | UK | Entertainment One |100 mins | Drama | 15
Release Date:  12 April 2019
Directed by: Tom Harper
Starring: Jessie Buckley, Julie Walters, Sophie Okonedo, Jamie Sives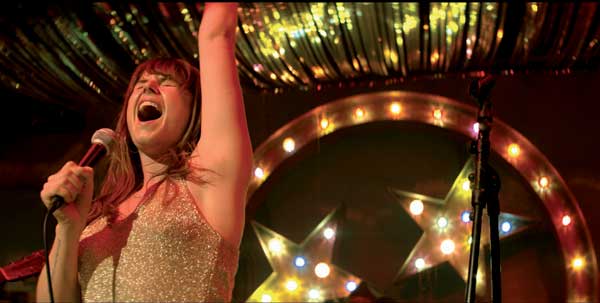 The film opens with Rose-Lynn (Jessie Buckley) being released from prison (complete with an electronic ankle tag, which means she has a 7:00pm curfew).  She goes straight to her mother who, in her absence, has been looking after her two children, a boy of five and a girl of eight. Both are wary of their mother, since it is obvious that she hasn't been around much during their formative years and now she turns up on her mother's doorstep to take them away.
Her mother, Marion (Julie Walters) is a no-nonsense type of woman, who says exactly what she thinks – no holds barred – and spends very little time telling her wayward daughter that she now has to find herself a 'proper' job, not living in a fantasy world of travelling to Nashville in the hopes of becoming a country singer.
So, proper job it is and her mother finds her a cleaning job, working for a middle-class, somewhat ditsy lady, Susannah (Sophie Okonedo) who (as it so happens) is able to help her achieve her ambition.  However, her husband, Sam (Jamie Sives) is not so enthralled.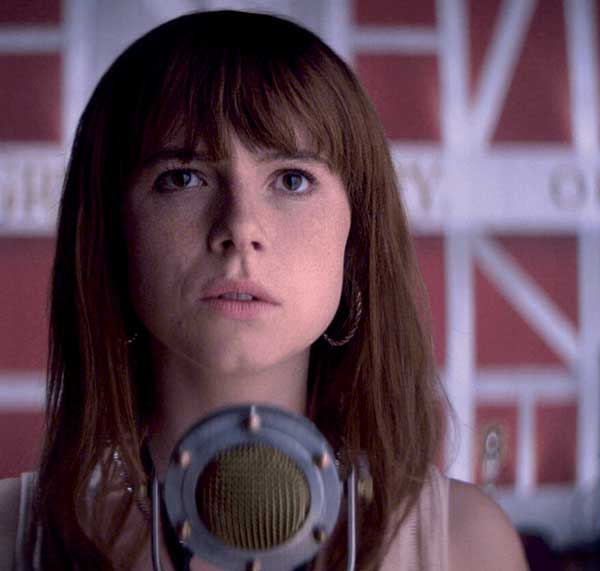 Susannah arranges for Rose-Lynn to meet 'Whispering' Bob Harris at the BBC in London and when she returns, suggests to Rose-Lynn that they should crowd-fund her journey to Nashville so that she can realise her dream and to set things off in motion, asks her to play a set at her impending 50th birthday celebration.
However, on the day, Rose-Lynn is unable to find a babysitter for her two children and she lets everyone down… is this the end of her dream?
Well directed by Tom Harper, although at times a little sentimental and corny, but somehow it all works.
Buckley is brilliant and you may remember her from Beast which I reviewed last year.  In fact, she was a singer before becoming an actress and she excels at both.  She is destined to go far.
Walters, as usual, is a pleasure to watch and no-one does 'scolding' and 'sceptical' as well as she does.
Another actress I admire very much is Okonedo who has been missing from our screens for a short while but has been popping up more and more lately ie in Flack (must-see, if only for her portrayal of the acerbic Caroline) and Chimerica.  Her portrayal of the well-meaning Susannah, is a lady-like foil to the brash, rambunctious Rose-Lynn and they interact beautifully on screen.
Wild Rose is a delightfully entertaining, funny and uplifting film!  It has something to suit everyone – with great music and perfect casting.
Twitch Factor:  Sub, Sub Zero
* * *
RED JOAN
An elderly woman's past is exposed as the KGB's longest serving British Spy.
2018 | Lionsgate | UK |110 mins| Drama, Biopic |12A
Release Date:  19 April 2019
Directed by: Trevor Nunn
Starring: Judi Dench, Tom Hughes, Sophie Cookson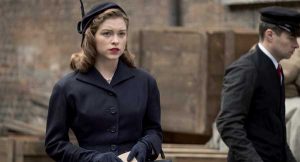 Red Joan is adapted by screenwriter, Lindsay Shapero from Jennie Rooney's 2013 novel by the same name and is inspired by the case of Melia Norwood, a scientific researcher who was, in 1999, unmasked as a Soviet spy.  Here, Joan Stanley is depicted as having a more glamourous career in Cambridge University, that Norwood did not have.
The film begins with Joan (Judi Dench) being apprehended at home by Special Branch Officers and subsequently being charged with spying for the Soviets.  Subsequently, we led, flashback style, to where the story begins in the 40s, with the young Joan (Sophie Cookson) studying at Cambridge and being dazzled by another student, the worldly and sophisticated, Sonja (Treza Srbova) and it is through her, that she is introduced to the sexy Leo, (Tom Hughes), a charismatic communist.  A relationship of sorts ensues, but as age-old cliché goes, "all good things must come to an end."
After leaving Cambridge, she is recommended for a job in a secret atomic research facility, where she falls for an attractive, older professor, Max (Stephen Campbell) who just so happens to be her boss.  Here she is introduced to the horrors of nuclear war – Hiroshima and Nagasaki – and in doing so, decides to turn over Britain's emergent secrets to the Soviets.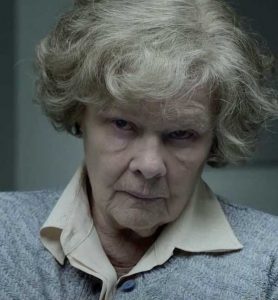 Such a shame that we didn't get enough back-story to the 'old' Joan – how she felt about the years of deceit, and at what point did she leave this all behind, to lead a more mundane life after the drama of espionage.
Dench is so underused in this film and it is a great shame.  I know there is a story to be told and it is about her youth, but surely something more substantial could have been written in there. Something which the audience could get their teeth into?
Cookson does a good job as the younger Joan, with her clipped vowels and naivety in fully flow.
Srbova is gorgeous and plays her role to the hilt – all glamour and elegant clothes whilst quietly helping to indoctrinate Joan.
Hughes has a compelling charm about him and he certainly knows how to use it, and Campbell gives a credible performance as Max, who is the poor sap who is willing to give up everything for her.
I enjoyed this film even though, historically, it wasn't so correct.  But who cares when you are enjoying something?  As long as the gist of it remains, it's entertainment.
Twitch Factor:  Sub Zero
* * *
DUMBO
Tim Burton's live-action adaptation of the Disney classic.
2019 | Walt Disney Studios | US | 132 mins | Fantasy, Drama | PG
Release Date:  29 March 2019
Directed by: Tim Burton
Starring Colin Farrell, Eva Green, Michael Keaton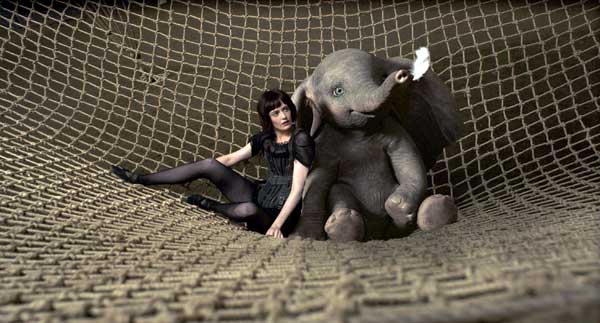 Screenwriter, Ehren Kruger's new version is based on the 1941 Disney classic and the original 1939 illustrated tale by Helen Aberson and Harold Pearl and tells the story of a baby elephant named 'Jumbo' whose huge ears gain him the cruel name of 'Dumbo' – a name which would live on in perpetuity (much like Celine Dion's  'My Heart Will Go On…)
This live-action remake (such as it is) is set just after the First World War.  Holt Farrier (Colin Farrell) has left the Circus in order to enlist, leaving behind his wife (with whom he had a double-act as bare-back trick riders) and two children, Milly (Nico Parker) and Joe (Finley Hobbins).  But now he returns as an amputee, having lost his wife, as well as his circus act and the only job available to him, is looking after the elephants.
Cue to Dumbo's birth, children falling madly in love with Dumbo and children finding out that Dumbo can fly – after being tickled by a feather which has landed on his trunk.
However, all does not bode well for the little cutie.  As soon as the circus owner, the unscrupulous (but with a heart-of-gold), Max Medici (Danny de Vito) is given the news that they could possibly have a flying elephant in their midst, Dumbo is immediately put to work.
Soon he is being sought by all and sundry, including the wicked entrepreneur, V A Vandervere (Michael Keaton) and his sidekick trapeze artist, the gorgeous Colette (Eva Green).  It is Colette's role to jump onto his back, mid- flight from her trapeze and 'ride' him around the arena.  But the first time, not all goes according to plan.
Meanwhile, Mummy elephant throws a tantrum when her baby is made fun of and is soon carted away, leaving Dumbo behind, to fend for himself…
It's a cute film, beautifully shot by Ben Davis, with Tim Burton's masterful camerawork used at full throttle here, as well as his signature explosions of colour and stunning backdrops.  But it is lacking all the emotional pull of the 1941 version.  I didn't shed a tear, which is more than can be said every time I watch the original, which never fails to reduce me to a blubbering mess.  To cap it all, Timothy Q Mouse is on the missing list and he was central to the original film – helping Dumbo to come to terms with his 'problem' ears and instead, using them to his advantage.  Now, his only friends are 'humans' – where's the fun in that?
As much as I love Colin Farrell, unfortunately at BAFTA, Farrell's first appearance on screen drew more laughter than it should have – not least because he is missing an appendage. But there you go, that's BAFTA members for you.
Apart from Farrell and de Vito, the other roles are underwritten – even Dumbo – which doesn't make it easy for the actors.  De Vito is his usual inimitable-self and manages to be both conniving and lovable, at the same time.  Something at which he appears to be an expert.
However, that said, he could have done worse and his horseback riding is to be commended, since he is no stranger to it, having learnt the hard way when he made Alexander and Winter's Tale, to name a few.
Both Keaton and Green are underused and do their level best, but they all look and sound rather manufactured.  A pity, really, since they are both fine actors but the writing lets them down.
But the star of the show is, of course, Dumbo… who could resist the most famous pachyderm of all time, with those huge, floppy ears and soulful eyes, which could melt the most hardened of hearts.  Not me… but whatever happened to his sidekick, 'Timothy Q Mouse'?
However, don't let me put you off, since the film does have its moments and is otherwise quite entertaining.
Twitch Factor:  Zero