SWEET COUNTRY
Australian western set on the Northern Territory frontier in the 1920s, where an aged Aboriginal farmhand shoots a white man in self-defense and goes on the run as a posse gathers to hunt him down.
2017| Australian| Bunya Productions| 113 mins| Adventure, Crime, Drama|
Release Date:  09/03/2018
Director: Warwick Thornton
Cast: Hamilton Morris, Sam Neil, Bryan Brown, Matt Day, Tremayne Doolan,  Trevon Doolan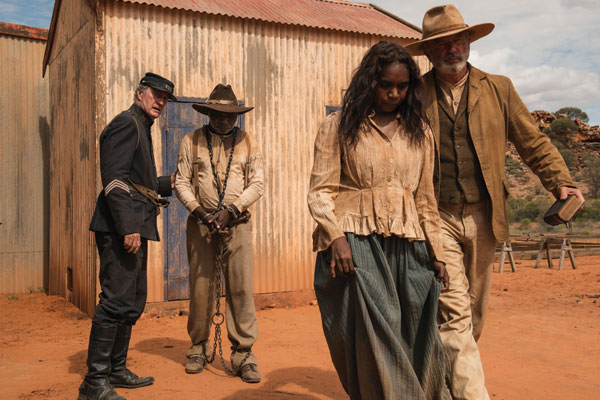 A stark, brooding and brutal film set against an arrid, sun bleached landscape.
Set in the 1920s Northern Territory, racism and bigotry rule the day, where indigenous Australians are treated like slaves and dogs fare better…
Sam (Hamilton Morris) is employed as a farmhand at a cattle station run by Fred Smith (Sam Neil), a preacher, who believes in treating his workers with kindness and respect.  Unfortunately, their peaceful life is abruptly interrupted by a drunken newcomer, Harry March (Ewen Leslie) who has moved onto a nearby cattle station.  He asks Fred if he can borrow Sam, his wife, Lizzie
(Natassia Gorey Furber) and niece, Lucy (Shanika Cole), to help him out at his homestead.  With slight reluctance, Fred agrees, but once they arrive, Sam becomes increasingly uncomfortable as he sees Harry constantly leering at his niece, completely oblivious of the fact that this man has already struck nearer to home.
Rather than confronting him, Sam decides to pack up and head back to Fred, who is surprised that they have returned so early.  But things come to a bloody head between Sam and Harry and Lizzie and Sam find themselves on the run in the outback.
The local lawman, Sergeant Fletcher (Bryan Brown) rounds up a posse to track down the fugitives and bring them back to justice.  Riding alongside Fletcher, is Sam, the preacher; a 'white' farmer called Mick Kennedy (Thomas M Wright) and his Aboriginal stockman, Archie (Gibson John).  Not acknowledged, but known to all, Mick has fathered a 'half-cast' boy, Philomac (played by twin brothers Tremayne and Trevon Doonlan) who, earlier on in the film, is seen viciously beating his son with a belt, to all intent and purposes, at the slightest excuse.
The film drifts in and out of past and present, with lyrical ease and helps to pave the way to its final crescendo.
This is Warwick Thornton's first feature since his debut Samson and Delilah (2009) and at the same time, here he dons his cinematographer hat, to great effect, with some breath-taking and beautifully shot vistas.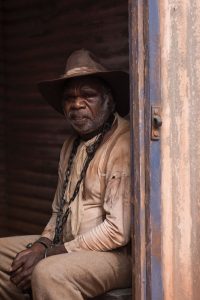 Seven McGregor and David Trantoreet have produced a well written and finely nuanced script.
Non-professional actor, Morris, gives an outstanding performance as Sam, a mild-mannered family man who suddenly finds himself feeling emasculated and unable to protect his family.  Whilst Gorey-Furber (also a non-actor) portrays a woman who finds it increasingly difficult to communicate and live with a man who is unable to articulate his feelings.
Brown gives a fine performance as the hard-nosed lawman, bent on finding the runaways, whilst Leslie is perfect as the abusive and vile, March – all in all, an amazing ensemble cast.
A stunning work of moral conscience and a cinematic spectacle which needs to be experienced.
Not to be missed.
Twitch Factor:  Sub, Sub Zero
* * *
ISLE OF DOGS
ShareSet in Japan, Wes Andersons' latest stop motion feature follows a boy's odyssey in search of his lost dog.
2018 | USA, Germany | Fox | 101 mins | Animation, Adventure, Comedy| 
Release date: 30/03/2018
Director: Wes Anderson
Cast: Bryan Cranston, Koyu Rankin, Edward Norton, Scarlett Johansson, Bill Murray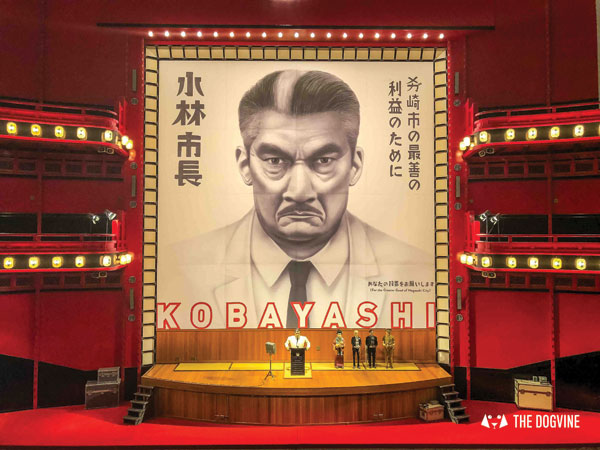 Isle of Dogs weighs heavily on Japanese pop culture and more traditional influences, as well as making a strong decision to leave the Japanese dialogue largely untranslated, thus making it a film not specifically aimed at western audiences.
The prologue 'Before the Age of the Obedience', sets the scene and fast forwards to 'the Japanese Archipelago, 20 years in the future'.
Megasaki, a fictional city, is ruled by a corrupt Mayor Kobayashi (voiced by co-writer Kunichi Nomura), who has decreed that in order to rid the spread of various canine diseases, including 'snout fever', all dogs are to be banished to 'Trash Island', starting with 'Spot' who belongs to his 12 year old ward, Atari (Koyu Rankin). Round one to the cats!
Atari is bereft and flies to the island in search of 'Spot' and is greeted by a pack of scary Alpha dogs; Duke (Jeff Goldlum); Chief (Bryan Cranston); Rex (Edward Norton); King (Bob Balaban), Boss (Bill Murray) and the femme fatale of the motley crew, Nutmeg (Scarlett Johansson). Hearing Atari's sorry tale, they all make it their mission to help him.
Meanwhile, 'back at the ranch' or Megasaki, to be exact, a pro-dog student group is rising up against Kobayashi – led by an American visitor, Tracy (Greta Gerwig) – aided and abetted by a research scientist, Yoko Ono (Yoko Ono).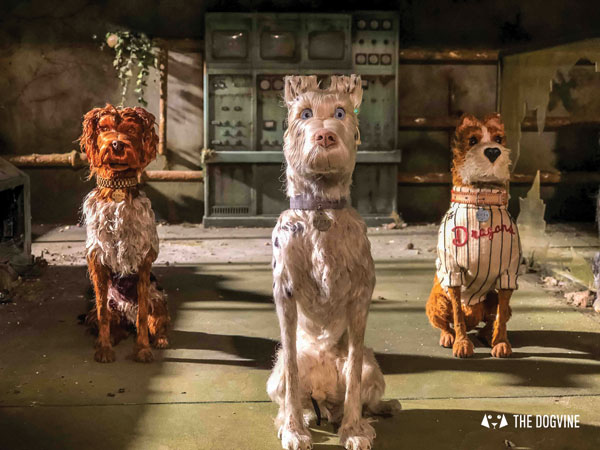 Meanwhile, the dogs' dialogue is performed in English by assorted western stars, including Anderson alumni Bill Murray and Tilda Swinton, along with Jeff Goldblum as the gossip-loving Duke. Scarlett Johansson also voices Nutmeg, a former show dog who's tougher than her silky fur suggests. She is Chief's opposite number in a tentative Lady and the Tramp courtship, but their banter has a hardboiled edge of Bogart and Bacall.
Wes Anderson is the grand master auteur of style and extravagance, as was last seen in The Grand Budapest Hotel and this stop-motion animated feature, does not disappoint.
I must be one of the very few who did not particularly like his previous animated film, Fantastic Mr Fox (2009) so I didn't really know what to expect from this.  However, I was more than pleasantly surprised and although the subject matter is rather bleak – sick dogs being abandoned and exiled, interspersed with gory bits and pieces (sometimes literally) – I absolutely loved it.
Once again, Anderson has teamed up with Tristan Oliver, the Director of Photography from Fantastic Mr Fox (whose credits include Aardman's The Curse of the Were-Rabbit and Laika's ParaNorman) and together they have conjured up a world full of delightful characters who earn our sympathy and love.
I'm not sure what children will make of it – and there were a few youngsters in the audience – but you can always buy it on DVD later in the year.
Twitch Factor:  Sub, Sub Zero
* * *
A QUIET SPACE
A family is forced to live in silence while hiding from creatures that hunt by sound.
2018 | USA | Paramount| 99 mins | Drama, Horror, Thriller| American Sign Language
Release date: 05/04/2018
Director: John Krasinski
Cast: Emily Blunt, John Krasinski, Millicent Simmonds, Noah Jupe, Cade Woodward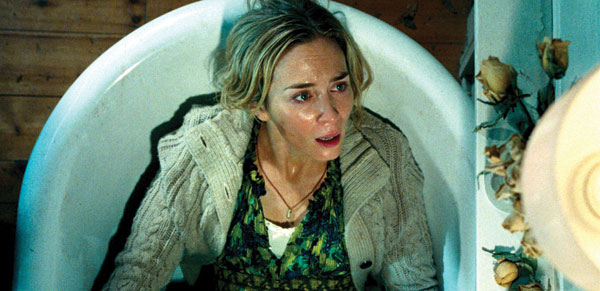 "Beware all cinema goers who slurp, munch and crunch their way through films, you will be 'outed'!"  That is the warning that should be shown prior to screening this film…
The opening weekend was so miserable and I had just missed a press screening, so I thought I would chance 'the masses' and invited my granddaughter to view the film with me.  It broke my heart having to pay all that money, but there you go, life's a bitch.
I deliberately chose the first showing, stupidly thinking that there would be none of the above activities to mar my viewing, but yes, you guessed it, the silence did not deter the public masticators in the audience.  However, after the first 15mins, either they had gorged themselves to death or, in fact, they got the hint that all ears would be trained on them.
Evelyn (Emily Blunt) and Lee Abbott (John Krasinski) live with their two children, Regan (Millicent Simmonds) and Marcus (Noah Jupe), on a farm. Since they are surrounded by entities that hunt by sound, their day-to-day lives are spent in silence where even the smallest creak, will send the critters scurrying and chomping towards them.
To add to their problems, Evelyn finds herself pregnant – how they quite managed that, but maybe the critters were fast asleep as they were banging away …
Like Get Out, this film relies on tension and suspense to create the fear factor.  This is Kraskinki's second foray into feature film directing, The Hollars (2016), being his first.  No, I had never heard of it, either.
With a very simple concept and storyline, he has managed to eke out 99minutes of pure psychological horror which grabs you from the very beginning and at no point falters.  You remain gripped in its thrall.
Real life couple, Blunt and Krasinski, excel as the couple desperately trying to keep their children safe, their fear and desperation being clearly palpable.
Jupe and Simmonds performances are to be lauded too, especially Simmonds.  As a deaf actress she adds an authenticity to her role, which otherwise may not have felt so credible.
Well worth watching and I can almost guarantee that not long after the film starts, all the slurping, texting, crunching will abate … such is the draw of 'A Quiet Space'.
Twitch Factor:  Sub, Sub Zero
* * *
FUNNY COW
Adrian Shergold's latest film charts the rise to stardom of a female comedienne through the 1970's and 1980's.
2018| UK| Entertainment One |102 mins| Drama, Comedy|
Director: Adrian Shergold
Cast: Paddy Considine, Stephen Graham, Maxine Peake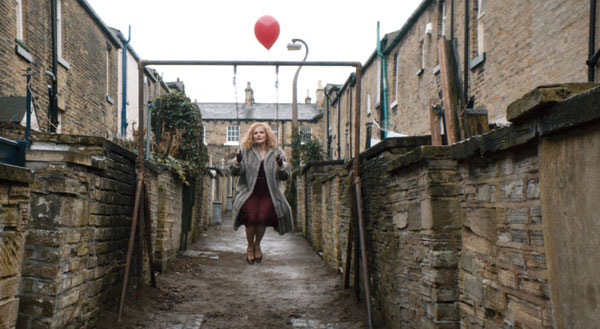 Maxine Peake, as always, knows how to deliver the goods.  She is pitch perfect as the hardened protagonist, 'Funny Cow' who, from an early life, has managed to meet life and all that is thrown at her, head-on.
The film is loosely based on the life of Marti Caine, a Sheffield stand-up comic who, for 15 years, worked in working men's clubs before she finally got to call 'bingo!' when she won the talent contest, 'New Faces'.
The film opens with young Funny Calf (Macy Shackleton) who, whilst being constantly bullied by other children, always puts a brave face on things and gives off a devil-may-care attitude which doesn't help her cause.  But we see that this is more a case of bravado, rather than true bravery.
She fares no better at home, where her father, Mike (Stephen Graham) is a violent man and is not averse to beating her and given her defiance, we have to step back and ask ourselves, can she only 'feel' when she is being physically hurt, since on the face of it, she feels no pain?   
The dysfunctional relationship replicates itself when Young Funny Cow (Hebe Beardsall) blossoms into the adult Funny Cow (Maxine Peake), marrying Bob, (Tony Pitts) another abusive and misogynistic man who thinks that a woman's place should be in the home.
Whilst still married, she meets with a middle-class bookshop owner, Angus (Paddy Considine) who is a socially awkward individual, but his heart would appear to be in the right place.  But he is no match for her and when her husband finds out, she has no qualms in just walking away and back into the marital fold.  However, her heart is still set on following the comedic route and after one beating too many, she leaves him and turns up on Angus's doorstep, case in hand.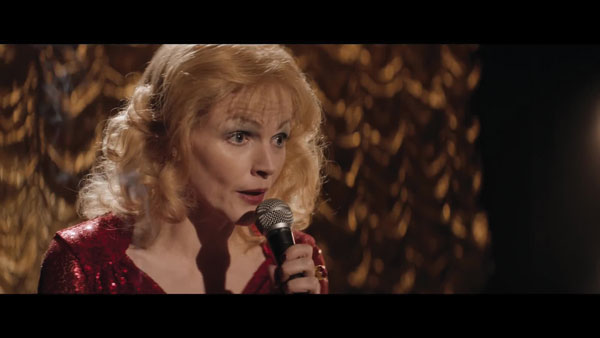 He cannot believe his luck and embarks on a journey to bring some culture into her life, only to be told, after sitting through Albert Lamorisse's Le Ballon Rouge, "I'm not Eliza fucking Doolittle!"
Given the film's title, don't expect it to be funny, since funny doesn't quite cut it here … you have to remember that we now live in a very politically correct world and the jokes being told on screen are of an era when comics thought nothing of evoking racist and misogynistic ramblings on stage.  Who doesn't remember Bernard Manning?
Funny Cow is well directed by Adrian Shergold (Pierrepoint: The Last Hangman) and this is Tony Pitts debut as a scriptwriter.  A little formulaic for my taste and was devoid of any sentimentality, which isn't a bad thing.
There is some great camera work from cinematographer Tony Slater Ling whose close-ups of Peake are outstanding and as for Peake, herself, she rises up to the challenges of this role and gives a very powerful and intelligent performance, bursting with a controlled anger and underlying energy, fit to combust.
It is an intimate portrait about survival and the inability to love, probably due to the fact that she was never really shown love in the first place.
Twitch Factor:  Sub Zero