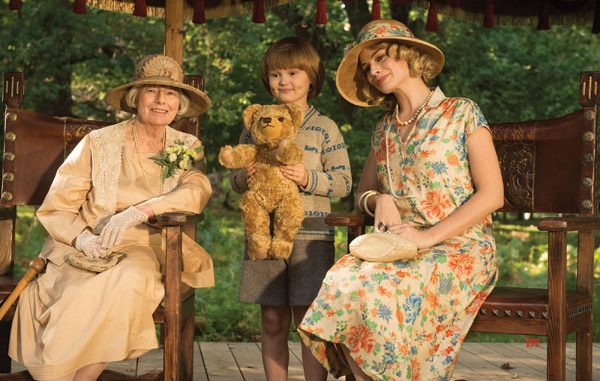 GOODBYE CHRISTOPHER ROBIN
The true story of the relationship between author A.A. Milne and his son Christopher Robin – the inspiration for the Winnie the Pooh books.
2017 | UK | 20th Century Fox | 107 mins | Drama | PG
Release date:  29/09/2017
Director: Simon Curtis
Cast: Domhnall Gleeson, Margot Robbie, Kelly Macdonald
At the beginning of Goodbye Christopher Robin, you may be forgiven for thinking that you have wondered into the wrong film, since the opening scenes are set in 1941 in the midst of one war and then we are transported back to World War I where A A Milne "Blue" (Domhnall Gleeson) is serving as an officer.  There are also a lot of nicknames to get used to – this being a quintessentially very British film.
When "Blue" returns from the Somme it is quite obvious that he is suffering from Post Traumatic Stress Syndrome (PTSD) – even the popping of a balloon is enough to stop him in his tracks.
Whilst the film introduces us to the origins of Winnie the Pooh and his friends; Christopher Robin, Piglet, Tigger, Eyore and the Hundred Acre Wood, it is also a story about someone who is desperately trying to escape his memories of time spent fighting the war.
Blue" and his wife, Daphne (Margot Robbie) are an unlikely pairing if ever there was one.  He is a serious man, with not much sense of fun whilst, on the other hand, Daphne (actual name Dorothy) appears to be the life and soul of the social scene, whose partying days are about to be numbered, with the birth of their son, Christopher Robin (Will Tilston) later nicknamed "Billy Moon" since, as a child, he couldn't pronounce his name.
A nanny,"Noo", (Kelly Macdonald) is soon hired to look after "Billy Moon" whilst the couple almost ignore their child and carry on with their hectic social life.  "Blue" is in the throes of 'writer's block' and Daphne makes it quite clear to one and all, that she cannot bear to be around her husband when he is in that frame of mind and takes herself off to London, where she can enjoy herself.  A while later, "Noo" has to attend her mother's sick bed and the father is left to cope with "Billy Moon".  Left to their own devices, the pair form a sort of bond, which otherwise may not have happened and thus, Pooh Bear and his coterie of friends is conceived.
We are shown how little "Billy Moon" is eventually exploited, by mother and father alike, which will eventually lead him to join the war effort, but at first attempt, he is turned down. So he does a little manipulating of his own, by asking his father to fix it for him.
Beautifully shot by Ben Smithard (Viceroy's House) – the woodland scenes are stunning and for a while you are transported back in time, with Pooh and friends for company and Director, Simon Curtis cannot be faulted.
The screenplay, by Frank Cottrell-Boyce and Simon Vaughan, is very good, full of very British dialogue and witticisms, but nevertheless, do not fail to amuse.
Kelly Macdonald is a wonderful "Noo" and makes you wish that every child born into such families, could have had a Nanny "Noo" to touch their 'unloved' lives.   
I did have one issue which was with the aging process – neither Gleeson nor Robbie aged over the 20 year span – oh to be in films!
This is essentially a very English film, about an inwardly unhappy family with a son who conjures up a bear and his friends, who eventually will live on to enthrall millions of children and adults, all over the world.
A very cute film but I am not sure that it will appeal to the very young, since there are adult themes running throughout.
Sub, Sub Zero
                                          * * *
VICTORIA & ABDUL
Queen Victoria strikes up an unlikely friendship with a young Indian man who joins her household staff.
2017 | UK, USA | Universal Pictures | 106 mins | Drama | PG
https://en.wikipedia.org/wiki/Stephen_FrearsRelease date: 15/09/2017
Director: Stephen Frears
Cast: Judi Dench, Ali Fazal, Michael Gambon, Eddie Izzard
Once again, Judi Dench reprises her role as Queen Victoria and in the immortal words of Carly Simon, "Nobody does it better."
This is the story of the odd but extraordinary relationship between Queen Victoria (Judi Dench) and an Indian servant, Abdul Karim (Ali Fazal).  If history is to be believed – and the film starts off with the following disclaimer, "based on true events… mostly" – in 1887, Abdul was plucked from his work as a prison clerk in Uttar Pradesh in order to present the Queen with a ceremonial coin in honour of her Golden Jubilee, at a banquet in England. (Apparently, a request was made for someone tall, and he fit the bill).  Another servant, Mohammed (Adeel Akhtar) – who is much shorter – is also despatched to accompany him.
On arrival they are bemused by the pomp and tradition within the royal court.  The two men are introduced to their royal duties ie "… the importance of standing still and looking backwards."  This particular scene is very funny and Mohamed is a great foil to the more serious Abdul.  Abdul catches Queen Victoria's eye and he is quickly promoted to her personal footman and within a short space of time, becomes her 'Munshi' – her spiritual guide.
Soon he is teaching the Queen Urdu and regaling her with stories of his life in India and although she is the Ruler of the Empire, she admits to never having set foot on the continent.  She is particularly taken with the love story behind the Taj Mahal and we see here, that despite her regal bearing, she is a woman with a heart, who still harbors wonderful memories of her own love for Prince Albert and after his passing, John Brown.
Meanwhile, the court is buzzing with gossip and is 'not amused' and there are some funny scenes between her son, Bertie (Eddie Izzard) and other members of the household who are all plotting and scheming to get rid of Abdul.  But it all falls on Victoria's 'deaf ears'.
Stephen Frears has directed a smashing film which will make you come away with an air of light-heartedness.
Victoria & Abdul is beautifully shot by Danny Cohen, with one scene in particular standing out, where Victoria and Abdul travel by rowing boat to Glas-allt Shiel. Simply stunning and so tranquil.
Dench gives a sensational performance, reprising her role as Victoria after a 20 year drought (Mrs Brown).  However, Fazal's role appears to be a little weak.  There is no 'meatiness' to his character and he eventually becomes rather annoying, almost to the point of being smug.  I think this is more to do with the script, rather than the acting, since for the most part, the script is quite rounded on the page.
There is an all-star line-up as supporting cast; Michael Gambon as Lord Salisbury; Olivia Williams as the waspish Lady Churchill; Paul Higgins as the Queen's private physician, Dr Reid; Eddie Izzard as Bertie, The Prince of Wales and Victoria's eldest son, and even a funny turn from Simon Callow as Puccini!
A fun film for all to enjoy!
Twitch Factor:  Sub, Sub Zero
                                                       * * *
FIRST THEY KILLED MY FATHER
Adapted from Loung Ung's memoir of the same name, the daughter of a government official flees the murderous Khmer Rouge regime.
2017 | Cambodia | Netflix | 139 mins | Drama, War | 15
Release date: 15/09/2017
Director: Angelina Jolie
Cast: Sareum Srey Moch, Phoeung Kompheak, Sveng Socheata
Jolie has adapted Cambodian author, Loung Ung's 2000 memoir about growing up during the time of the Khmer Rouge's campaign of violence which wiped out a quarter of the country's population.
The film begins with a historical introduction to Cambodia, making it clear that American intervention is to blame for the tragedy there. Following on,  we are shown the experiences encountered by Ung (Sreymoch Sareum) and her mother (Soicheata Suena), her father, (Komphek Phoeung) and brothers and sisters as they are uprooted from their middle-class home to be relocated elsewhere, under the rule of the Khmer Rouge.
We view everything through the child's eyes and therefore, we are never quite sure what has actually caused the war between Cambodia and Vietnam.   
The family is taken away, alongside many others in the same situation and set to work in the fields – not to produce food but to maintain the feeling of shame and fear which is being reinforced by the new despot's power and cruelty.   
The children often go hungry and one scene shows in detail the killing of a huge, hairy spider which is caught, then cooked and shared out.
The violence, including the murder which gives the film its title, thankfully takes place off-screen making use of blurred imagery.  I think this is a worthy tactic on behalf of Jolie since to show the full scale violence on screen would promote people to view the film from a 'shock' perspective, rather than serve to repel.
Jolie is well known for her humanitarian work with the United Nations and she has directed two other films with a social conscience – In the Land of Blood and Honey and Unbroken.  Both are very good, but I think this is her best direction to-date.
Anthony Dod Mantle's cinematography is stunning, with some beautiful overhead shots, where people are viewed like hundreds of insects whilst composer, Marco Beltrami, has created a moving and haunting score.
Newcomer, Sareum is a delight to watch and gives a tremendous performance, with the camera lingering on her face, capturing every thought and feeling.  Both Komphek Phoeung, as her father and Soicheata Suena as her mother, give sympathetic, understated performances, whilst displaying courage and a sense of optimism, if only for the sake of their children.
Whilst this film may not reach the realms of the Oscar winning, Roland Joffe film, The Killing Fields, Jolie has opted for a more leisurely, 'softly softly' approach rather than rely on 'shock value'.  The story unfolds through the eyes of a young child, although by the end of the film the innocence has long gone and we are left in no doubt as to the reality of her situation and the atrocities to which she has borne witness.
The horrific facts and figures are quoted at the beginning of the end credits.
Please note that the film has a limited release in cinemas, but is available to watch from 15 September on Netflix.
Twitch Factor:  Sub, Sub Zero
                                             * * *
BORG V MCENROE
Retelling of the famous 1980's tennis rivalry between the iconic Björn Borg and the volatile John McEnroe.
2017 | UK |Curzon Artificial Eye|108 mins | Drama/Sport/Biography|
Release date: 22/09/2017
Director:  Janus Metz Pedersen
Cast:  Sverrir Gudnason, Shia LaBeouf, Stellan Skarsgård 
Now I have to let you into a little secret … I absolutely hate watching sport!  I have been to many semi-finals/finals at Wimbledon during the 80s, but that is another story.  It felt good to actually be part of history – to feel the mounting excitement as the crowds took their seats and play began.
However, in my case, I hasten to add, I was usually 'hosted' which means that after having been wined and dined, I would sit quietly, appearing to be watching the game, whilst schluffing behind my sunglasses!  Perfect! No-one noticed, since all eyes were riveted on the players.  Each to his own …
So, wonders of wonders and revelatory news for one and all, I absolutely loved this film!  Maybe it reminded me of that particular time in my life and I remember 'the good old days' – I have no idea.  I am not going to ponder this, but what I do know is that I came away feeling immensely elated and wanting to know and see more about these two remarkable players, who were the complete opposites of each other – one volatile and outwardly passionate, whilst the other appearing devoid of emotion – never giving anything away, but always watching.
Growing up, each was a victim of his own circumstance.  On the one hand, Borg (Sverrir Gudnason) was very talented, but made to feel as though he was odd – very much a 'loner', whilst McEnroe (Shia LaBoeuf) although achieving good grades at school, was never quite good enough in the eyes of his parents.  He always felt like he had to win at everything, in order to meet with his parents' approval.  Sad, but true. So neither was really allowed to enjoy a normal childhood.  Each had to excel.
Lennart "Labbe" Bergelin (Stellan Skarsgård) sees the potential in the young, socially awkward Borg and soon takes him under his wing.  He coaches and mentors him, leading him to win four consecutive Wimbledon championships and the film concentrates on the run-up to his pursuit of a record-breaking fifth win.  However, he is only too aware that his current reign as Champion could be thwarted by the young McEnroe.  The film concentrates on the three days leading up to the tournament in 1980.
Director, Janus Metz Pedersen, has made a richly atmospheric film which not only evokes the true rivalry between the players, but also the enduring friendship that ultimately transpires.
Great performances from the leads and perfect casting – Shia La Boeuf as McEnroe, could have easily let his role fall into an overacted caricature of McEnroe, but somehow he makes it work, whilst keeping it credible and to good effect.
Sverrir Gudnason is a doppelgänger for Borg – both in looks and mannerisms.  In fact, Björn Borg saw the film and became quite emotional and has definitely given it his seal of approval as far as realism goes.
The film captures two polar opposites in attitude and temperament, pitted against each other and it does so, beautifully, during a time when tennis players were treated like rock stars and none more so, than these two titans.
One to watch, no matter your sporting interest.
Twitch Factor:  Sub, Sub Zero