THREE BILLBOARDS OUTSIDE EBBING, MISSOURI
A mother challenges local authorities (with three large billboards) to catch her daughter's killer in this darkly comic drama. 
2017 | UK, USA | Fox Searchlight | 115 mins | Drama, Comedy | 
Release date: 12/01/2018
Director: Martin McDonagh
Cast: Frances McDormand, Woody Harrelson, Sam Rockwell, Peter Dinklage, Caleb Landry Jones, Lucas Hedges
The opening strains of 'Last Rose of Summer' sets the tone for this film as we see Mildred Hayes (Frances McDormand) driving along an open road, with only the bleak landscape for company.  We notice the derelict billboards, the camera dwelling on every angle.  The car stops, and reverses until it is level with the first board.  Mildred sits there, staring at the empty signs, fidgeting and contemplating.  We know instantly what is going on in her head – her silence speaks volumes.
Mildred is grieving the loss of her daughter, Angela (Kathryn Newton) and although seven months have elapsed, there are no suspects and the case is no nearer to being solved.  She wants to make the community and local police force, sit up and do something about it and decides to take matters into her own hands.
In flashback, we see the events leading up to her daughter's disappearance and we get an inkling as to how Mildred's self-imposed guilt is the driving force behind her vendetta and the answers she so desperately seeks in order to find some vindication along the way.
The local advertising man, Red Welby (Caleb Landry Jones) is not happy with her choice of words to be printed large for all to see, but Mildred is a woman on a mission and nothing and no-one is going to get in her way.  There is no doubt that she is someone you would rather have on your side than against.
The townsfolk appear to be a diverse bunch of misfits; the Sheriff, Willoughby (Woody Harrelson) is aggrieved when he sees the boards and the content contained thereon and wants them taken down, as do most of the town's population, including Mildred's son, Robbie (Lucas Hedges).  But to no avail.
His deputy, Jason Dixon (Sam Rockwell) is an aggressively infantile bigot with a single brain cell to his name and even that one, appears to be on the verge of 'hightailing it' out of town.  To a certain extent his behaviour can be attributed to his domineering mother, 'Momma Dixon' (Sandy Martin) who could easily be Norma Bates' (Psycho) twin sister.  However, even saddled with that noose around his neck, he eventually redeems himself as we begin to see a glimmer of hope, deeply buried within his psyche.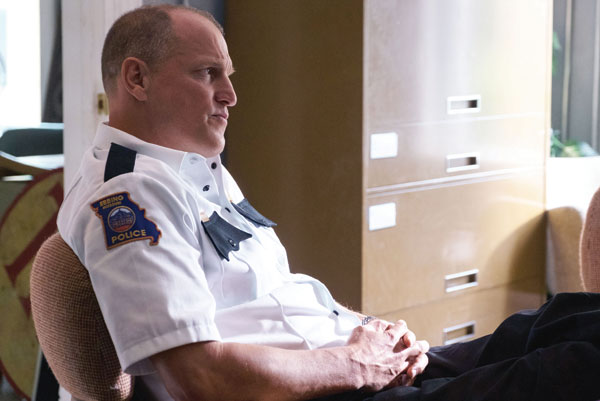 Thrown into the mix is James (Peter Dinklage), the love-struck car salesman who obviously has masochistic tendencies trying to woo our 'woman-of-steel' protagonist.
This is a glorious carnivalesque masterpiece penned by Anglo-Irish writer/director McDonagh and long may he go on. The script is very clever and funny (I kid you not, even though the subject of the film is serious) McDonagh always manages to find the humour behind the tragedy.  A great example is, In Bruges (2008), which I could watch on a loop and never tire of it.  Understandably, the delivery and timing of lines, needs to be pitch perfect and Gleeson and Farrell never once faltered and so the same can be said for the multi-talented 'Billboards' ensemble cast.
Cinematographer, Ben Davis, captures the film's fine balance between tragi-humour and horror and the opening shots of the barren landscape lay the foundation.
For me, 115 minutes of McDormand's magnificence is my idea of sheer bliss.  She approaches the role of Mildred in her usual indomitable deadpan fashion, reminiscent of her character, Marge Gunderson, in Fargo.  Her acerbic delivery, together with long drawn out bouts of silence and stillness, need no further words to carry the film forward.
Harrelson and Rockwell are well deserving of their nominations and it is going to be a very close call between this film and The Shape of Water to win the much coveted Oscar for Best Film.  Although Billboards has received umpteen nominations and won 4 Golden Globes, I think, when all is said and done, the major accolade will go to The Shape of Water but either way, both films are very deserving.
Don't be put off by the storyline, this is one of those films which should not be missed under any circumstances.
Twitch Factor:  Sub, Sub, Sub Zero
* * *
THE SHAPE OF WATER
A mute cleaning lady in a government laboratory stumbles across a secret classified experiment – an amphibious creature in a water tank. 
2017 | USA | Fox Searchlight | 123 mins | Fantasy, Drama |
Release date: 16/02/2018
Director: Guillermo Del Toro
Cast: Sally Hawkins, Octavia Spencer, Michael Shannon, Richard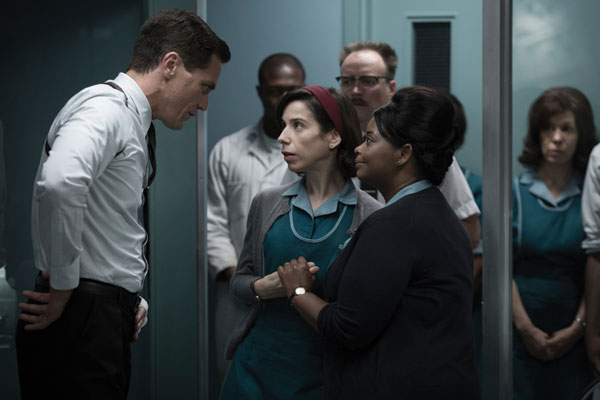 Set in the early 60s, this is a tale of loneliness, love, heroics and dastardly deeds.
Our heroine, Elisa (Sally Hawkins) has been mute from an early age and lives alone in a crumbling apartment alongside her best friend, her gay next door neighbour, Giles (Richard Jenkins).  Her daily routine is always the same; get up, bathe, boil eggs and go to work at the Occam Aerospace Research Centre laboratory where she does the nightshift washing floors, alongside her feisty sidekick, Zelda (Octavia Spencer).
One day, however, a huge tank is wheeled into one of the rooms in the basement which contains an amphibian which has been fished from a South American river.  The creature has been deemed dangerous and the Americans want to dissect it, whilst the Soviets want to capture it.  Colonel Richard Strickland (Michael Shannon) who is in charge of the mission on the American team, is a bullying, sadistic, bigot with a predilection for sexual harassment – he would not fare too well in today's PC #Metoo fuelled environment, that's for sure.
Elsa becomes curious about the creature, especially when tasked with cleaning the floor of the aforementioned aquatic prison.  She does not appear to fear it but instead let's her curiosity turn to empathy and soon finds herself beginning to relate to this lonely, mute creature who appears to have a penchant for boiled eggs!  Who knew?  A mutual trust and a friendship of sorts, unfolds.
Robert Hoffstetler (Michael Stuhlbarg) who is working for the Soviets under the guise of helping the Americans with their plans, takes pity on the creature as he watches him being cruelly mistreated by Strickland, who is hell-bent on the vivisection.  Eventually, the unlikely trio, Elisa, Robert and Zelda – aided and abetted by Giles – hatch a plan to kidnap the beast before this can happen.  Once their mission is accomplished, he will be sequestered in Elisa's bathroom before he is finally released into the wild … at least she will now have some help with her morning 'ritual' in the bath.
As you can imagine, water plays a big part in this film; whether it is the beautiful, aquatic, dream-like sequence over the opening credits, the morning ritual of masturbating in an overflowing bath, or the constant rain pervading the exterior scenes, Samuel T Coleridge's stanza, from the Rime of the Ancient Mariner Part II, immediately springs to mind;
"Water, water, everywhere,
And all the boards did shrink;
Water, water, everywhere,
Nor any drop to drink."
To complement the water theme, the visuals are predominantly bathed in the colour green – in all its various shades and hues.  It is simply stunning … a fairy tale for modern times.
Only Guillermo del Toro can make such a fantasy film, leading us to believe that it could happen, and actually get away it.  He is a master at his craft and 'Water' simply takes us way above the Plimsoll line – excuse the pun.
The film's cinematography (Dan Laustsen) is exquisite and captivating, wrapped up in an ethereal multi-green tinge, with a charming score (Alexandre Desplat) to finish off the package.
Sally Hawkins is fabulous, as always, and as I have mentioned in previous reviews, she is but one of a handful of actresses who, on screen, does not need words to convey what is going on in her mind.  The meaning is conveyed by her stillness and facial expressions.  Her portrayal of Elisa shows us a lonely young woman who is naïve and halting, yet fearless and strong.
Doug Jones, who also starred as Fauno/Pale Man in Del Toro's Pan's Labyrinth (if you haven't seen it yet, please make sure you do!) plays the aquatic lover and is a delight to watch since, by using an actor, with full prosthetics rather than CGI, the viewer is drawn more to the creature's humanity.  His scaly, slippery skin, is obviously an added attraction for Elisa – "à chacun son gout", as they say in France – "beggars can't be choosers", as they say in the UK …
As we all know, Michael Shannon does 'baddie' very well and is a superb actor.  His Strickland is a nasty piece of work who makes you squirm in your seat, whilst at the same time, all you want to do is give him a slap and wipe the smirk off his face.
The lovely Octavia Spencer is at her feisty, hard-bitten best, who eventually unveils Zelda's 'heart of gold' under the seemingly tough carapace.
The course of true love certainly doesn't run smooth for this couple but as the saying goes, 'love conquers all'.  Or does it?
Not to be missed, at any cost.
Twitch Factor:  Sub Sub Sub Zero
* * *
DARKEST HOUR
During the early days of World War II, the fate of Western Europe hangs on the newly-appointed British Prime Minister Winston Churchill, who must decide whether to negotiate with Hitler, or fight on against incredible odds.
2017|USA, UK| Entertainment One UK | 125 mins | Biography, Drama, History 
Release Date:  12 January 2018
Director:     Joe Wright
Cast:  Gary Oldman, Kristin Scott Thomas, Ben Mendelsohn, Lily James, Ronald Pickup, Stephen Dillane, Nicholas Jones, Samuel West, David Schofield, Richard Lumsden, Malcolm Storry
The date is 9 May 1940 and the clock is ticking away the days to 'Operation Dynamo', whilst France and Belgium are on the brink of surrendering to Hitler.
Parliament has lost faith in Neville Chamberlain (Ronald Pickup) who has terminal cancer and decides to tender his resignation, directly to King George (Ben Mendelsohn).  Although Churchill is not the Conservative Party's first choice, he is the only one approved by the opposition (perhaps because over a period of ten years, he had dallied with both Parties) and each knew 'the devil they were taking on'.
However, once enthroned, it becomes obvious that his enemies are not so much Hitler and Mussolini, but rather nearer to home in the shape of Chamberlain and Halifax who are in cahoots to undermine his cabinet and parliamentary position.
Meanwhile, back at the office … a young girl, Elizabeth Layton (Lily James) is engaged to help with administrative support.  The poor girl is subjected to taking dictation whilst he is in the bath, chomping on his cigar (his favourite position) and even while sitting on the toilet.  Well, you had to be seen doing your bit for the war effort …
Added to all this, Churchill has serious self-confidence issues which his wife, Clemence ("Clemmie") (Kristin Scott Thomas) plays a big part in trying to bolster and to all intents and purposes, manages to succeed, since history tells us so. As the saying goes, 'Behind every successful man, there is a woman' and 'Clemmie' certainly fulfilled that role.
Whilst the film is obviously based on historical fact, there is one scene which grated a little since it was rather corny and to my knowledge, never happened.  This is the London Underground scene, where Churchill decides to take a journey on the tube, rather than wait for his official car.  He sits there, puffing away on his cigar (something you cannot even imagine today) and starts chatting to a cross-section of his constituents who appear to be in agreement with his policies.
Anyway, I digress …
Churchill is portrayed as a man of conviction, who is willing to defy Hitler and go to war 'at any cost', if necessary, even when so  many want to seek peace and not repeat the bloodshed of the Great War, which cost the UK dearly, some twenty years earlier.
I would be the first to admit that I am not a great fan of Joe Wright's films, having liked neither Atonement (2007) nor Anna Karenina (2012), both starring Keira Knightley, although I did enjoy Pride and Prejudice (2005) and I thought the cinematography for all films was superb.  But I do have to take my hat off to him for introducing us to Saoirse Ronan – I cannot fault him for that.
Having said all that, I think Joe Wright has managed to the pull the proverbial 'rabbit out of the hat'.  What a lovely surprise.  Beautifully cast, and well directed with a good script written by Anthony McCarten, who also scripted the recent Stephen Hawking biopic The Theory of Everything (2014).
Beautiful and elegant camera work by cinematographer, Bruno Delbonnel, and a Dario Marianelli score which adds depth and energy.
Gary Oldman gives a tremendous performance and is enjoyable to watch.  It isn't the best film of the season, but it holds its own, primarily due to Oldman's performance (and magnificent Kazuhiro Tsuji's prosthetic makeup) without either of which, the film would not be half as good.
Kristin Scott Thomas is a perfect 'Clemmie', being exasperated by Churchill (much like a mother with her errant child), but also treating him with great affection, whilst at the same time building up his confidence.
Very good performances all round, especially Ben Mendelsohn as King George VI which I think was a far better portrayal than Colin Firth's version – this was less of a caricature.   
Personally, I have always been captivated by Churchill's eloquent use of the English language, since he was the master of 'put-down' and spur-of-the-moment quips, but also had the grace to poke fun at himself.
One of my favourites is used in the film, where he is sitting on the toilet, dictating and the Lord Privy Seal (outside the door) interrupts him to say that there is a call.  His reply ls succinct and to the point; Tell him I can only deal with one s**t at a time."
Not in the film, but equally 'classic' is an insult aimed at female MP, Bessie Braddock who once said to Churchill:  "Winston, you are drunk, and what's more, you are disgustingly drunk."  To which his retort came hard and fast:  My dear, you are ugly, and what's more, you are disgustingly ugly. But tomorrow I shall be sober and you will still be disgustingly ugly."
Pure brilliance!
Churchill was a wonderful orator but I had very little idea about the man behind the large – in more ways than one – persona.  This film has made me re-evaluate this iconic figure, added to which, my knowledge of the behind-the-scenes machinations of World War II, has been expanded.
The 'old boy' has certainly gone up a notch or two in my estimation.
Twitch Factor:  Sub Zero
* * *
A FANTASTIC WOMAN (Una Mujer Fantástica)
Marina, a waitress who moonlights as a nightclub singer, is bowled over by the death of her older boyfriend. One transgender woman's struggle to be herself and prove her worth.
2017| Chile, USA, Germany, Spain | 104 mins | Drama |Spanish 
Release date: 02/03/2018
Director: Sebastián Lelio
Cast:  Daniela Vega, Francisco Reyes, Luis Gnecco, Amparo Noguera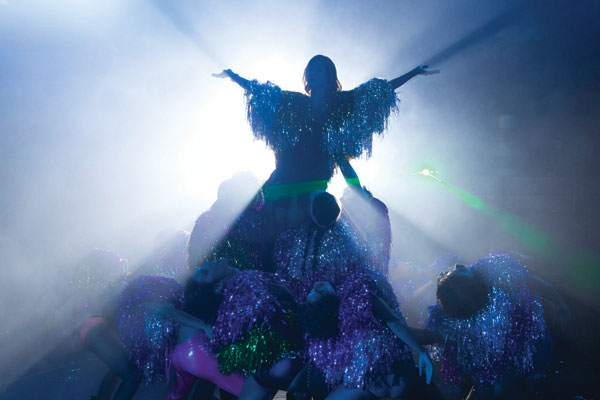 From the director of Chilean comedy, Gloria (2013) a film about a single, middle aged woman hitting the singles circuit, and the producers of Jackie (2016) and Toni Erdmann (2016) comes a totally engrossing drama about a transgender woman's fight against bigotry and injustice.
Marina Vidal (Daniela Vega) is 27 years old and works as a waitress/ nightclub singer.  Her partner, Orlando (Francisco Reyes) is 20 years younger and owns a printing company.
One night, while they are celebrating Marina's birthday, Orlando is taken seriously ill and on arrival at the hospital, dies soon after.  Her life, as she knew it, suddenly implodes.
She is met with suspicion by the police and whilst having enjoyed a loving and committed relationship, Orlando's ex-wife, Sonia (Aline Küppenheim)    son, Bruno (Nicolás Saavedra) and family, viewed it as a perversion and an aberration.  They will have nothing to do with her, and as far as they are concerned, she needs to leave the apartment which they shared and is banned from attending the funeral.
Her only ally, is Orlando's brother, Gabo (Luis Gnecco) who had come to terms with their alliance.  Through all the turmoil, she acts with dignity and grace only to be met with contempt and violence with no thought or sympathy towards her predicament
An investigation is held into Orlando's death, headed by Adriana (Amparo Noguera) of the Sexual Offences Unit and whilst on the face of it, she appears to empathise and support Marina, her facial expressions tell another story.   On the verge of losing everything in her life, Marina decides she will not be judged by her gender and 'lay down and die' but instead, will rally her internal strength, courage and humanity, in order to forge her own identity.

The film has already won a Silver Bear for Best Screenplay at Berlinale 2017 and was nominated for a Golden Globe for Best Motion Picture – Foreign Language (won by In the Fade) and has an Oscar nomination in the Best Foreign Language Film category.  Since its release date is post-Baftas, it will not be eligible for submission this year, but let's hope it will be remembered for next year's awards.
Sebastián Lelio directs this glorious film with all the panache it deserves, never restrained, but at the same time, never seeking to sensationalise.  He has a great appreciation for aesthetics and along with Benjamín Echazarreta's    stunning cinematography, it is a winning combination.  His actors performances are realistic and authentic, so much so, that you never doubt his integrity in what he wants to achieve.  The screenplay, co-written with Gonzalo Maza, has won a well-deserved Silver Bear for Best Screenplay at Berlinale 2017.
His next film, Disobedience, is his first in the English language, and stars Rachel Weisz and Rachel McAdams and I, for one, can't wait to see what he has to offer to   
Vega gives an outstanding performance and whatever your values or beliefs before you see the film, it will  give a greater understanding and perspective of just how hard it must be for a trans-person to be accepted within the rigid rules of our society.
Reyes is well-cast as the soft-hearted, gentle Orlando who is the calming influence in the relationship and was last seen in Neruda (2016) together with
Luis Gnecco as Neruda and Amparo Noguera.
A truly beautiful, compassionate film, with a powerful female driven central performance – a woman who is no 'Mildred' in manner, but instead uses her feminine wiles, elegance and dignity to fight for what she holds dear; her values and position in this world.
Twitch Factor:  Sub, Sub, Zero