JOURNEYMAN
Middleweight boxing champion, Matty Burton, suffers a serious head injury during a fight towards the end of his career. 
2017 | UK | Film 4 | 92 mins | Drama, Sport | 
Release Date: 16/02/2018
Director: Paddy Considine
Cast: Paddy Considine, Jodie Whittaker, Anthony Welsh, Tony Pitts, Paul Popplewell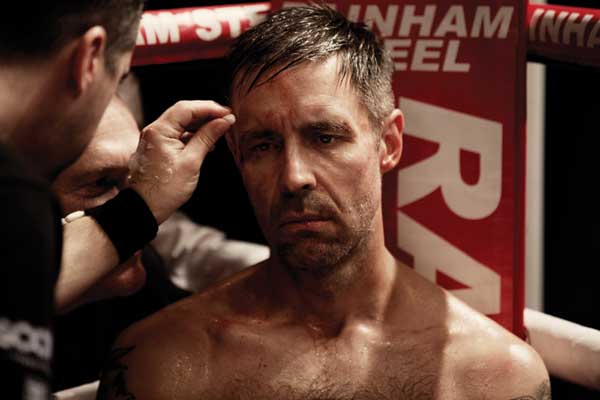 Matty Burton (Paddy Considine) is a championship boxer who is approaching the end of his career.  He is well liked and devoted to his lovely wife, Emma (Jodie Whittaker) and their baby daughter. The game has served him well and it appears he wants for nothing, except a final chance to defend his title and prove his critics wrong.
The arrogant Andre Bryte (Anthony Welsh) is the challenger for his title and needles him relentlessly at the press conference, but Matty refuses to take the bait.  Emma is reticent about the fight, yet stoically supports her husband for what they hope will be his final fight and ultimate victory.
The fight is fierce and very much 'touch and go' but Matty wins, in the end.  However, in doing so, he has suffered severe blows to his head and when he arrives home later that night, in celebratory mood, he collapses and his troubles are just beginning.
After spending time in hospital, Emma takes him home, but he has become almost old before his time – his halting movements, impaired speech and memory, along with a frightening change in personality are all cheerily ignored by Emma, in order to make him feel there is nothing wrong and all will be right in the end.  Her love for him remains undiminished as she tries to understand and readjust to this new way of life.
But for Matty, it is an uphill struggle as he tries to make sense of his life, as his world slowly disintegrates around him.
This is Considine's second foray into writing-directing, having made his critically acclaimed directorial debut with 'Tyrannosaur' in 2011.  It won numerous awards, including the Outstanding Debut by a British Writer/Director or Producer Award at the BAFTAs in 2012.
The best scenes are those with Considine and Whittaker as they face an agonising situation which is both painful and scary.  Both give very strong, emotional performances, and have an on-screen chemistry, which is not always easy to achieve.
This is a well-made, powerful film, and worth seeing, even if, like me – as you are all aware by now – you do not have any interest in boxing or any sport, for that matter.
Bit of a weepy…
Twitch Factor:  Sub, Sub Zero
* * *
BEAST
A serial killer is on the loose in Jersey.  A troubled young woman falls for a mysterious outside who empowers her to escape from her oppressive family.
2017 | UK, Ireland |Altitude Films/Stray Bear Films| Drama |107 mins |   
Release Date:  27/04/2018
Director/Writer:  Michael Pearce
Cast:  Jessie Buckley, Johnny Flynn, Johnny Gravelle, Geraldine James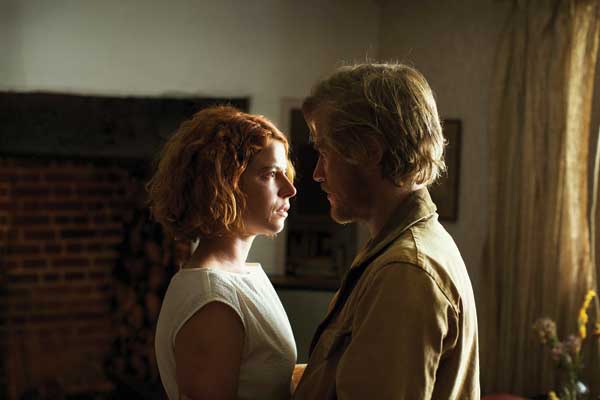 The film is set on the island of Jersey where a serial killer, preying on young girls, is on the loose.  27 year old Moll, (Jessie Buckley) is a troubled and unhappy young woman who hates her job as a tourist guide, and is still living at home with her parents; a domineering mother, Hilary(Geraldine James) and her father, who is a victim of Alzheimers. Yet, she cannot find the courage to leave.
She also has a brother, Harrison (Oliver Maltman) and a sister, Polly (Shannon Tarbet) whom her mother is always reminding her how well they have done.
Moll is like an elastic band which has been pulled too tight and could snap at any moment.
Cliff (Trystan Gravelle) the local, young police offer, who is investigating the murders has his mind set on making her his girlfriend, but she is far from interested – her mind being set only on escaping her dour life.
When Moll is upstaged by her sister, at her own birthday party, she runs out of the gathering and a handsome stranger, Pascal (Johnny Flynn), crosses her path.  The attraction is there, and we see a glimmer of light in her eyes, which has been absent until now.
Needless to say, the new romantic involvement does not go down well with her mother and Cliff makes no bones about the fact that the stranger has a criminal record.  However, stubbornness prevails and Moll remains unperturbed by this news.  With her new 'devil-may-care' boldness, she embarks on a passionate love affair which finally allows her to be free.
When a fourth victim is found murdered, all suspicion falls on the mysterious outsider and Moll is made to choose whether to carry on the affair, or end the relationship.  She chooses to defend Pascal and in doing so, is left with lingering doubts, fear and isolation which lead her to confront her own issues…
A subtle, well observed film which keeps you guessing right up until the end. It is well written and beautifully directed by Michael Pearce and the cinematographer (Benjamin Kracun) captures the island and its inhabitants' every mood and nuance.
Buckley's casting as Moll, is pitch perfect.  She has a very open and expressive face with fine, delicate features and gives a beautiful, understated performance – running the gamut of emotions from repression, anger, fear, passion and love. 
Flynn's performance is nothing short of brilliant as the brooding, truculent Pascal and the chemistry between Buckley and himself, is so palpable, as to seem almost tangible.
I loved every minute of this film.  It's a winner!
Twitch Factor:  Sub, Sub Zero
* * *
I GOT LIFE!
2017 | France| Peccadillo Pictures | 89 mins | Drama, Comedy | French with English subtitles
A film about women, for women, about love, hope and the trials and tribulations of menopause and growing old… not necessarily in the same order.
Release Date:  23/03/2018
Director:  Blandine Lenoir
Cast:  Agnès Jaoui, Thibault de Montalembert, Pascale Arbillot, Sarah Succo, Lou-Roy Lecollinet
Finally, a film with delves into the mystique which surrounds 'the change'.  No-one wants to talk about it, in the open at least and whilst trying to make light of the sometimes debilitating symptoms, it does help to put everything into perspective.
This is also a film about female solidarity which is very timely for the current mood amongst the female fraternity.  I Got Life! will resonate with women –  both young, old and in-between.
Aurore has reached 50 years of age and is beginning to suffer the dreaded hot flushes and to add to her misery, her eldest daughter announces she is pregnant which now puts her firmly in the role of impending 'Granny'.  She is fast learning that life is no picnic at this stage of a woman's life – as her hormones are diminishing, the younger generation are amassing theirs, 'big-time'.  She finds that she is one of the 'invisibles' (metaphorically speaking) and in one very funny scene, even the automatic sliding doors appear to ignore her as everyone else passes through them with ease.
She is amicably separated from her husband, having previously worked for him, helping with his admin and now having lost her job, she finds herself without viable qualifications.
Her best friend, Mano (Pascale Arbillot) tries to lift her out of the doldrums and in one scene,Mano is so incensed to see an older man with a much younger woman, that she runs up to him pretending to be his aggrieved wife which helps to lift Aurore's spirits, as they both run off making a quick getaway.    
Eventually, things take a turn for the better when Aurore, bumps into an old flame, Dr Totoche (Thibault de Montalembert) – her first love.  Suddenly, she feels alive and sexy again, with a new found optimism that perhaps life isn't quite over yet.  Things take a turn when he announces that he is not ready to pick up from where they had left off and once again, she feels unloved.
She embarks on an affair with another man, but she still 'mourns' the loss of what might have been with Totoche.
Lenoir could easily have cast men as the enemy here, but this was not the film's intention.  She shows that men suffer too and that Totoche is still suffering from the first time round, when Aurore carelessly abandoned him in their youth and he is not prepared to go through more trauma.
I got Life! Is Lenoir's second feature film and her first collaboration with Agnès Jaoui.  She manages to tackle serious issues (not just the menopause) with quirky humour, but you are never left in any doubt that every word uttered has great conviction behind it.
From first reading the script, Jaoui knew that she could not say no to the role of 'Aurore' and her performance is beguiling.
Equally so, is de Montalembert, who gives a sad-eyed performance befitting a man still in love with 'the girl of his dreams' but unable to take the first tentative steps.
I loved Arbillot's Mano – her feisty, forty-something best friend who has more than a passing resemblance and personality akin to Chelsea Handler.
The title song (Ain't Got No/I Got Life) is used twice in the film – once sung by Nina Simone (which, to my mind, will always be the best version) but also, later on in the film, another version is played by Jasmine Vegas and Bertrand Belin which has a different music arrangement, but nevertheless, is still very good.
What a lovely, funny, bittersweet film that all women should watch – regardless of their proximity to 'the change'!
The film left me 'flushed' (excuse the pun) with happiness – I defy anyone to say otherwise.
Twitch Factor:  Sub, Sub Zero
* * *
A GENTLE CREATURE (KROTKAYA)
A woman lives in a small village in Russia. One day she receives the parcel she sent to her husband, serving a sentence in prison. Confused and angered, she sets out to find why her package has been returned.
2017 | France, Germany, Russia, Lithuania, Latvia, Ukraine| Arrow Films | 143mins | Drama, Mystery | Russian with English subtitles
Release Date: 13/04/2018
Writer/Director:  Sergei Loznitsa
Cast:  Vasilina Makovtseva, Liya Akhedzhakova, Valeriu Andriutã
The film is based on a short story, of the same title, by Dostoyevsky, in which the protagonist is a much-wronged young wife of a pawnbroker. In this instance, we see a young, sad-faced, unsmiling woman who lives alone on the outskirts of a Russian village.  Her husband is serving a prison term for a murder which he did not commit.
One day, a parcel which she sent to her husband, is sent back to the post office, marked 'return to sender'.  When she arrives to pick it up and asks why it has not reached him, she is met with ambivalence and because of all the bureaucracy involved, no-one is prepared to put themselves out for her.
Understandably shocked by everyone's refusal to help, she embarks on a long and arduous journey across the country, to Siberia, to find out the whereabouts of her husband.
Along the way, she is met with violence, humiliation and opposition in her quest for justice, but underneath her timid veneer, lies a strength of character kept well hidden.
There is one scene, towards the end, which has more than a touch of Peter Greenaway/Wes Anderson satirical expressionism about it, thanks in some part to the talented Production Designer, Kirill Shuvalov, together with Costume Designer, Dorota Roqueplo. This touch brings some colourful relief to a rather bleak, sometimes brutal, yet stunningly powerful film.
Sergei Loznitsa direction is simply stunning – his grotesque characters all add to highlight the 'plainness' and expressionless features of 'gentle creature'. He brings out the best in his performers and albeit rather slow, this lends to the vision we have of the Herculean journey ahead of her and the length of time it could take to find out the truth.
The interior and exterior shots are beautifully photographed by Cinematographer, Oleg MUTU, RSC.
The star of the film, however, is Vasilina Makovtseva as the 'gentle creature' and she is superb.  Both mesmerising in her stillness and beautiful, almost expressionless face, she needs no words to convey her innermost thoughts or feelings.
An amazing film with little dialogue, relying on the soulful eyes of the main protagonist to tell her story.
Not to be missed.
Twitch Factor:  Sub, Sub Zero