ROMA
A story that chronicles a year in the life of a middle-class family in Mexico City in the early 1970s.
2018 | USA | Netflix | 135mins | Drama
Release Date:  Available on Netflix now
Director: Alfonso Cuarón 
Cast: Yalitza Aparicio, Marina de Tavira, Nancy García García, Fernando Grediaga, Diego Cortina Autrey
The year is 1970 and the setting is Mexico City.
Cleo (Yalitza Aparicio) is a live-in domestic of Mixteco Mesoamerican heritage who, along with her fellow maid, Adela (Nancy García García) is employed by a middle-class mother, Sofia (Marina de Tavira) who struggles to cope with her four boisterous children and frequent absentee doctor husband, Antonio (Fernando Grediaga).
Cleo loves the children as if they were her own and whilst she is treated well, it is clear that she is often taken advantage of and has very little time to herself.  When Sofia's life starts to unravel at the seams, she becomes more dependent on Cleo, whilst at the same time, Cleo finds herself in a situation where she has to explain to her ne'er do well boyfriend, Fermín (Jorge Antonio Guerrero) that she has missed her period.
Cuarón wrote, produced, directed, shot and co-edited Roma whose title refers to the city's Colonia Roma district.  It is a sumptuous black-and-white love letter to the woman who shaped Alfonso Cuarón's early life and an ode to a specific moment in time in Mexico City's history, with the central characters revealing much about attitudes to class, race and gender relationships. It is a time where the space race is unfolding overhead, whilst on terra firma, class violence and student radicalism erupt.
But there are moments of levity, for example, watching Sofia and her husband's driving skills when it comes to navigating their enormous car through a narrow alleyway at the side of their house or his apparent fixation with hunting down dog poop.
With the aid of the production designer, Eugenio Caballero, no detail has been overlooked to recreate the Mexico of the period; from the cars, the furniture, the haircuts and clothes, even to the Mexico World Cup 1970 posters seen in one of the children's bedrooms.
Aparicio is a revelation and well deserves her Oscar nomination for Best Actress.  Unfortunately for her, she is up against Glenn Close and Olivia Colman but her quiet, serene performance, is outstanding.
A heart-wrenching but at the same time, life affirming film, which is well deserving of all the nominations and awards.
Twitch Factor:  Sub, Sub zero
* * *
VICE
George W. Bush picks Dick Cheney, the CEO of Halliburton Co., to be his Republican running mate in the 2000 presidential election. When Bush becomes victorious, Cheney uses his newfound power to help reshape the country and the world.
2018 | USA | Annapurna Pictures | 129 mins
Release Date:  25 January 2019
Director: Adam McKay
Cast: Christian Bale, Amy Adams, Steve Carrell, Sam Rockwell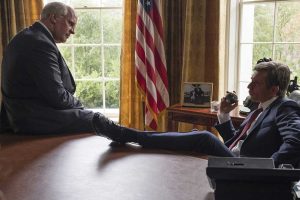 We first meet Cheney (Christian Bale) working as a telephone line repair man in Wyoming, having dropped out of Yale, due to his laziness and predilection for alcohol and everything else in between.  His long-suffering and very ambitious wife, Lynne (Amy Adams) is not content to sit back and wait until he comes to his senses, and reads him the riot act, warning him to get his act together or she will leave him.
Fast forward 10 years, and he has somehow managed to manoeuvre himself into the White House, with the help of Nixon's economic advisor, Donald Rumsfeld (Steve Carell), who after Nixon's fall, becomes Chief of Staff under Gerald Ford.
For some reason he seems to excel in this environment and soon adds to his repertoire with stints in Congress and as Secretary of Defense, under George Bush Snr.
However, after 12 years of Republican rule, and Bill Clinton's election, Cheney retires from politics to begin a very lucrative association with Halliburton, a multinational corporation and one of the world's largest oil field service companies.
In 2000, Cheney gets a call from George W. Bush's election team, initially asking for his advice about whom they should pick to be Vice President. To the surprise of many, Bush Jnr selects Cheney who, once again, finds himself in the middle of the action, in the White House fold.  But this time, wielding more power than he has ever done in the past and at the same time, managing to manipulate Bush Jnr, for his own ends.
Would history have played out differently had this not been the case?  Certainly, he may well have had ulterior motives for sanctioning the invasion of Iraq, given his involvement with Halliburton. We can but speculate.
Adam McKay has brought to the screen, a little-known story about a man who kept himself primarily in the background, out of the limelight and thus ensured his privacy from the outside world. The dialogue is well phrased, with very good comedic overtones and I absolutely loved the tongue-in-cheek scene with the Cheneys lying in bed, where they switch into Shakespearean dialogue mode. There is also a very neat twist which involves the film's narrator.
I found this much more enjoyable than McKay's previous film, The Big Short (2015), which I found completely overrated.
Cheney was one of those figures, whose name you remember, but you would be hard-put to pick him out of a line-up – well certainly not on this side of the pond.  It is only when you look back at photographs that you can see how amazingly uncanny is Bale's transformation – both physically and the use of excellent hair and make-up artists (who have also been Oscar nominated).
His acting, as always, is exemplary and thus far, has won the Golden Globe for Best Actor, whilst also having been nominated for an Oscar.  It remains to be seen whether or not he will win, since Malek would seem to be the main contender.  A shame, since as good as Malek was in his role, I think Bale 'pips him to the post'.  His performance is extraordinary, which at first appears to be a caricature, but it is only when you look back at earlier videos of Cheney, that you understand that the quirks and his manner of speech, are the real McCoy!
Once again, Adams, shows her vast range and nearly steals the show with her portrayal of the formidable Lynne Cheney.
Carell and Rockwell, both brilliant actors in their own right, attack their roles – Rumsfeld and 'Dubya' respectively – with great gusto, knowing when an opportunity for playing laughs, presents itself.
I came away smiling and to some extent, learning more about the man than I was previously aware.
Twitch Factor:  Sub, Sub, Zero
* * *
FOXTROT
A troubled family must face the facts when something goes terribly wrong at their son's desolate military post.
2017|Artificial Eye| Israel, Germany, France, Switzerland| Drama |113 mins | 15 |Hebrew with English subtitles
Release Date:  1 March 2019
Director: Samuel Maoz
Cast:  Lior Ashkenazi, Sarah Adler, Yonatan Shiray   
The setting is an upper middle-class modern apartment, in Tel Aviv.  In some ways it is quite austere and even the art work, scattered on the walls, does little to deflect the gloominess which abounds.  It already looks and feels, sad.
There is a knock on the door, and we are alerted to the fact that this is the moment which every family who has a member in active service to the country, has come to dread.  As the door is opened, two soldiers stand, grim faced and Dafna (Sarah Adler) does not need to hear the news they are bearing. She collapses and they are quick to move to sedate her. Everything is handled with military precision and their movements verge on the robotic.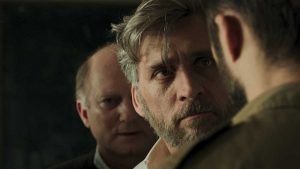 Meanwhile, her husband, Michael (Lior Ashkenazi, who has more than a passing resemblance to Steve Carell) sits devastated, numb with grief and whilst his wife lies chemically subdued in the bedroom, he is handed a watch which has been programmed to beep on the hour, in order to remind him to keep drinking glasses of water.
We are not told how her son, Jonathan (Yonatan Shiray) has died, but nevertheless, it is anticipated that he will be given a burial befitting of a soldier who has died in service.
The film unfolds as a triptych, with three connected stories, each equal in length.  Firstly, we have the news of Yonatan's death, then the events leading up to this and finally, the denouement.
Samuel Maoz has written and direct a bold and powerful film, with the central theme being the loss of a son, but at the same time highlights the absurdities of war and dares to question Israel and its politics.
It is a superior piece of cinema and is well worth seeing. Maybe, this is why it has caused such a stir in its country and was condemned by Israel's Minister of Culture, Miri Regev.   
Foxtrot won the Grand Jury Prize at the 2018 Venice Film Festival and was Israel's (snubbed) submission to the 2019 Academy Awards.
It is beautifully shot by cinematographer, Giora Bejach who in turn shows us the harsh and desolate desert landscape, together with the bleakly shot interior of the apartment.  A serious film (with comedic touches) with equally serious cinematography.  This is the side of Israel, which your average tourist never sees.
All three leads (Ashkenazi/Adler/Shiray) give beautifully understated and credible performances.
A must see, whatever your feelings towards Israel.
Twitch Factor:  Sub Zero
* * *
THE FAVOURITE
In early 18th century England, a frail Queen Anne (Colman) occupies the throne and her close friend Lady Sarah (Weisz) governs the country in her stead. When a new servant Abigail (Stone) arrives, her charm endears her to Sarah.
2018 | UK | 20th Century Fox | 120 mins | Biography, Comedy, Drama
Release Date:  1 January 2019
Director: Yorgos Lanthimos
Cast: Olivia Colman, Rachel Weisz, Emma Stone, Nicholas Hoult, Joe Alwyn
It is the early 18th Century, England is at war with France and the maudlin, gout-ridden Queen Anne (Olivia Colman) finds herself becoming increasingly dependent on her best friend, aide and confidante, Lady Sarah Churchill, Duchess of Marlborough (Rachel Weisz).  Determined and strong, she is driven by ambition and serves as the Queen's proxy with Parliament, whilst at the same time taking sole responsibility for attending to Anne's ill health and outbursts of childish petulance.
However, this quasi-sapphic idyll is about to be turned upside down in the shape of Abigail Masham (Emma Stone), who is Lady Sarah's cousin and has fallen on hard times, through her father's speculations. She has but one thought in mind and that is to inveigle herself into the Queen's household.
After doing a stint in the kitchen, her quick wit and charm, with a little connivance, she manages to progress to serving the Queen in her bedchamber, which turns out to be very handy… if you get my drift.
As Lady Sarah, in her role as the Queen's proxy, becomes more and more involved with the politics of war, Abigail sees this as her chance to fulfil her ambitions to raise her status in life.  She even volunteers to look after the Queen's rabbits who share the master quarters with her – 17 to be precise and who are all named after each of her deceased children.  We get the idea that Lady Sarah only viewed the rabbits with disdain and therefore, her affection towards Abigail, grows.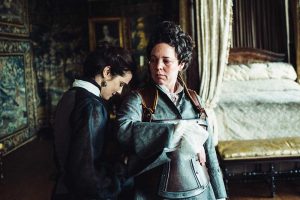 At the same time, it would seem that affection is also growing elsewhere.  Samuel Masham (Joe Alwyn) is bewitched by Abigail and although she constantly treats him with contempt, he follows her around like a lapdog, which rather brings to mind the adage, "treat them mean, keep them keen."
It would appear that Abigail has now hit the jackpot and is well on her way to resuming her previous social standing.
Anyone who is familiar with Lanthimos' previous films will know that his work could never be labelled a 'laugh-a-minute' or in fact, boring.  Offbeat, absurd and implausible would better describe his work. Like Marmite, you either like or dislike – no half measures.  His films are always unsettling and a little deranged, but having said that, I dare you to dislike this film.
Largely filmed in the labyrinthine Jacobean splendour of Hatfield House, the film delves into a sordid, artificial society, replete with jealousies, conspiracies and bitchiness and that's just the men.  They prance and preen, wearing lofty, starched wigs, harsh make-up, and finished off with effete mannerisms to-boot.  The ladies, on the other hand, are almost devoid of make-up, with simplistic hairstyles and Sandy Powell's stunning costume designs are updated versions of classic formal court wear, with an added twist here and there.  One particular outfit beautifully worn by Weisz, could even be deemed 'kinky', but in an exotic and elegant way.  It is an outfit which I am sure men and women alike, will not forget.
The well-written and sharp script, was originally conceived by Deborah Davis 20 years ago, and in 2009, it found its way to Lanthimos. Together they worked on the script and eventually, Lanthimos brought in an Australian playwright/TV screenwriter, Tony McNamara, to further re-sculpt the script. Yes, liberties have been taken with fact, but these serve to enhance the film, and historically, the bare bones are there; Lady Sarah Churchill was Queen Anne's favourite and possibly her lover and then Abigail Masham supplanted her in the Queen's affections.
There are some priceless bitchy put-downs, Weisz being the lucky one to deliver most of them; for instance, when Abigail turns up covered in mud, with flies buzzing around her, Lady Sarah asks, "Friends of yours?" and another time when the Queen presents herself and her make-up, for Lady Sarah's scrutiny before attending an important meeting and asks her how she looks, Lady Sarah replies, "You look like a badger."
A fabulous ensemble cast with the three actresses working so beautifully in tandem.
Colman has never been better and once again, proves her wide range of acting skills. Unfortunately for Colman, she has a strong adversary in Glenn Close who has been Oscar nominated 6 times (this being her 7th) and has never won but looks set to win the golden trophy this time around.  However, a Bafta Best Actress could well be Colman's for the taking – we shall just have to wait and see.
Lady Sarah could not have been in better hands than Weisz' and her interpretation is flawless.  It is one of her most deliciously sexy roles to-date and I cannot think of anyone who could have played her better.
Whilst Stone does not immediately spring to mind when thinking of casting for a Lanthimos film, and is an ideal foil for Weisz and she gives a finely nuanced performance.
The whole package is rounded-off with Elton John's 'Skyline Pigeon' – over the closing credits – and is the epitome of perfection.
The film is great fun, with lots of ribald humour and liberal use of the four-letter 'c' word and does not take itself seriously, so why should we?
To see it, is to love it…
Twitch Factor:  Sub, Sub, Sub Zero