WILD TALES (Relatos Salvajes)
Six stand-alone tales, all with an underlying theme of revenge and loss of control and sometimes having to live with the consequences …..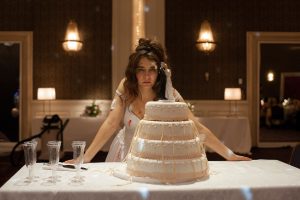 2015/Argentina-Spain/Curzon Film                                                                                    World/122mins/Drama-Comedy
            Release Date: 27/03/2015
            Director: Damián Szifrón
            Cast: Liliana Ackerman, Luis Manuel, Altamirano                         Garcia,                     Alejandro Angelini
Wow, what a film!  However, if you are not a fan of Pedro Almodóvar (who produced the film rather than directed it) it may take some getting used to.  But if, like me, you are a fan, then this is the film for you!  An absolutely brilliant Argentinian film – a masterpiece!  The characters all cross the thin line that divides civilization and barbarism.
Damián Szifron wrote and directed this anarchic portrait of vengeance and loss of control.  A satirical view of life in Argentina and forgive the analogy, a world 'on the edge of a nervous breakdown'. These are stories of lives being destroyed by road rage, parking fines, loan sharks and errant husbands – all defined by an escalating breakdown of civilised behaviour. Some of the results are shocking, so be warned.
Although I loved them all, I think my favourites are El más fuerte (The Strongest) which features road rage like no other and culminating in a tour de force ending with a fabulous 'one liner' – sorry, you will have to see the film to find out what it is.
Hasta que la muerte nos separe (Until Death do us Part). This is the final story which takes place during a wedding party.  The wife discovers that her husband has been having an affair with a girl who has been invited to the wedding.  She confronts him and passions rapidly escalate in all senses of the word …….
This film manages to be laughably absurd whilst being profoundly tragic at the same time.  A film for dark humour enthusiasts encapsulated by a wonderful, wonderful soundtrack.  A definite 'must-see' ….
Twitch Factor:  Sub, Sub, Sub Zero