BY THE GRACE OF GOD (GRÂCE À DIEU)
Three men, friends from childhood, will cross, compare their personal experiences and question their lives.
2019|France, Belgium| Curzon |137 mins | Crime, Drama| (French with English subtitles)
Release Date: 25 October 2019
Directed by: François Ozon
Starring: Melvil Poupaud, Denis Ménochet, Swann Arlaud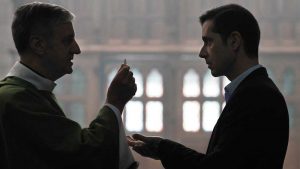 The year is 2014, and Alexandre Guérin (Melvil Poupaud), is a lawyer and a Catholic family man, living in Lyon.  He learns that Father Preynat (Bernard Verley), who molested him during his childhood, is back in Lyon, and the Church still allows him to work with children.
He contacts Cardinal Philippe Barbarin (François Marthouret), and is asked to come into his office and testify to a psychologist, Régine Maire (Martine Erhel). She organises a meeting between Alexandre and Preynat, where the priest admits to the abuse, but does not ask for forgiveness.  However, it becomes increasingly clear to Alexandre, that the Church does not intend to defrock Preynat, only to get him to ask forgiveness.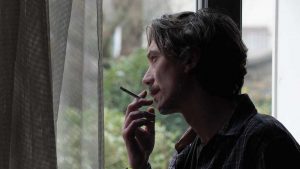 Taking things into his own hands, Alexandre finds out that there are other victims of Preynat, who would like to take things further.  Francois Debord (Denis Ménochet) is now an atheist who strenuously works as an activist with an online campaign group, La Parole Libérée.  A police investigation, headed by Chief Courteau (Frédéric Pierrot), is also underway.   However, it becomes evident that the chances of prosecuting Preynat are hampered by the statute of limitations under which older cases can no longer be brought, but younger victims come forward.  Emmanuel Thomassin (Swann Arlaud), is a young man from a dysfunctional family background, whose epileptic seizures are triggered by his ordeals.  Alexandre, Francois and Emmanuel, band together to lift their 'burden of silence'.
Originally perceived as a documentary, but now a fictionalised docu-drama, the extremely versatile Ozon has always given us films with a provocative edge.  However, with his latest offering, he has made an about-turn, and produced the most conventional film of his career.
The tri-partite structure of this film is one of its major assets, shifting the focus from Alexandre to Francois to Emmanuel, each with their own story to tell.  It is slow-paced and heavy on narrative, and therefore does not make light viewing.  But that said, the three leads, Poupaud, Ménochet and particularly, newcomer Arlaud, give powerful and finely nuanced performances.
This is an engrossing film, with great integrity, which will garner much debate, rather than endear Ozon to a wider audience.
Since finishing the film, on 4 July 2019, France's Catholic Church, pronounced Father Bernard Preynat guilty of sexually abusing multiple Boy Scouts over several years in the 1970s and 1980s and was defrocked.  He will face trial in a French court later next year.
A well-made and beautifully acted film.
Twitch Factor:  Sub Zero
* * *
SINGIN' IN THE RAIN
A silent film company and cast make a difficult transition to sound
1952|USA|MGM|102 mins| Musical, Comedy
Re-release Date: 18 October 2019
Directed by: Gene Kelly and Stanley Donen
Starring: Gene Kelly, Debbie Reynolds, Donald O'Connor, Jean Hagen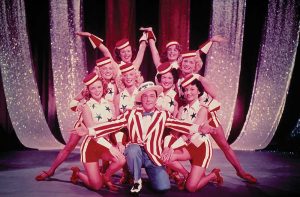 As part of a BFI retrospective on Hollywood musicals – 'BFI Musicals!  The Greatest Show on Screen', will celebrate the joyful, emotional, shared experience of watching film musicals and this 'golden oldie', will be amongst them. There will be wide re-releases of classic musicals, a myriad of screenings and events at venues across the UK, with DVD/Blu-ray releases and more.
I never tire of watching Gene Kelly and I am sure there are many out there who will agree.  For those of you who haven't yet seen it, for whatever the reason, here is a brief synopsis.
As with 'Once Upon a Time…' it pokes fun at Hollywood, but it is done with love and is simply a beautiful film and great fun, with in-your-face hamming-it-up and some of the most memorable musical numbers to have ever hit the screen.
Hollywood 1927:  Don Lockwood (Gene Kelly) and Lina Lamont (Jean Hagen) are Monumental Pictures' biggest and most glamourous stars.  To the adoring public they are the perfect couple, but behind the façade, this is far from the truth.  Don barely tolerates her, while Lina misguidedly believes all the studio hype and won't believe Don when he tells her that he is just not interested in her.
At the premiere of his latest film, while trying to get away from the crowds to make his way to the After Party, he leaps into a passing car driven by Kathy Selden (Debbie Reynolds) and a fun repartee ensues, until he arrives at his destination and Kathy drives away.
On arriving at the party, his sidekick and best friend, Cosmo Brown (Donald O'Connor) drags him in and while he is telling him about his encounter, a celebratory 'cake' is brought into the party and out pops, yes, you guessed it… Kathy.  He is intrigued by her, since it is obvious from their previous meeting that she is not interested in his fame, nor, on the face of it, him.  But as we all know the old adage, 'treat them mean, keep them keen', he persists in his pursuit and it ends up with a cream pie – meant for him – being thrown in Lina's face.  Outraged, she demands that Kathy be thrown out.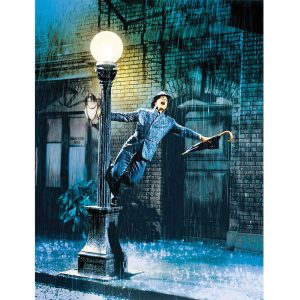 Don is mortified and tries to make amends, which he does, when it is announced that talking pictures are going to be the next big thing.  The head of Monumental Pictures dismisses this as rubbish, but it soon becomes evident that perhaps there is something to be said for this new movement, when The Jazz Singer is released to wide public acclaim.
However, this is going to cause a problem for the studio, since Lina has a voice that will raise the dead, with an accent/diction that grates on the nerves – albeit that she is blissfully unaware of this fact… how is the studio going to work around this?
You will recognise a lot of the songs, since they are classics; 'Singin' in the Rain' which makes you want to grab the nearest umbrella, wait for a downpour and then just skedaddle across a pavement, or something like that.  O'Connor's, 'Make 'Em Laugh' is one of the most cleverly choreographed songs to ever hit the screen, while Kelly's 'Gotta Dance' production number with Cyd Charisse, is synchronised perfection.
The three leads are well-cast and you will come away with literally a spring in your step
A must-see film, even if you have seen it time-and-time again.
Twitch Factor:  Sub, Sub, Sub Zero
* * *
ONCE UPON A TIME IN HOLLYWOOD
A faded television actor and his stunt-double, strive to achieve fame and success in the film industry during the final years of Hollywood's Golden Age in 1969 Los Angeles.
2019|USA, UK, China |Sony Pictures|161mins|Comedy, Drama
Release Date: 24 August 2019
Directed/Written by: Quentin Tarantino
Starring: Leonardo di Caprio, Brad Pitt, Margo Robbie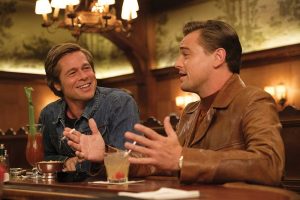 From the beginning of the Golden Age of Hollywood, we go to Tarantino's latest film, which is an ode to its final years.
Set in 1969 Los Angeles, we follow the trials and travails of TV star Rick Dalton (Leonardo diCaprio) and his long-time, laid back stunt double, Cliff Booth (Brad Pitt) as he struggles to come to terms with the new era.  He has been demoted from playing lead roles, to playing the 'heavy' who is constantly getting beaten up by whoever is the newest 'hot to trot' actor.
Dalton's next door neighbours are Roman Polanski (Rafal Zawierucha) and Sharon Tate (Margot Robbie) which he sees as an opportunity to get back into the big time and thus avoiding the Italian spaghetti westerns, which his agent, Marvin Schwarz (Al Pacino) is keen for him to do.
This is a lovingly crafted and brilliantly acted film and has all the usual Tarantino quirks, which should keep the die-hard acolytes happy.  No-one else makes films like he does.
All I can say is that they must have had a whale of a time making the film and love him or hate him, you always know you are going to get the 'finale of all finales' and he doesn't disappoint.
Tarantino has masterfully recreated this period, in minute detail and is all beautifully shot by Robert Richardson.
The soundtrack is fantastic and redolent of a walk down memory lane, as is the film (if you are of that era in time). I have to say, he has some of the most memorable soundtracks in his films.
This is Tarantino's 9th film and rumour has it, that there will be one more, and then he will bid 'Sayonara'… a man with such talent and knowledge of his craft, will never bid adieu, I am sure.
DiCaprio and Pitt have an easy chemistry which makes their friendship more authentic and their 'hanging out' scenes, are some of the best in the movie.
Robbie, as Sharon Tate, in a very much supporting role, is unfortunately underused.  She is a bright beacon of positive light, in contrast to the negativity which surrounds Dalton. But this is not a film about Sharon Tate and anyone who does not know her story, will not be enlightened by this film.  Tarantino has assumed that the audience will already be aware of her tragic story and connection with the Manson family.
I have to have a little bit of a bitch here, but I know that comments have been made about some of the females' dirty feet in the film… yes, I know, silly really, since it was a time of hippies, free spirits and this was set in California where there is no fear that your toes will drop off with the freezing temperatures.  However, I digress a little, my gripe was the fact that I didn't like their feet.  Robbie and Qualley appear to have bunions and if this is the case, then it is the ultimate proof that god exists!  Robbie is so stunning and yet her feet – not so much.
A fabulous film, which I saw in a public cinema, since I missed some earlier screenings.  However, it was 11o'clock in the morning, Bank Holiday weekend, with only 2 others for company.  Pure bliss.
A must-see, for all the above reasons.
Long live Tarantino!
Twitch Factor:  Sub, Sub, Zero
* * *
THE SHINY SHRIMPS (LES CREVETTES PAILLETÉES
Matthias Le Goff, a world champion swimmer, at the end of his career, makes a homophobic statement on TV. His punishment: coach the Shiny Shrimps, a flamboyant and amateur gay water-polo team.
2019|France|Peccadillo Pictures|103 mins| French with English subtitles
Release Date: 6 September 2019
Directed by: Cédric Le Gallo and Maxime Govare
Starring: Nicolas Gob, Alban Lenoir, Michaël Abiteboul, Roland Menou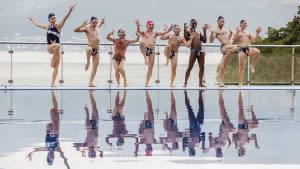 Olympic swimming champion, Matthias Le Goff (Nicolas Gob), is being interviewed on television and after relentless goading, unleashes a homophobic tirade on camera, whilst walking away from the perpetrator. This causes an uproar and in order to redeem himself, he is told that he must train a gay water polo team as they prepare for the world's biggest LGBTQ+ sporting event – the Gay Games in Croatia.
Needless to say, on first meeting the guys, he is completely out of his depth (excuse the pun).
The team's founder, Jean (Alban Lenoir) runs his own restaurant, appears to be the most level-headed, but is harbouring a closely guarded secret.  Meanwhile, Jean's ex, Alex (David Baiot) is still hurting from the break-up but continues to play with the team.  Their teammate, Cédric (Michaël Abiteboul) has a young family and his partner is forever trying to make him feel guilty that he is always out training, whilst he is left alone with their young twins.  Then we have the cranky, but loveable, Joel (Roland Menou) who is the oldest of the team.  He is getting older and more bitter as time passes him by, while Xavier (Geoffrey Couet) is a complete party boy, with no apologies for being so.  There's also Damien (Romain Lancry) who would like to be as free-and-easy as Xavier but has issues in his family and past.  Vincent (Felix Martinez) works at Jean's restaurant and is the newest member of the team who finally realises it is ok to come to terms with being gay.  The eighth member of the team is Fred (Romain Brau), a flamboyant transsexual whose role is to choreograph the team on dry land.
Matthias is wary of their openly sexual humour and he cannot get used to the fact that these guys can make homophobic comments, whilst he has been reprimanded, for using the same language.  But as they point out, they can get away with it, since they are gay, whilst he is not!
Matthias soon realises that he has a lot to learn and his job is not going to be easy, with the team's lack of talent being evident and their wild behaviour seriously hindering their chances of reaching Croatia.
The name is taken from Le Gallo's water polo team – The 'Shiny Shrimps', but the film's plot is fictional. Le Gallo and Govare have done a wonderful job writing and directing this film.  The casting is perfect and entailed quite an arduous process, finding the perfect fit for each character.
Water polo is probably the hardest sport, physically and mentally and some of the actors could barely tread water. Prior to filming, therefore, they underwent a 3-month intensive training programme – learning to swim hard, play water polo and make it all look credible!
All the actors are to be congratulated on their fine performances.
Lenoir is understated and perfectly cast as the 'leader of the gang' who created the team.
Gob (unfortunate name in English, anyway) is Belgium's answer to Jamie Dornan (without hair, lighter hair and more muscles). His performance is credible as the homophobic champion swimmer, who has seen better days, but wants to go out in a blaze of glory.
My favourite 'shrimp' is Biteboul, who plays Cédric, and bears more than a passing resemblance to Seth Rogen – even his laugh is pretty similar.  I found that a little distracting, especially after having just seen Rogen in The Lion King, but that is not the actor or the film's fault, that is totally down to me and is in no way, a criticism.
A film about friendship, tolerance and redemption, which will have you laughing and crying (in small measure). With a glorious soundtrack, you will want to laugh, dance and join the team!
A definite 'must-see' and I cannot recommend it enough.
Twitch Factor:  Sub, Sub, Sub Zero