THE HATE YOU GIVE
Starr witnesses the fatal shooting of her childhood best friend at the hands of a police officer. Facing pressure from all sides of the community, Starr must find her voice and decide to stand up for what's right.
2018 | USA | 20th Century Fox | 132 mins | Crime, Drama
Release Date:  22 October 2018
Director: George Tillman Jr.
Cast: Amandla Stenberg, Regina Hall, Russell Hornsby, Lamar Johnson, Issa Rae, Algee Smith, Sabrina Carpenter, Common, Anthony Mackie 
The film has been adapted from the 2017 critically acclaimed bestseller by Angie Thomas and takes its title from Tupac's Thug Life, an acronym for The Hate U Give Little Infants Fucks Everyone.
Starr (Amandla Stenberg) is constantly battling on which side of the fence she stands.  Effectively, she is leading a double life.  On the one hand, she lives in a tough black neighbourhood, with her mother, Lisa (Regina Hall), father, 'Mav' (Russell Hornsby) and younger brother, Sekani (TJ Wright).  Her father is a proud Black Panther, who has now made enough money, running a local general store, to enable him to send his daughter to a private school, where the majority of students are 'white', but against all odds, she is widely accepted and has a 'white' boyfriend, to boot, who dotes on her, despite all the cards being stacked against their relationship.
Culturally, she has learned to pass for 'white' but when she leaves school each day, she reverts back to her roots where, possibly, she feels most comfortable.
Whilst attending a neighbourhood party, she runs into a boy, Khalil (Algee Smith) with whom she grew up – bonding over Harry Potter books.  He has grown into a handsome young man who seems to be still in love with her and she, in turn, is charmed by him.  During their conversation, shots are fired at the party and he quickly urges her to follow him to his car, in order to escape.
As Khalil is driving Starr home, they are pulled over by a young jumpy police officer.  Starr having had her father instill in her, the necessity to acquiesce to police harrassment, urges Khalil to just do whatever the officer tells him.  But being hot-headed and stubborn, he doesn't realise the danger in which he is putting them and it ends in catastrophic violence.
Since Starr is the only witness, she will need to testify in court, much to the consternation of her father, since the gangsters he used to run around with, in his youth, are threatening to use any means by which to prevent her from doing so, since it will highlight their criminality.
What a stunning, immensely watchable and emotionally charged film.  Beautifully directed by George Tillman Jr and with a great screenplay written by the late Audrey Wells.  The film will resonate on all levels, since there is nothing shown that does not still go on today.  These are subjects all too familiar with us, in whatever part of the world we may live in – even if we haven't experienced them for real.
Stenberg gives a terrific performance as Starr – her strength and at the same time, vulnerability, shines through. I certainly hope that after this stand-out performance, the roles will come flooding in.  She is stunning to look at and the camera obviously loves her.
The ensemble cast is perfect, with beautiful performances from Hornsby, Hall and Smith – sounds like a rock group …  Last, but not least, TJ Wright as Starr's younger brother, Sekani, is the cutest and a natural on screen.
A film not to be missed at any cost and is one of my favourite films, this year.
Twitch Factor:  Sub, Sub, Sub Zero
* * *
A PRIVATE WAR
A biographical drama of American war correspondent, Marie Colvin. Chasing stories across the most dangerous battlefields in the world, Colvin reported from conflicts including Kosovo, Chechnya, East Timor and the Middle East.
2018 | USA | Aviron Pictures | 106 mins | Biography, Drama | 15
Release Date:  16 November 2018
Director: Matthew Heineman
Cast: Rosamund Pike, Jamie Dornan, Stanley Tucci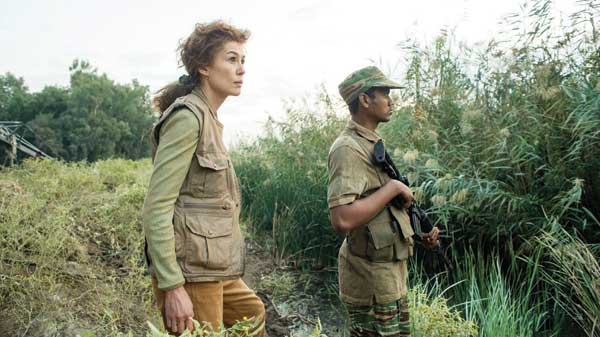 Marie Colvin (Rosamund Pike) was a war correspondent for The Sunday Times who fought so long and hard, and felt compelled to share what was going on in war zones around the world.   
This harrowing biopic spans roughly 10 years of Colvin's career and we are bystanders to the horrors she witnessed during that time, as well as the demons she was battling on a daily basis, especially after losing an eye, when being fired upon by military in Sri Lanka.
At times, she's haunted by flashbacks and how these interfere with her relationships – whether it be her ex-husband, David (Greg Wise), her editor, Sean Ryan (Tom Hollander) or edgy new lover, Tony (Stanley Tucci).   
She visits a mass grave of Kuwait POWs in Iraq which has been exhumed and where she has paired up with a freelance photographer, Paul Conroy (Jamie Dornan); we see her reporting firsthand from Misrata in Libya and Majah in Afghanistan and her honesty when describing the thrill that visiting such places offered to her, when she found it so hard to readjust to her life in London, between assignments.
Unfortunately, as Colvin herself would admit, the real challenge about her job was to believe that people would actually care once her stories were told and in this case, the same could be applied to a cinema-going audience which wants to be entertained, rather than watch harrowing world events.     
In 2012, Colvin sent her final dispatch to CNN from Homs, hours before she was killed during a bombing raid.
In her quest for justice, I couldn't help feeling that Colvin was rather reckless in her pursuit – it was one thing risking her life but she also risked the lives of her colleagues.  However, that said, without her, no-one would have been aware of the plight of the innocent women and children who were being targeted by the Syrian regime.  Eventually, she, herself became a target but she knew the risks she was taking and despite everything, she needed to get the stories out there.
No stranger to documentaries, Heineman uses the same techniques to deliver a gritty, but beautiful film which brings to life the atrocities being perpetrated across the globe, to this day.  The widows we see grieving at the mass grave, are not extras, but women who have gone through the horrors of war and the words spoken are non-scripted and straight from the heart, which makes the scene very difficult to watch, but nevertheless, their collective voices need to be heard.
Arash Amel's script leaves no doubt as to the absurdity of war, whilst at the same time trying to lighten the load, with moments of levity, without diminishing the horrors which pervade throughout the film.
A stunning and finely nuanced performance from Pyke.  I think this is probably her best role to-date and can't wait to see what follows.  She has proven herself a multi-faceted and very talented actress.
Both Dornan and Tucci are underused (which in Tucci's case, these days, seems to be more often than not).
A beautifully crafted film, with superb acting from Pyke.  Should not be missed.
Twitch Factor:  Sub, Sub Zero
* * *
BOHEMIAN RHAPSODY
2018 | UK/USA | 20th Century Fox |134 mins | Biography, Drama, Music |12A
Release Date:  24 October 2018
Director: Bryan Singer
Cast: Rami Malek, Lucy Boynton, Gwilym Lee, Ben Hardy, Joseph Mazzello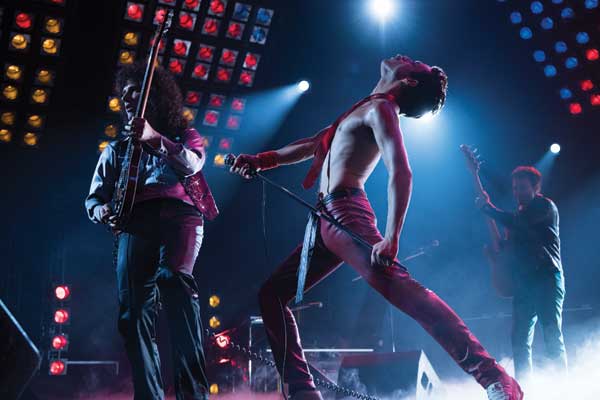 Bohemian Rhapsody is a paean to Freddie Mercury/Queen's combined and individual talents and charts his life from baggage handler at London Heathrow, to his first encounter with the lads who were later to become Queen.  After giving them an impromptu performance highlighting his singing skills, the boys take him on and soon proves he is a hit with the crowds.
One night, after finishing a gig, he meets a young woman, Mary (Lucy Boynton) and there is a mutual attraction.  Soon they are an item and he introduces her to his family, whilst announcing that they are to be engaged.   
As fame hits them all, especially Mercury, his lifestyle becomes more and more outrageous and Mary finally has to come to terms with the fact that he is gay.  However, he is heartbroken when she breaks off their engagement, but they still remain friends.
Even his fellow married band members are starting to disassociate themselves from him, since they no longer share his tastes in flamboyant fashion, hedonism and multiple sexual partners.   
As his life takes a downturn, so do his so-called friends.  He isa offered a dubious contract which will make him a lot of money, but he needs to be solo.  After some thought, he decides to go-ot-alone, but by this time he is surrounded by hangers-on, who relish the free drugs on offer, the parties and generally, being seen with Mercury.   
But he still hangs on to Mary, who tries to steer in him the right direction.
One day he is informed that there is a concert being organised by Bob Geldof and Midge Ure to raise funds for the relief of the ongoing Ethiopian famine and it would be held simultaneously at Wembley Stadium, in London, and John F Kennedy Stadium in Philadelphia.
Between Mercury and Queen, they know that this is the chance to get back in the big time, since neither are doing well financially, on their own.
As they say, the rest is history!
Considering all the well-publicised troubles that the making of this film endured over the past years – Sacha Baron Cohen was originally cast as Mercury and Bryan Singer was the director – for various reasons, both of them walked away and it was left to Malek and Fletcher to fill their shoes.
However, all that said and done, I don't think that the film has been harmed in any way – both give impressive performances, albeit one is behind the camera.
But it is Singer who gets the Director credit.  Apparently in studio contracts, the DGA has a strict clause which does not allow for more than one director or, one directing entity, (in the case of established partnerships).  This is in order to protect those axed from projects, after a long investment and in this instance, Singer has drawn the lucky straw.  Such a shame, since Fletcher did all the work.
Admittedly, when you first see Malek, it's the dental prosthetics (plus bad wig) and not the actor that stand out.  I found them a little disconcerting and he appeared to be a tad uncomfortable.  But as soon as he gets rid of the wig and grows a moustache (and thus looks more like the Mercury we loved and knew) the discomfort disappears – for us and for him.
Malek's brilliant performance and feat of impersonation prove that he is also a showman.
Boynton is beautifully cast as Mary Austin who, it would seem, was the love of Mercury's chaotic life. It was she who stuck with him, through thick and thin, even after acknowledging the fact that at best he was bisexual, if not gay.  She was his rock but even rocks, when struck too hard, can begin to crumble.
Two of my favourite Queen songs are included, 'Who Wants to Live Forever?' and 'The Show Must Go On', and both are featured after Mercury is diagnosed with AIDS.  Beautiful words and music, so poignant … and a tribute to their combined writing talent.  I couldn't stop the tears from flowing.
A wonderful film for all to watch – there will never be another 'Mercury' – they broke the mold, once he was made.
Twitch Factor:  Sub, Sub, Sub Zero
* * *
WIDOWS
WIDOWS is a blistering, modern-day thriller set against the backdrop of crime, passion and corruption. It's the story of four women with nothing in common except a debt left behind by their dead husbands' criminal activities.
2018 | UK/USA | 20th Century Fox |129 mins | Crime, Drama, Thriller |15
Release Date:  6 November 2018
Director: Steve McQueen
Cast: Viola Davis, Michelle Rodriguez, Elizabeth Debicki, Cynthia Erivo, Colin Farrell, Brian Tyree Henry, Daniel Kaluuya, Robert Duvall, Liam Neeson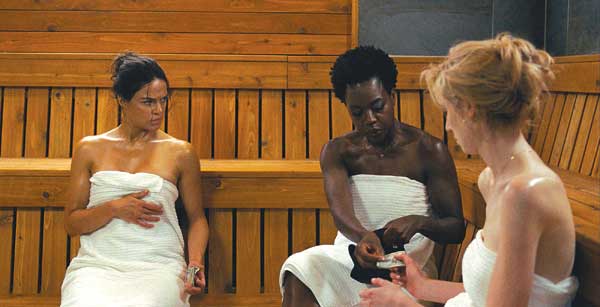 The film is a remake of Lynda La Plante's 1983 drama, originally set in London and now dragged across to Chicago.
Veronica (Viola Davis) is an uptight, retired teacher married to Harry Rawlings (Liam Neeson) who is a serial criminal. Seemingly unaware of his extra-curricular activities, she receives news that he has died, alongside his gang, whilst attempting to steal millions of dollars from a rival gangster, Jatemme Manning (Daniel Kaluuya).  His brother, Jamal Manning (Bryan Tyree Henry) in an attempt to whitewash his assets and reputation, is running for Alderman.
His opponent is Jack Mulligan (Colin Farrell), whose father, Tom (Robert Duvall) is a die-hard racist who has been running the place with a rod of iron.
Veronica gets a visit from Jamal who demands all his money back and when she tells him she has no money, he suggests she sell her apartment.
This brings her back to reality and whilst looking through Harry's belongings, she comes across an old notebook and realises that he has kept a record, down to the minutest detail, of every 'job' he and his gang have been involved in, right up until the last one, which has still to be carried out.
So, taking fate into her own hands, she conspires, along with each of the other widows, to forge a future on their own terms, which means that they will carry out the final heist, as per her husband's notes.
Veronica meets each widow in turn.  We meet Linda (Michelle Rodriguez) who runs a wedding dress store; Alice (Elizabeth Debicki) who finds herself in the unenviable position of having to earn her own money and will have to rely on her pretty face and body, in order to do so and a last-minute addition of Linda's babysitter, Belle (Cynthia Erivo) who makes up the quartet.
Much scheming and plotting later, they are ready to carry out the final heist.
Regrettably, I enjoyed the opening credits, more than the actual film, though I cannot detract from McQueen's talent – he is a force to be reckoned with, but I expected more from him.  To me, this is a mediocre, violent, heist movie, with a lot of women filling the male roles – a bit like the TV mini-series, 'Bodyguard', which I loved, but did it have to be full of women on the sidelines, where ordinarily, men would be?
Every man and his dog appear to be jumping on the Hollywood bandwagon to produce female centric films and I, for one, am getting really bored with it.  Are we really supposed to be convinced that these women will turn into criminals overnight, even given the years of abuse, subservience which they have sustained from their thug husbands? If so, why don't we see more newspaper headlines screaming with these stories?
Don't get me wrong, I am not opposed to female empowerment – after all, I'm from the Germaine Greer/Women's lib era but it doesn't mean that we have to demean ourselves or maybe I am just missing the point – this is for entertainment purposes?  In which case, are we really empowering women?
An excellent ensemble cast which, for me, was the film's only saving grace.  Great performances from Viola Davis and the rest of the female cast.  I cannot take their obvious talent away from them, but they would have been better served elsewhere and I look forward to seeing them in more films.
Kaluuya certainly has come a long way since last year's award-winning film, 'Get Out' and I for one, am really pleased to see this.  In Widows, he does not disappoint, and he gives an unnerving performance as an icy and coolly calculated killer.   
All said and done, if you like a stylish heist caper, with plenty of action, cynicism, blood and gore – this is the film for you.  I rest my case.
I did enjoy the little twist, though, which I guessed …
Twitch Factor:  Zero