New Style Cinema. April 2017
LADY MACBETH
2016/UK/Protagonist Pictures/89 mins/Drama
Release date: 28/4/2017
Director: William Oldroyd
Cast: Florence Pugh, Cosmo Jarvis, Paul Hilton, Naomi Ackie, Christopher Fairbank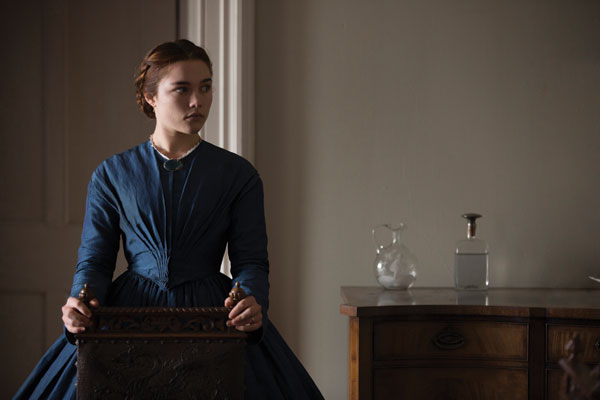 The film is loosely based on Lady Macbeth of the Mtensk District, the 1865 novella written by Nikolai Leskov, which also inspired Shostakovich's opera of the same name.
The country and landscape may have been altered, but it is still bleak, since the action is set in rural Northern England, during the 1860s.  We see a young Katherine (Florence Pugh) marrying an older man, Alexander (Paul Hilton) – who appears to put Victor Mildrew to shame in the misery stakes.  It is obvious that there is no love involved and that she is there simply to perform her wifely duties and produce an heir.  However, this is going to prove an impossible task, since there is no physical contact between them, and his only demand of her (in the bedroom) is to disrobe and stand facing away from him.  Go figure that one out. The house is ruled with a rod of iron by Alexander's father, Boris (Christopher Fairbank) who is an imposing and cruel man.
The photography is beautiful and serves to enhance the fact that Katherine is indeed a prisoner in this male orientated household.  Her only companion appears to be Anna (Naomie Ackie), her maid.  On occasion, we see a flicker of defiance in her eyes, only to fade away and leave us wondering if this has been imagined.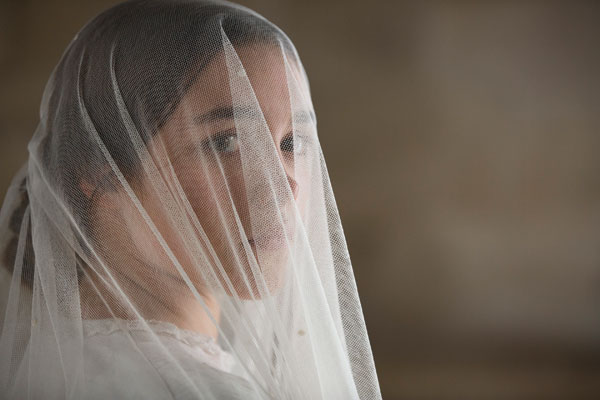 Slowly, but surely, Katherine's strong will comes brimming to the fore and is first seen when she intervenes to save her maid from abuse by a group of workers on the estate, headed by her husband's groom, Sebastian (Cosmo Jarvis).  What starts off as a battle of wills between her and Cosmo, quickly turns into flirtation and with her husband away, her pent-up urges are unleashed and the affair soon turns into a romp to rival Lady Chatterley's Lover.
The relationship develops and with it, her determination that she will not give up newly developed 'wantonness skills', and will protect her freedom at all costs.   There is no stopping her now and no-one will be allowed to get in the way of what she wants.
A stunning first feature from the theatre director and producer, William Oldroyd.  This small budget film perfectly exemplifies the austerity and bleakness of northern England at the time and his liberal use of restrained staging adds to amplify this.
Florence Pugh wholeheartedly embodies Katherine and is a revelation to watch.  Her heart-shaped face, devoid of artifice, is stunning and her performance is expressive and nuanced, and never over-acted, which could easily have happened given the decline in Katherine's mental stability.
An impressive ensemble cast with newcomer, Naomi Ackie worthy of mention.
The film does start off very slow, leaving you wondering whether or not to leave while the going is good, but please stick with it.
Twitch Factor:  Sub Zero
============================================================================
THE FOUNDER
The story of McDonald's founder Ray Kroc and the rise of the fast-food empire.
2016/USA/Studio Canal/115 mins/Biography/12A
Release date: 10/02/2017
Director: John Lee Hancock
Cast: Michael Keaton, Laura Dern, Linda Cardellini, Patrick Wilson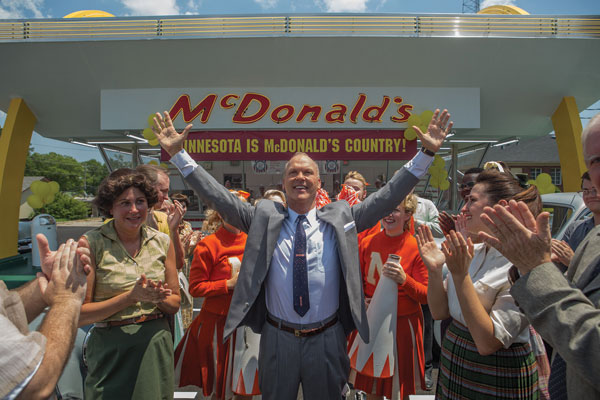 'The Founder' tells the true story of how Ray Kroc, a travelling salesman from Illinois, met brothers, Mac and Dick McDonald, the true 'founders' of McDonalds.
Set in the year 1954, Ray Kroc (Michael Keeton) is seen trying to flog his five-spindle Multimixer used for making milkshakes at the popular drive-in restaurants which are popping up all over America.  Whilst struggling to make sales on his travels across the Midwest, his long-suffering and bored wife, Ethel (Laura Dern), remains at home, near Chicago, slowly becoming more impatient and despondent.  One day, Ray hears that a particular drive-in restaurant in San Bernadino, Southern California, has ordered six of his Multimixers which stops him in his tracks. Who needs 30 milkshakes at any one time?
Off he trots to investigate and to meet with the brothers, who have set up a hamburger stand, called, wait for it, 'McDonalds' with an unique assembly-line style method of food preparation.  The menu of hamburger, chips and soft drinks may be pared down, but it does not compromise on quality.  Ray has a light bulb moment realising that this concept has the potential to reach far and wide within the States.
The brothers explain their plans for growth to Kroc and offer to hire him as their franchising agent.  On viewing Dick's design for the McDonalds logo – the golden arches – it is his idea that they should ensure that every location should feature the iconic sign.
When he returns home, he begins the process of recruiting franchisees and in a short time, Kroc has opened 13 restaurants located in and around Chicago and the Midwest, with plans for expanding across the country, coast-to-coast.
His hard work and perseverance ensure that the business is expanding at a rate of knots.  He becomes friends with one of his new franchisees and upon meeting his wife, Joan Smith (Linda Cardellini), an instant attraction is felt.  Meanwhile, Ray finds himself under a lot of financial restraints since, although the franchising operations are very successful, his cut is small and the pressure is further exacerbated by the expansion restrictions imposed on him by the brothers. Ray Wants to dominate the world, and the brothers are impeding his progress.
Along comes Harry Sonneborn, who offers to help him and advises that he should think of McDonalds as a real estate business, rather than a fast food one.  Buy the land on which to build future sites and then lease to your franchisees, thus enabling him to cut out the brothers whose jurisdiction lay between the walls of each restaurant – not outside.
I have to say that initially, as soon as I heard that the film was about the founder of McDonalds, I was not enthused.  But I am so pleased that I finally succumbed to the 'hamburger and chips.'
On the face of it, Kroc was an opportunist and took it to the nth degree.  But he was also a visionary – the same also could be said for Mac and Dick, but they had one thing lacking – the hunger and vision to expand globally.
Director, John Lee Hancock brings 'McDonalds' to life – it is an inspiring story that few people knew about or, in fact, were interested enough to learn about.
Michael Keaton' performance (complete with crocodile smile) is sheer perfection. As Kroc, he is in turn narcissistic, brash and arrogant whilst, on occasion, also showing his vulnerability. He has come a long way since his Batman days.
I am pleased to see that Laura Dern hasn't been 'swept under the carpet' as many an actress of a certain age is prone to be.  By the time you read this, she will be starring in the new TV series, 'Big Little Lies' alongside, Kidman and Witherspoon.
Linda Cardellini is stunning to watch and it took me a while to figure out who she was (the blond wig didn't help …) and then it clicked, she played Samantha Taggart in ER.  A trip down memory lane.
Well worth sitting down for 115mins – you won't regret it.
Twitch Factor:  Sub Zero
============================================================================
FRANTZ
In the aftermath of WWI, a young German who grieves the death of her fiancé in France meets a mysterious Frenchman who visits the fiancé's grave to lay flowers
2016/Artificial Eye/Drama, History /113 mins/
Release date: 12/05/2017
Director:  Francois Ozon
Cast:  Paula Beer, Pierre Niney, Ernst Stoetzner, Marie Gruber, Johann von Buelow, Anton von Lucke, Cyrielle Clair, Alice de Lenquesaing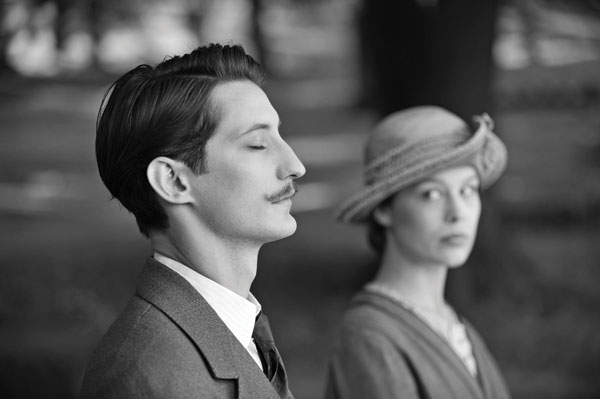 There is always some element of surprise with Ozon and in fact, Frantz, has at least two.  One, it has been shot mainly in black and white and secondly, the primary language used is German.  A bit of a shock to me, but worked really well.  After all, the characters are German and living in Germany whilst Adrien, is French, but can speak German too.  So everyone is happy.
Frantz is loosely inspired by the Ernst Lubitsch directed film, Broken Lullaby (1932) which was, in turn, based on the 1930 play L'homme que J'ai Tué by Maurice Rostand.
One of the biggest changes to the original film, is that its perspective has moved from the point of view of the Frenchman (Adrien) to concentrating on Frantz's German fiancée, Anna, who sees a handsome stranger (Adrien) laying flowers on his grave.
Anna, (Paula Beer), is in her early 20s, lives with Hans Hoffmeister (Ernst Stoetzner), a stern doctor, and his matronly wife, Magda (Marie Gruber), in the small town of Oldenburg. Anna was engaged to the couple's son, Frantz (Anton von Lucke), who died in the trenches. She has caught the eye of a potential local suitor, Kreutz (Johann von Buelow), who wants to make her forget Frantz, but she will have none of it.  "I don't want to forget him."
One day, whilst visiting the cemetery, she notices a handsome stranger (Pierre Niney) laying roses on her fiancé's grave.
It transpires that he is a Frenchman who knew Frantz, whom he had met whilst he was studying in France, before the war.  Anna is intrigued and invites him to the house to meet the Hoffmeisters.  Herr Hoffmeister is not amused since he deems all Frenchmen to have killed his son. However, Magda and Anna are more curious and forgiving, deciding that Adrien must have known Frantz very well to make the journey to pay his respects.
Adrien regales them with stories of how he met Frantz; their visit to the Louvre; how he taught Frantz how to play the violin.  Slowly but surely, the family is won over, least of all Anna, where we start to see a subtle change to her demeanor.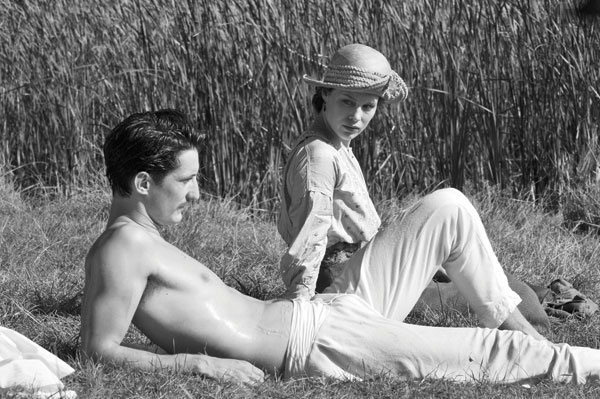 Their friendship blossoms, but Adrien is constantly having to fight his inner demons, until he decides that he just return to France, without telling Anna of his intentions.
Anna is bereft and decides to follow him to France, with only his last known address as a guide.
Ozon is at his best here.  What a stunning film, beautifully directed, and with a juicy, twisty narrative.
Beautifully shot in black and white – for the most part – by the Director of Photography, Pascal Marti, who only resorts to colour for two key sequences).  From the first frame, you are transported to a time that you can only imagine what it must have been like to live under such dire and turbulent circumstances.
Pierre Niney is France's answer to Adrien Brody (The Pianist) and equally talented, but I hasten to add, not better looking. You may have seen Niney in Yves St Laurent (2014) in the title role. Here is another actor who seems to be able to emote without words – his tortured face at the beginning of the film depicting his inner turmoil, softening as he becomes 'part of the family' and then reverting back once he comes to the realisation that he must return to France.  Only, relaxing when he reaches home, where slowly he tries to escape and erase the past. A brilliant performance.
The camera adores Beer and so it should.  She is stunning and perfect as the mourning Anna.  She glides through the film, effortlessly changing from sullen and imprisoned in her own thoughts, to slowly learning to trust and love another man, then to fly away, only to have her dreams dashed.  Acting as it should be, subtle and nuanced.  No, overacting here …
A film not to be missed – although, once again, please be warned that it goes at a slow pace.  So savour the time spent.
Twitch Factor:  Sub, sub Zero
============================================================================
VICEROY'S HOUSE
The last Viceroy of India hands India back to its people.
2017/UK, Ireland/Pathé/106 mins/Drama, History/12A
Release date: 3/3/2017
Director: Gurinder Chadha
Cast: Hugh Bonneville, Gillian Anderson, Manish Dayal, Huma Qureshi, Om Puri, Michael Gambon, Neeraj Kabi, Denzil Smith, Tanveer Ghani, Simon Callow, Lily Travers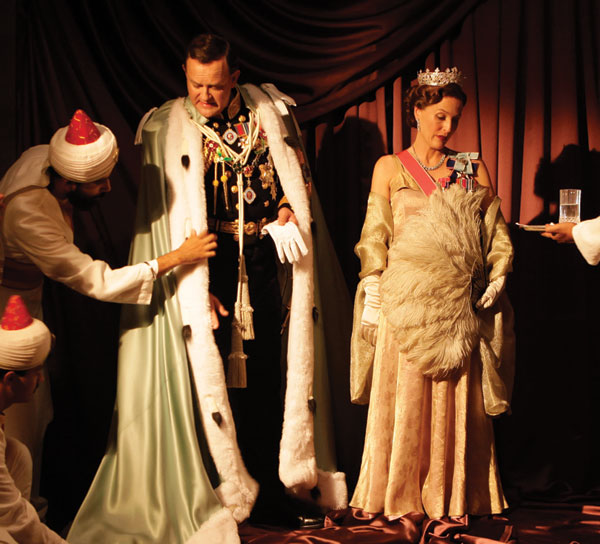 Gurinder Chadha's new film, Viceroy's House, is set in 1947 during the six months transition period leading up to Indian independence and the creation of Pakistan.  She drew on actual events within her family history, to create this semi-fictionalised period piece.  Most of the action takes place in and around the real palace itself – now renamed Rashtrapati Bhavan which has served as India's seat of power for most of the last 100 years.
Lord Louis Mountbatten, the last Viceroy of India and his wife, Edwina Mountbatten, arrive at their palatial residence in New Delhi under instruction to negotiate and deliver India its independence.  However, in doing so, his chief dilemma is whether to keep it as a single pluralist nation, dominated by its 300 million Hindus, or to partition it in two, thereby creating a Muslim majority state of Pakistan to the north.
It becomes apparent that this will not be an easy process, since he needs to negotiate the demands of both sides.  Meanwhile, sectarian violence explodes across India, killing many thousands, as a result, Mountbatten is forced to accelerate by one year, his plan for independence in hope of avoiding more bloodshed.
Whilst all this is happening 'upstairs', meanwhile, 'downstairs', it is all taking off.  Hindu and Muslim staff working side-by-side are starting to fight one another.  One of the staff, a handsome, young Hindu, Jeet (Manish Dayal) has found out that his beautiful, Muslim, ex-sweetheart, Aalia (Huma Qureshi) is working in the palace.  She tells him that she is engaged to be married and as soon as her betrothed returns from fighting with the British Army, they will be wed.  He ignores this fact, and persuades her to continue their friendship in secret.  They are on the verge of announcing to her father (Om Puri) their intentions, but are met by her fiancé who has returned.  He informs her that she and her father must leave India immediately and he will drive them to Pakistan where they will be married.
Woe is me …
Even double Oscar-winning composer of Slumdog Millionaire, A R Rahman couldn't spice up this film.  His score was lacklustre, at best.
A little piquancy would not have gone amiss – no mention was made of Edwina's lovers – subtly hinted at (twice, I think), but definitely alluded to when Mountbatten notices the close proximity of his wife to Nehru.  There again, Mountbatten was no stranger to extra-marital activity either.  Also, no the fact that Jinnah was secretly dying of tuberculosis as he fought for partition was omitted from the storyline. All these little subplots would have added some extra meatiness to the film.
What I do not understand is, that great care seems to have been taken to unearth actors who closely resemble the historical figures being portrayed eg Mahatma Ghandi (Neeraj Kabi); Jawaharlal Nehru (Tanveer Ghani), Muhammad Ali Jinnah (Denzil Smith), and Edwina Mountbatten (Gillian Anderson.  Yet, how did Bonneville slip through the net as Mountbatten? Perhaps his name meant they would get more financing?  Apart from their height, the similarity ends there.  Bonneville is chubby cheeked and dare I say it – portly, whilst Mountbatten was lean and resembled a horse with Patrician features.
Such an incredible ensemble cast, including Michael Gambon and the late Om Puri (who died in January) only to be disappointed with the content.
Hugh Bonneville is always a 'comfortable watch' but you can't help picturing him in Downton.
Gillian Anderson gives a very captivating performance as Lady Mountbatten, who was a woman before her time.  She has obviously done her homework here, emulating her walk and manner of inclining her head.  I am not sold on the accent, though.  Sometimes it would fail to 'hit the right spot'.
All in all, disappointing – it fails miserably to draw you in.  However, don't let me put you off – you can always bask in the glorious scenery.
Twitch Factor: Slight