PADDINGTON 2
Paddington, picks up a series of odd jobs to buy the perfect present for his Aunt Lucy's 100th birthday, only for the gift to be stolen.
2017 | UK, France | Heyday Films | 95 mins | Animation, Comedy | 
Release Date: 10/11/2017
Director: Paul King
Cast: Hugh Bonneville, Sally Hawkins, Ben Whishaw, Michael Gambon, Hugh Grant, Julie Walters
The Bear is back and fun and frolics abound!
Now firmly ensconced within the bosom of the Brown family, Paddington (charmingly voiced by Ben Whishaw) is acutely aware that Aunt Lucy's 100th birthday is looming on the horizon.  Since she is living in the Home for Retired Bears in Darkest Peru and is unable to join him in London, he wants to buy her something special to remember him by.
Whilst debating a gift with Mr Gruber (Jim Broadbent) who owns the local antique shop, Paddington notices a beautiful antique pop-up book depicting London scenes which Mr Gruber has stored in a locked glass cabinet.  On asking the price, Paddington realises that he will have to find a job – easier said, than done.  He soon finds out that perhaps he has bitten off a little more than he can chew.
There follows a quick succession of jobs; a short-lived position in the Barber Shop – a hilarious scene as a pompous Judge (Tom Conti) sleeps in the barber's chair, blissfully unaware that bears and vibrating clippers do not a good combination make.
He then turns his hand to window cleaning where Paddington uses some entertaining and innovative ways to clean windows involving the use of his portly frame.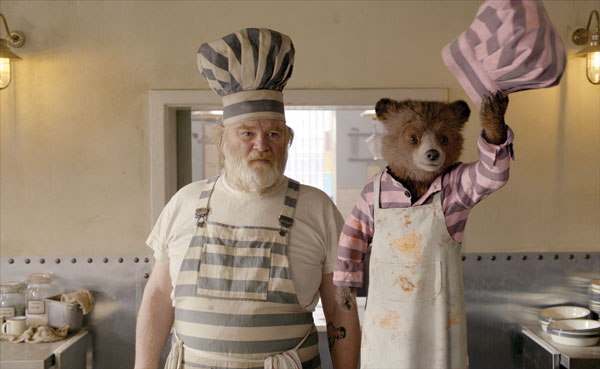 Then along comes Phoenix Buchanan (Hugh Grant) a vainglorious, aging luvvie who overhears Paddington talking about the pop-up book.  Clearly, Buchanan is familiar with its existence, but unbeknownst to either Paddington or Mr Gruber, it holds clues to a treasure trove of jewels buried long ago. When he asks Paddington for the whereabouts of the book, he unwittingly divulges its location.
You guessed it, Buchanan has to have it and what he wants, he always gets.  Soon after, he breaks into the shop, steals the book but not before leaving behind clues which will implicate Paddington's involvement in the theft.
The poor bear ends up in jail with a 10 year sentence hanging around his neck but worst of all, he will miss Aunt Lucy's birthday.
However, charm and cuteness save the day and soon, our little ursine friend has everyone eating (marmalade) out of his hand (paw) – even managing to soften up the prison's terrifying chef, 'Knuckles McGinty' (Brendan Gleeson) into the bargain.  Meanwhile, the Brown family are running around like headless chickens trying to prove Paddington's innocence.
What a welcome return for director Paul King, who has a new co-writer, Simon Farnaby and they are living proof that sometimes a sequel can match up to a first film or even outdo it, and this certainly manages to keep up the momentum very nicely, thank you.
Hugh Bonneville, Sally Hawkins and Julie Walters are back in their respective roles but it is Hugh Grant who steals the show (almost) from Paddington – a hard feat indeed.  This has to be his funniest role ever as we watch him hamming it up to the extreme; talking to his wigs, dressing up as a nun, to name but a few of his favourite things  … but 'la pièce de résistance' comes after the credits!  Not to be missed …
Peter Capaldi reprises his role as Mr Curry, the nosey, mean-spirited neighbour, we all love to hate.
Tom Conti gets into the spirit of things with his portrayal of the Judge who makes the mistake of falling asleep in the barber's chair …
You will not leave the cinema disappointed and certainly not without a big grin on your face.
Will there be a third instalment, I wonder?  I certainly hope so …
Twitch Factor:  Sub, Sub, Sub Zero
*****
BATTLE OF THE SEXES
The true story of the 1973 tennis match between World number one Billie Jean King and ex-champ and serial hustler, Bobby Riggs.
2017|UK, USA| Cloud Eight Films |121 mins |Biography, Comedy, Drama, Sport|
Release Date: 24/11/2017
Directors: Jonathan Dayton, Valerie Faris
Cast: Emma Stone, Steve Carrell, Andrea Riseborough, Sarah Silverman, Bill Pullman
The year is 1972 and the 28 year old Billie Jean King (Emma Stone) is at the peak of her game and is the most successful female tennis player of all time.  However, male tennis players are earning far more than the women, since "men are simply more exciting to watch and stronger, faster and more competitive."  Which sets the scene for some conflict.  Along with the help of the tennis promoter, Gladys Heldman (Sarah Silverman) King decides to take matters into her own hands and enlists the help of her fellow players.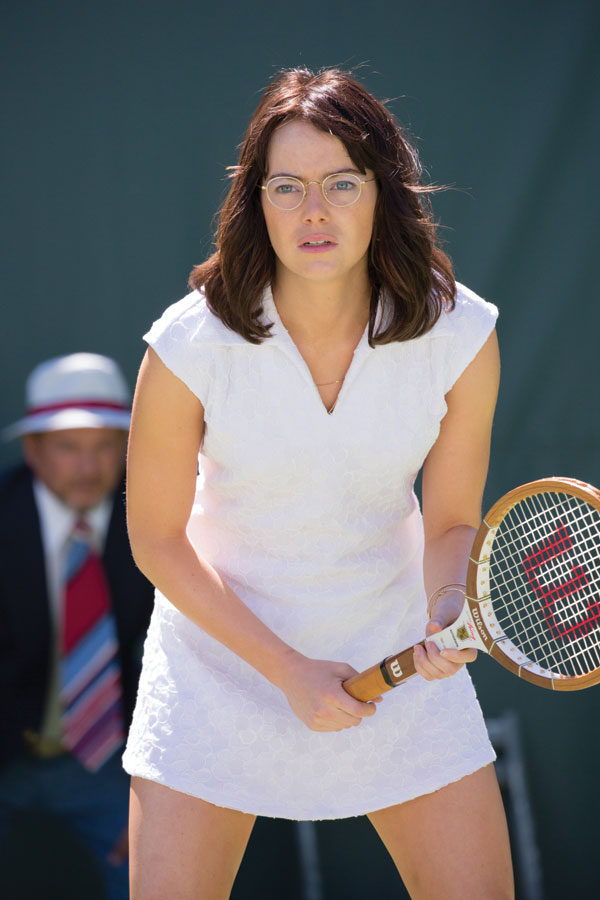 In another part of town, a 'past his prime' former tennis champion, Bobby Riggs (Steve Carrell) still dreams of the day he will be back on the tennis court in front of a captive audience.  He is an inveterate gambler and hustler and now with the King fiasco, sees an opportunity for a great comeback.  He challenges the women to a gender-battle game in order to prove that women cannot match men in their ability, and Margaret Court (Jessica McNamee) picks up the gauntlet.  Much to her disgust and to her fellow players' dismay,  she fails in her attempt to prove Riggs wrong, which only serves to fuel his arrogance further.
Fuelled by his win, Riggs throws in the gauntlet once again and it is left to King to pick it up and fight the good fight.  The well-oiled wheels of the media circus go into overdrive. Both players have increasingly complicated domestic lives; King because of her relationship with hairdresser, Marilyn Barnett (Andrea Riseborough) and Riggs, because of his constant gambling and reliance on his wife's fortune.   
Circa 90m people tuned in to watch the iconic game between King and Riggs in 1973 with both players literally making grandiose entrances – although Riggs upped the ante, on all counts.
A lovely and for the most part, a feel-good film.  At the risk of repeating myself, yet again, you don't need to be a tennis lover to really enjoy this fun film and at the same time, it was interesting for me to learn the story behind the headlines all those years ago.
Directors Valerie Faris and Jonathan Dayton of Little Miss Sunshine fame are joined by scriptwriter Simon Beaufoy who penned Slumdog Millionaire and between them they have crafted a gripping, yet fun film which has you cheering, crying and laughing in equal measure.
With beautiful cinematography from Linus Sandgren who uses 35mm stock to bring to life the look and feel of the 70s, you have a perfect film, although I am not too sure how much has been dramatised for effect.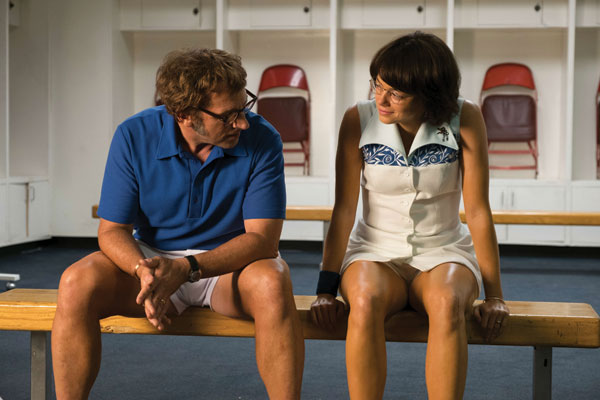 Stone is wonderful as King and once again, proves that she can turn her hand to just about any role which comes her way.  She may be prettier than King ever was, but she is perfectly credible and manages to capture the very essence and many facets of King, the woman and the player.
Carrell's resemblance to Bobby Riggs is uncanny. This transformation, much in the mode of his role as John du Pont in Foxcatcher (but without the use of prosthetics), chooses to rely on Riggs mannerisms and recognisable gait, but with the addition of a set of teeth which Bugs Bunny would have been proud to own.
Riseborough is perfect as King's love interest bringing an almost ethereal look and feel to her role.
Who else could have played the acerbic Heldman but Silverman?  Not only is she a great stand-up comedienne, but she can act too …
Alan Cumming as the designer, Ted Tinling, brings his usual wit and charm to bear on the proceedings and he is a pleasure to watch.
Great fun!
Twitch Factor:  Sub Zero
*****
THE DINNER
Two sets of wealthy parents meet for dinner to decide what to do about a crime their sons have committed.
2017|USA| Vertigo Releasing |120 mins | Crime, Drama, Thriller,|
Release Date: 08/12/2017
Director: Oren Moverman
Cast:  Richard Gere, Laura Linney, Steve Coogan, Rebecca Hall; Charlie Plummer
The Dinner is adapted by Oren Moverman from the 2009 bestseller of the same name written by the Dutch author, Herman Koch.  However, the action has been transplanted from Holland to the US.
The film begins with the crime, we know who 'dunnit' and we know why.
The rest of the story is primarily set within a very upmarket restaurant where Stan Lohman (Richard Gere) an ambitious congressman running for Governor, has managed to pull out all the strings in order to get a reservation.
There he is joined by his second and much younger wife, Katelyn (Rebecca Hall), his brother, Paul (Steve Coogan) and his wife, Claire (Laura Linney).  Stan's ever present and dedicated Assistant, Kamryn (Taylor Rae Almonte) is waiting in the foyer whilst waiting to hear the voting results on a bill which Stan is desperate to get passed.  That aside, the family is there to discuss a heinous crime which their sons, Michael (Charlie Plummer) and Rick (Seamus Davey-Fitzpatrick) have committed.  The only other person who is aware of the perpetrators of the crime, is Stan's adopted son, Beau (Michael J Harvey) who is threatening to go to the authorities unless his brother and cousin turn themselves in.
Whilst Stan presides over the dilemma, Paul is struggling to come to terms with what has happened.  His wife, who knew all about the incident but has covered it up from her husband, almost brushes it aside and argues that their sons are young and they meant no harm (which is rather difficult to debate once you realise the extent of the crime).  Katelyn appears to be in agreement with her, but Paul is confused and Stan is thinking how it might impact on his political standing.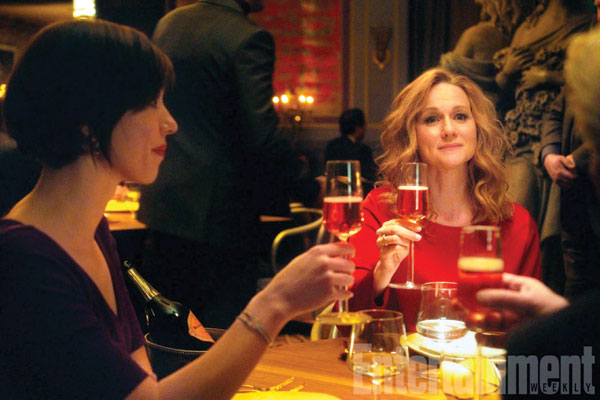 With lots of flashbacks involving Stan's first wife, Claire's health, and Paul's depression and melancholia, we get to the end, which leaves us with an unresolved dilemma – it is almost as if they ran out of time.  The film should have had a more morally aware ending, instead of just leaving the audience hovering on the brink of a precipice.    
An unusual choice of casting, but all very talented actors in their own right but somehow, they do not make a good ensemble cast.
Gere is probably the only one who looks and feels comfortable in his role.
Coogan's performance is overacted and over-reactive and remains unconvincing.
Linney, who appears to be the gentlest and more grounded character, ends up doing a pretty convincing impression of Lady Macbeth and Hall, is very good as the poker-faced, younger wife, who is watching and waiting, ready to pounce.
In parts, the film was a 'difficult watch' and the constant bickering/shouting was a little grating.  It is full of contradictions wrapped up in a huge moral dilemma which on the face of it, should be easy to resolve, but given the characters involved and the implications, it is a hard decision to make – although it shouldn't be.  The women are even more despicable than the men and just as we give up on any of them having any moral fibre, Stan saves the day … or does he?
What would you do if it happened to your family?
If you want to get away from the Christmas madness and have nothing better to do with your time, do go and see it.  If not, you won't have missed anything.
Twitch Factor:  Twitchy …
******
THE UNSEEN
Gemma and Will are shattered when their son dies in an accident. Gemma blames herself and starts to have panic attacks that affect her eyesight …
2017|UK| Magnet Films |108 mins | Drama, Mystery, Thriller,|
Release Date: 15/12/2017
Director: Gary Sinyor
Cast:   Richard Flood, Simon Cotton, Jasmine Hyde
A middle class couple are left shattered when their only child dies of a tragic accident.  His mother, Gemma (Jasmine Hyde) blames herself while her husband, Will (Richard Flood) struggles to cope with his grief and imagines he can still hear his son's voice. Slowly, the relationship begins to quietly unravel.
Whilst out one day, Gemma has a panic attack when her vision begins to blur and is left unable to see.  A passerby, Paul (Simon Cotton) comes to her rescue and offers to take her home.
Soon, Paul is befriended by the couple and he offers to let them stay at his country retreat in the Lake District, near to his own home, to which Gemma and Will agree.
But all is not what it seems …
The film is written and directed by Gary Sinyor who is best known for Leon the Pig Farmer (1992) and his 1999 rom-com, The Bachelor starring Chris O'Donnell and Renee Zellweger.
Sinyor's film takes us on a journey which studies both the psychological and physical effects which bereavement has on a couple coming to terms with the loss of a child and he does this really well.  The film is perfectly balanced and although a tad slow in parts, it is gripping and keeps you hooked until the end.
The cast is very good and Jemma Hyde, in her first major film role, gives a nuanced and credible performance as the self-assured woman who suddenly becomes a bereaved mother, only to find herself ridden with guilt and uncertain as to what the future holds for her and her husband.
Richard Flood gives an engrossing performance as he tries to come to terms with his loss and his slow descent to near hysteria by the imagined voice of his son, which lingers in the house.
Simon Cotton portrays a man who, on the face of it, just happened to be in the right place, at the right time but equally, a quiet, steely menace simmers gently below the seemingly friendly veneer.
This is a British film at its most gripping and best.
Twitch Factor:  Zero
Film reviews:
Liliana dalla Piana — Member of Bafta
liliana@newstyle-mag.com