DOGMAN
2018 | Italy/France | Rai Com | 102 mins | Drama | 15 | Italian with English subtitles
Release Date:  19 October 2018
Director:  Matteo Garrone
Cast:  Marcello Fonte, Edoardo Pesce, Nunzia Schiano, Adamo Dionisi
The film opens on a derelict estate outside of an unnamed town in southern Italy.  We see a sad-looking little man, Marcello (Marcello Fonte) working away in his shop – a dog-grooming business – trying to wash and dry a brute of a dog whom he probably shocks into subjugation, with his use of childlike phrases of terms of endearment.  Nevertheless, it works and the dog becomes 'putty in his hands'.
Marcello is separated from his wife and he dotes on his young daughter, Sofia (Alida Baldari Calabria) who clearly adores him too.
In his spare time, he plays five-a-side football with his friends and appears to be very popular.  However, underneath the layer of innocent charm, we learn that he is dealing coke on the side which helps to bolster his meagre earnings from dog grooming and perhaps we can forgive him.
However, his best customer, Simone (Edoardo Pesce) with a thick neck and equally thick mentality, has long overused his credit and now resorts to threats to keep Marcello on his side and his supply undiminished.  He has inadvertently created a monster who is becoming more and more aggressive and unstable and the locals live in fear of the man.  Except for Marcello, who follows him around like a lapdog, whilst at the same time he is being bullied into helping Simone out on burglaries, as his getaway driver, promising a cut.
On one such attempt, Simone's other accomplice, puts a yapping Chihuahua into the freezer and they leave, despite Marcello's protestations.  Marcello is not happy and we just know he is going to go back in there to rescue the small animal – if he is alive.  This makes for a really exciting and, believe it or not, very funny scene.
Marcello still craves Simone's friendship, so much so, that at one point, he saves Simone's life when an attempted revenge hit goes wrong but in doing so, he has crossed a path of no return and stands to lose everything he holds dear; his family, his friends, his livelihood.
An amazing film from Matteo Garrone, who directed Gomorrah (2008). His inspiration for Dogman came from a true story, although no mention of this is made in the film's credits.
Yes, there is some violence, but not on the scale of Gomorrah and the use of humour, acts of kindness (mainly to the dogs) and sentimentality all combine to counterbalance this.
Nicolaj Brüel's cinematography is simply stunning, although bleak and further highlights the sense of a small town, in the middle of nowhere, seemingly almost cut off from the outside world.
Quite rightly, Fonte won the Best Actor Award at the Cannes Film Festival 2018.  He gives a magnificent performance as the put-upon 'saint' with his 'stillness' and mesmerising facial and eye expressions. He could have played this role mute and the audience would be left in no doubt as to what was going on in his mind and heart. At times, I was reminded of a more haggard version of Al Pacino as Michael Corleone in The Godfather – the same stillness, the same beautiful eyes …
In contrast, Pesce's portrayal of a boxer/turned criminal whose look alone, would send you scurrying off the mortal plain. He is a huge brute of a man and like Fonte, his performance is faultless.
Perfect casting throughout the film and not to be missed.
If you feel the urge to see it before its 19 October release date, you can see it as part of the London Film Festival, on Monday, 15 October at 18:15h at the Curzon Mayfair.
Twitch Factor:  Sub, Sub, Sub Zero
* * *
THE CHILDREN ACT
As her marriage crumbles, a judge must decide a case involving a teenage boy who is refusing a blood transfusion on religious principle.
2017 | UK | BBC Films | 105 mins| Drama | 12A
Release Date: 24 August 2018
Director: Richard Eyre
Cast: Emma Thompson, Stanley Tucci, Fionn Whitehead
Fiona Maye (Emma Thompson) is a High Court judge with a lot on her plate, including an increasingly disgruntled academic husband, Jack (Stanley Tucci).  Her job is so consuming that she seems to have little time for anything or anyone, else.  Even when he attempts to take her mind off work (a ruling on a pair of conjoined twins) with the promise of dinner and theatre tickets, she is oblivious to his needs and carries on reading the court documents.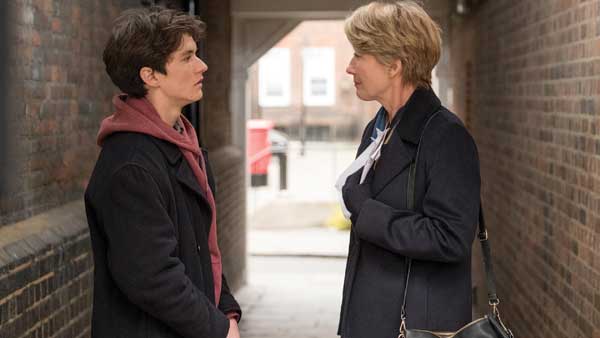 Is it no wonder then that a few days later, he announces that he would like to have an affair?  This seems to stop her in her tracks and he has her undivided attention.  Unfortunately, for her, his announcement has come at a very difficult time since it coincides with one of the most difficult cases to cross her desk.  They argue and a few days later he leaves.
A 17-year old boy, Adam (Fionn Whitehead) has been diagnosed with leukaemia and is refusing to have what could possibly be a life-saving blood transfusion, on religious grounds – he is a Jehovah's Witness.  After hearing the case in court where his parents are speaking on his behalf, she takes the unprecedented step of visiting him in hospital.  Although the encounter is brief, it leaves a lasting impression on both of them and, as such, she rules against Adam and his parents' wishes.  He must receive the blood transfusion.
Understandably, the parents are besides themselves since he will be dis-communicated from the church and Adam, himself, worries that his life, as he knows it, will never be the same – albeit he could live to see another day/week/year.
However, after the transfusion and slowly regaining his strength, Adam has had time to think about his life and where it will take him and in doing so, feels that it was fate that brought him and Fiona, together.
He begins stalking her, leaving messages on her voicemail and even following her to an out-of-town event, where in desperation to be closer to her, he almost offers himself up for adoption and here the film begins to go a little off-kilter.
She is visibly shaken by this encounter and tells him that he must go home and not contact her again and we all know how much good that is going to do, don't we?
I thoroughly enjoyed this film which has been adapted by Ian McEwan from his 2014 novel of the same name.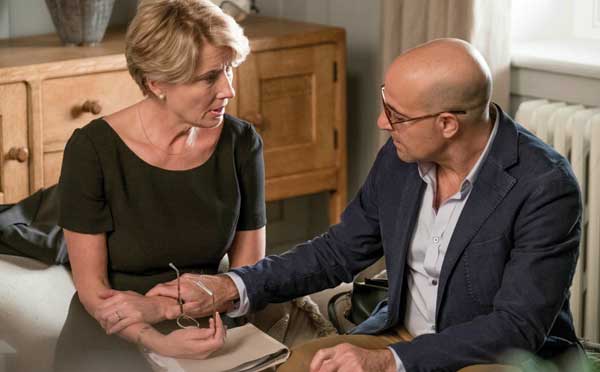 This is probably Thompson's career-best to-date.  She is simply brilliant and the camera is levelled almost entirely on her face which enhances, rather than detracts from the plot.
Fionn Whitehead is little know, but I have a feeling that this role will bring him to the fore.  His performance was very good and he brought a
Stanley Tucci is such a superb actor but what a shame that he is so grossly underused in his role as Jack.  However, as always, he makes the most of what he is given.
Jason Watkins, as Nigel Pauling, puts in a credible performance as her unctuous and simpering clerk.
A highly watchable film.
Twitch Factor:  Sub Zero
 * * *
BLACKkKLANSMAN
Ron Stallworth becomes the first African-American detective on the Colorado Springs Police Department. He vows to make a name for himself by infiltrating and exposing the Ku Klux Klan.
2018| USA | Universal | 135 mins| Drama, Crime | 15
Release Date:  24 August 2018
Director: Spike Lee
Cast: John David Washington, Adam Driver, Laura Harrier, Alec Baldwin, Ryan Eggold, Topher Grace
The film, produced by Get Out's Jordan Peele, is loosely based on Ron Stallworth's 2014 book Black Klansman and opens with a White Supremacist (Alec Baldwin) filming an infomercial.
The setting is the early 70s and Ron Stallworth (John David Washington) joins the Colorado Springs Police Department and becomes the first African-American to do so.   At first, he is treated with some disdain by his fellow officers, as he is assigned a position in the filing office.  However, he is resilient and knows full well that he will have to work harder than most in order to prove himself.  He wants to be an undercover detective, but as he soon finds out, it is going to be an extra hard, long slog for him, especially because of his colour.
Undaunted, he carries on with his menial tasks until he is assigned to go undercover at a Black students' group rally headed by the former Black Panther, Kwame Ture (Corey Hawkins).  It is there that Ron meets with the leader of the Students group, Patrice (Laura Harrier).
Ron finds himself intrigued by Kwame's speech and resolves to learn more.
Back at the office, he sees an ad in the local paper for members to join the Klan.  He calls the number, disguising his voice and mode of speech, in order to pass as 'White', and as a result of using all manner of offensive anti-black/Jew/Spic invective, is rewarded with a meet-and-greet.
Since there is credible evidence that the Klan are planning an act of violence during the appearance of another Civil Rights Activist, Ron needs to get close enough to the Klan, to prevent this from happening.
For obvious reasons he can't personally attend the 'meet-and-greet', so cue, Flip Zimmerman (Adam Driver) a non-practicing Jewish detective.
Zimmerman becomes the 'face' of Stallworth, while Stallworth is running around in his shadow, taking surveillance photographs and keeping up the phone call interaction with the Klansmen.
Whilst Stallworth's role is injected with more humour, Zimmerman's role, builds the suspense. In one scene, the tension mounts as we fear he will be 'outed' by the scary Felix (Jasper Pääkkönen), who has his suspicions about Zimmerman's ancestry and is determined to prove he is right.
At one point, Stallworth even gets to guard KKK leader, David Duke (Topher Grace) with whom he has had numerous telephone conversations and at one point, Duke asks him if they have met before.  Stallworth even has the nerve to ask for a polaroid to be taken with him and another Klan member, and at the very last moment, puts his arms around both men, much to their disgust.  Duke tries to snatch the photograph away, but Stallworth beats him to it.  Just brilliant!
Harry Belafonte, as Jerome Turner, tells the harrowing true story of the death of the teenager, Jesse Washington, who was there when it happened.
The film ends with the 2017 original newsreel footage of white supremacists in Charlottesville and Trump excusing their violent excesses by announcing there are 'bad dudes' on both sides.  Who needs the KKK, when you have a racist bigot as President?
This is probably one of Spike Lee's best films to-date – it is funny, fast-paced and never loses its dramatic tension.  They are usually quite political but somehow with his use of comic irony and vitriol, it all blends together to form a great crime drama.  That said, he can't resist the occasional dig at Trump – well deserved, I might add.   
Chayse Irvin's cinematography is stunning, especially his use of simple headshots, against a black background, during the student rally scenes.
John David Washington puts in a sterling performance as Stallworth and shows his acting range.  For those of you who are unaware, he is indeed the son of Denzel and therefore, has a lot to live up to.  In that respect, I think he is well on his way.  I certainly hope so.  He has his father's charisma and talent and is definitely, a 'chip off the old block'.
Adam Driver, as usual, gives a pitch-perfect, nuanced performance.  I like him more and more and I think will last the course.  Whatever role he plays, he grabs with both hands and gives it his all.
I haven't seen Topher Grace in a while and his David Drake is a delicious mélange of smarm and narcissism, underneath which lies the dangerous persona.
An excellent ensemble cast and a definite 'must-see' film.
Twitch Factor:  Sub, sub Zero
* * *
COLD WAR
A passionate love story between two people of different backgrounds and temperaments, who are fatefully mismatched, set against the background of the Cold War in the 1950s in Poland, Berlin, Yugoslavia and Paris.
2018| Poland | Curzon | 88 mins| Romance, Drama | 15 Polish with English subtitles
Release Date:  31 August 2018
Director: Paweł Pawlikowski
Cast: Joanna Kulig, Tomasz Kot, Borys Szyc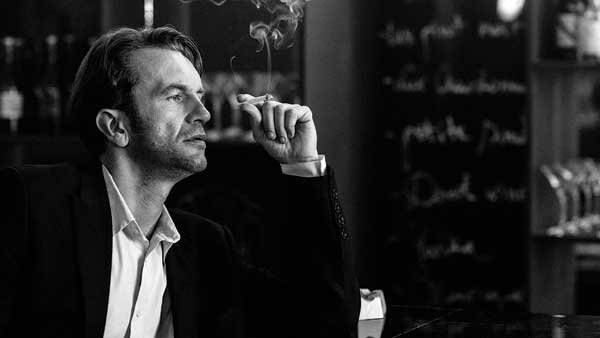 It is the late 1940s, in Poland and the Cold War is in full swing.
A tall, dark, handsome pianist and composer, Wiktor (Tomasz Kokt) and a producer, Irena (Agata Kulesza) are touring remote villages, with their recording equipment, looking for youngsters to form a troupe who will perform authentic and traditional Polish folk songs and dances. Eventually, they will show off at theatrical evenings held for party officials.
At the auditions, Zula (Joanna Kulig) a young, blonde teenager catches Viktor's eye.  She is obviously trying to hide the fact that she is not from the ethnically pure villages but from the city.  Nevertheless, she carries on with her deception.   
Zula sings for them, but it is not a Polish folk song, instead choosing a number from a Russian film.  This does not seem to deter Wiktor, since she has a cherubic look about her.  He finds Zula fascinating and all the more so when he finds out that she has been in prison for attacking her abusive father with a knife – something which he obviously finds alluring.
The scene is set for a passionate affair between them and soon Zula is made into a star.  Their relationship reaches a critical point, however, when they perform in East Berlin and an opportunity presents itself, to defect. Will they or won't they?  Are they the Cold War's answer to the star-crossed lovers, Romeo and Juliet?
Paweł Pawlikowski won the Best Director award at Cannes, for this ravishing film.  His choreographed ensemble musical sequences are brilliant, as is the dreamlike quality of Łukasz Żal's cinematography.  Like Ida (2015) – which won him the Oscar for Best Foreign Film – it is shot entirely in black and white with an aspect ratio of 1.37:1 which basically gives you a small square screen.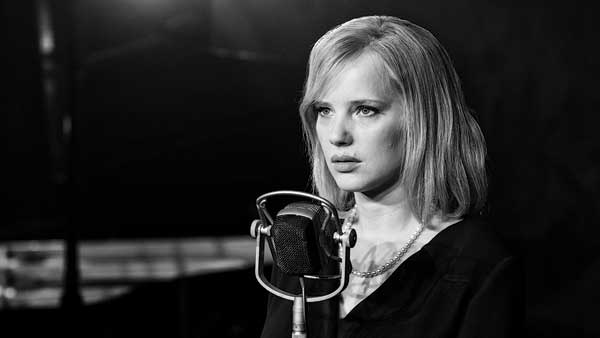 All praise to musician Marcin Masecki, who is credited with the 'jazz and song arrangements'. The compelling Mazowsze folk song, Dwa serduszka (Two Hearts) recurs throughout the film and is magical, as it is captivating.
The stunning, Joanna Kulig – she of the bee-stung lips – gives a performance of great range and depth as she transforms from a not-so-innocent teenager, into a fully-fledged femme fatale.  I defy any many to resist her.
Tomasz Kokt is easy on the eye too, as he ambles through the film constantly puffing away on a cigarette, with his longing and passion for Zula, very much to the fore.  He is the mouse, to her cat.
Twitch Factor:  Sub, Sub Zero