MCQUEEN
A compelling new documentary looking at the extraordinary life and career of British fashion designer Alexander McQueen.
2018 | UK | Lionsgate | 111 mins | Documentary |
Directors: Ian Bonhôte, Peter Ettedgui 
Alexander (Lee) McQueen took his own life eight years ago, on the eve of his beloved mother's funeral.  He was only 40.  We can only imagine what he might have achieved in those eight years.  Perhaps, like Tom Ford, he would have progressed to film directing. He certainly had the talent and imagination and his 'Voss' from 2001, with its central shocking image based on Joel-Peter Witkin's Sanitorium, could well have been Ford's inspiration for the fabulous opening sequence of Nocturnal Animals.
McQueen's story is told in chronological fashion and includes footage from runway shows and conversations with his family and friends, interspersed with McQueen's own home videos.  It charts his progress from a young happy-dappy chappie to a sombre, depressed, cocaine-addicted adult.
If it hadn't been for his mother, who firmly believed in her young son's burgeoning talent, his genius may never have seen the light of day.  It was she who insisted he go to Savile Row to try and find a job, which he subsequently did, as a tailor's apprentice.  His skills soon gained recognition and his aunt decided to pay for him to attend St Martin's College of Art where he was a star pupil.  Isabella Blow, upon seeing his graduation collection, became his mentor and most fervent champion – the rest is history.  Thus, one of the world's most unlikely duos, (after Batman and Robin) was born.
The interviews with former employees, friends and collaborators all speak of a very likeable person who enjoyed provoking outrage.  On his arrival at Givenchy, he would think nothing of eating with his fellow workers in the staff canteen and he treated everyone with respect – hitherto, unheard of!  He remained steadfastly down to earth – unlike many other figures in the world of haute couture.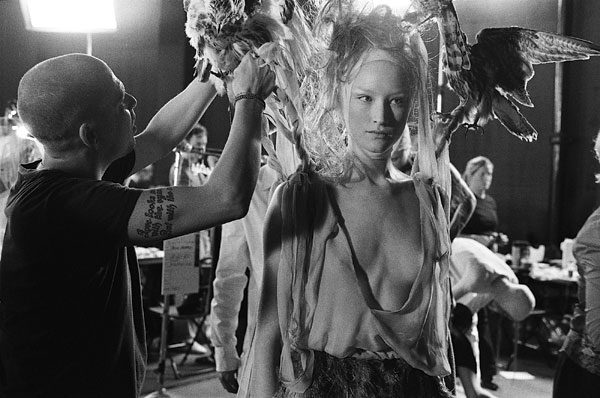 But then the tone of the film changes, since it becomes painfully clear that fame, fortune and his cocaine addiction, are threatening to destabilise him as well as childhood traumas. The richer and more famous he becomes, the more narcissistic is his behaviour.
His loneliness barrels through the film, as does his inability to keep relationships.  He even 'turns' on Blow, although their relationship at times was fractious, it was strong but the moment caught on camera, shows another side to him and her face says it all.  He tries to make light of it, but the arrow has hit its mark and they will never quite be the same.
After the death of Blow, he is very depressed, coupled with the fact that he has been diagnosed HIV positive.  McQueen review: A grim portrait of a maverick fashion genius
The directors, Ian Bonhôte and Peter Ettedgu, have filmed some great interviews with McQueen's old colleagues and Sebastian Pons (his former assistant) and Detmar Blow (Isabella's husband) are particularly thought-provoking, as their faces, in close-up, dominate the screen.
Nyman's music is haunting and sad which makes the film more emotionally engaging.
Although McQueen was in turn erratic and infuriating, no-one can deny he was a genius and sad to say, he never had the chance to show the world the full extent of his talents, which may have lain elsewhere – directing films, perhaps?  We are only left with, "What if…?"
I cannot ever remember coming out of a screening and feeling so emotionally drained.  It took me a while to shake it off and what was left in its wake, was an extraordinary homage to a haunted talent.
A well-made, emotionally charged documentary – a 'must-see', even if you are not a fashion aficionado.
Twitch Factor:  Sub Sub Zero
* * *
OCEAN'S 8
A comedy crime thriller in which a team of women plan to steal a valuable necklace.
2018| USA| Warner Bros Entertainment | 110 mins| Comedy, Crime, Thriller |
Release Date:22/06/2018
Director: Gary Ross
Cast: Sandra Bullock, Cate Blanchett, Sarah Paulson, Anne Hathaway, Helena Bonham Carter, Rihanna, Awkwafina, Mindy Kaling
11 years on and the original all-male crew has been replaced with women: a star-studded cast of three Oscar winners, (Blanchett, Bullock, Hathaway) one Oscar nominee (Bonham Carter), one Grammy winner (Rihanna), one Emmy winner, (Paulson) one SAG award winner (Mindy Kaling) and one Rising Star (Awkwafina).
Debbie Ocean (Sandra Bullock) the sister of the now deceased, Danny Ocean, is coming to the end of her 5-year prison stint and has had more than enough time to plan and scheme ahead of her release.  She is met at the prison gates by her by her old partner in crime Lou (Cate Blanchett) whom she quickly brings up to speed on her plan, which is to steal a $150 million Cartier diamond necklace from the Met Gala and just to make it a little harder, it needs to be dangling around the next of a movie star, Daphne Kluger (Anne Hathaway).  You didn't think it was going to be that easy, did you? However, they are going to have to involve a team of specialists.
Together they recruit a hacker, 'Nine Ball' (Rihanna) who enjoys smoking weed as much as she does hacking; a ditsy, Irish fashion designer, by the name of Rose Weil (Helena Bonham Carter); a mother-smothered jewellery designer, Amita (Mindy Kaling); a kleptomaniac suburban mother and one of Debbie's former partners, Tammy (Sarah Paulson); and a pickpocket, Constance (Awkwafina).   
Then the fun begins …
Being a mere mortal, I enjoyed getting a glimpse of the inner workings of the Met Gala and the cameo opportunities offered to those who regularly attend, with Heidi Klum and Anna Wintour getting lines, and others such as Kim Kardashian West and the Jenner sisters all making brief appearances too.
Unfortunately, Gary Ross is no Soderburgh when it comes to direction and the poorly written script, co-written by Ross and budding screenwriter, Olivia Milch, does not help. It lacks the sharp, witty banter which previous 'Ocean' films had in abundance and I don't think it is the actresses fault or lack of chemistry between them.
I am a great fan of all the stars, individually and whilst Bulloch is still a strong presence on screen, in contrast, Blanchett, was underserved.
Bonham Carter has a way with words and is witty in her own right, but I have no idea what possessed her to use an Irish accent, especially when she is so bad at it.
Rihanna was her sassy self and again, Mindy Kaling was underused, as was Awkwafina – I can't wait to see her new film, Crazy Rich Asians.
Hathaway appears to be in her element and having the most fun vamping it up.
Worth watching for the fabulous clothes and a behind-the-scenes view of the Costume Institute Gala (Met Gala), if nothing else.
Twitch Factor:  Zero
* * *
THE HAPPY PRINCE
A biographical drama in which an ailing Oscar Wilde tries to make ends meet while exiled in France.
2018| Germany, Belgium, UK, Italy| Lionsgate UK | 105 mins| Drama |
Release date: 15/06/2018
Director: Rupert Everett
Cast: Rupert Everett, Colin Firth, Emily Watson, Colin Morgan, Tom Wilkinson
The film takes its title from one of Oscar Wilde's most noted short stories, The Happy Prince, an enduring tale of love, courage and redemption, much like his own life.
Flashbacks are used to great effect showing Wilde during his glory days and back to his present life in exile.   
Having been released from prison after being convicted for 'gross indecency' which came as a result of his indiscreet affair with Lord Alfred 'Bosie' Douglas, Wilde (Rupert Everett) horrifies his friends by resuming his destructive relationship with 'Bosie' (Colin Morgan).  His loyal friends, Reggie Turner (Colin Firth) and Robbie Ross (Edwin Thomas) who is more than a little in love with Wilde himself, warn him not to run off to Italy with 'Bosie'.  On hearing this, his humiliated ex-wife, Constance (Emily Watson) terminates his meagre allowance and Oscar blindly trusts in Bosie's empty assurances that his income will support them both.  When that source dries up, however, it heralds the death knell for the 'beginning of the end'.
Weaving its way throughout the film, is the tale of The Happy Prince, read by Oscar to his captivated sons in flashbacks and to the present, to a French street urchin Leon, (Matteo Salamone) whilst having cocaine-and-absynthe fuelled sex (not at the same time) with his older brother, Jean (Benjamin Voisin).
The mental and physical effects of life in prison, albeit only two years, did take their toll and can be seen as he frequents sordid Parisian nightclubs, hosting extravagant dinners which he could ill afford and basically revelling in debauchery and seemingly enjoying himself. But his inner turmoil and obsession with 'love' was dragging him down and the thrill of lust was quickly waning.
In one scene we see a gathered crowd hurling abuse and spitting upon him as he is chained to a prison guard, at a train station.  He never forgave the British public for this humiliation.
Rupert Everett has written, directed and starred in this poignant and gripping drama about Oscar Wilde's final years and a damned good job he has done, too – on all three counts. It has taken 10 years to come to the screen, mainly due to the funding process but Everett's passion, resilience and tenacity, finally got the film made.  With his fat-suit donned and jowls added to his Modigliani-type features, he looks nothing like the Oscar Wilde of our textbooks.
John Conroy's cinematography is simply stunning and in one particular scene, Wilde and his friends are running away from a group of young homophobes and as they enter a church, for refuge, the shards of light coming through the stained-glass windows, gives an ethereal and magical Apparently, this was a stroke of luck – which goes to show that sometimes you can be in the right place, at the right time.
Both Firth and Thomas put in very credible performances but Colin Morgan's 'Bosie' is a little vapid and brattish, unlike Jude Law's interpretation in the 1998 version of 'Wilde' which was by turn, charismatic, charming and petulant.
Under a new 'Turing's law', Oscar Wilde was one of 50,000 gay men, 'posthumously' exonerated by the British authorities on 31 January 2017.   
An emotionally charged tribute to a deeply troubled and courageous genius.   
Finally, one of Oscar Wilde's quotes;
"Keep love in your heart; A life without it is like a sunless garden when the flowers are dead."
Twitch Factor:  Sub, Sub Zero
* * *
ADRIFT
A true story of survival, as a young couple's chance encounter leads them first to love, and then on the adventure of a lifetime as they face one of the most catastrophic hurricanes in recorded history.
2018|USA|Lakeshore Entertainment| 96 mins| Action, Adventure, Drama |
Release date: 29/06/2018
Director:  Baltasar Kormákur
Cast: Shailene Woodley, Sam Claflin
The film is based on Tami Oldham Ashcraft's book, Red Sky in Mourning:  A True Story Love, Loss and Survival at Sea and opens with the aftermath of the hurricane where an injured Tami, is assessing the extent of the damage to the boat whilst looking for her partner, Richard.
Adrift then switches between two timelines, never losing its momentum.    
It is 1983 and Tami (Shailene Woodley) is a free-spirited young girl who, bored with life in San Diego, decides to travel and see a bit of the outside world. Arriving in Tahiti, she has little or no money and finds work as boat crew.
Whilst there, she meets a fellow 'drifter', Richard (Sam Claflin) who has his own small boat which he has built himself, no less – as one does.  The pair find that they have much in common and one day, out-of-the-blue, he announces he would like her to join him on his sailing adventures.  She doesn't need to think about this too hard and accepts.
A while later, Richard is hired by an older couple who are urgently needed back in the UK but they need someone to sail their 44ft yacht on a 4,000 mile journey from Tahiti to California, in their absence.  A return first-class ticket is also offered, which he readily accepts.  At first Tami is hesitant and a little unhappy with the change in plans, but eventually an agreement is made and Tami is added to the deal.
Then the 'fun' begins – a storm is brewing and they both have differing views as to which route they should take in order to circumnavigate 'Hurricane Raymond'.  Both ways are tried, but eventually they succumb to the fact that they need to change course towards Hawaii.   
Adrift runs the gamut of emotions and Kormákur's shooting style has done wonders for the film, since creativity is the key word when most of the action is 'small boat centric' and you have to find ways in which to keep the audience connected – and connect we do.  There are some wonderful roiling shots of the boat as it battles the terrifying storm – so much so that you almost feel sea sick watching (well, let's just say that I did).   
There is a lovely soundtrack including the Tom Waits' Picture in a Frame.
Claflin is charming, but severely impeded by the script – in fact the script does no-one any favours.
Woodley, however, fares better and gives her career-best performance to-date and appears in almost every shot.  She also turns in an impressively physical performance and by now I am sure you will have read that for the last two weeks of filming, she subsisted on 350 calories a day ie a can of salmon, steamed broccoli and two egg yolks!  Well, let's face it, if you have been stranded at sea for 41 days, relying on peanut butter to get you through, you would be looking none too healthy, to say the least. 
For a 'lost at sea' film, I was not bored at all – which must come as an all-time 'first'.  The only sea-faring film I can remember (since it was so good) was the Nicole Kidman helmed, 'Dead Calm' and what a film that was!  However, this is based on a true-life story and there the similarity ends, if it ever began.
If you can bypass the script and a little schmaltz, take a gamble.   
Twitch Factor:  Sub, Sub Zero