A GHOST STORY
A recently deceased, white-sheeted ghost returns to his suburban home to try to reconnect with his bereft wife.
2017 | USA |A24 Films | 93mins | Drama |
Date of Release:  11/08/2017
Director:  David Lowery
Cast: Rooney Mara, Casey Affleck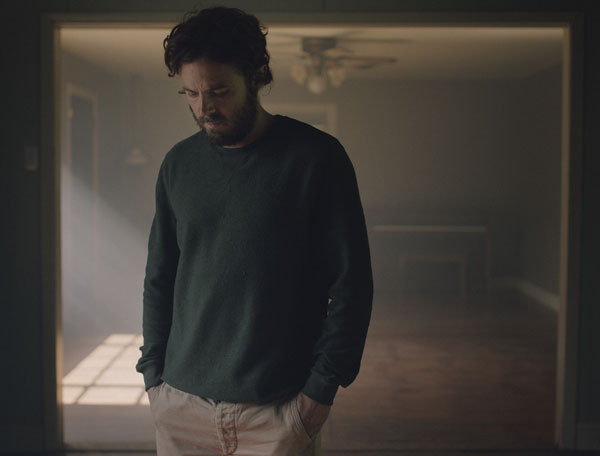 David Lowery's A Ghost Story is a film about a life cut short, as well as a meditation on love, loss and grieving – on both sides of the spectral plane.
'M' (Rooney Mara) and 'C' (Casey Affleck) are a young couple living in a faded suburban ranch house.  Both are restless – he is a musician/composer who, though loving and caring, is prone to moody lapses, whilst she does not work and begrudges the time he spends away from home.  She would like to move house, but he has no intention of moving, and seems to have some sort of attachment to their home, although he is unable to articulate his reasons for wanting to remain.  There is an unspoken tension between them which could possibly threaten their relationship.
Suddenly, 'C' is killed in a car accident and 'M' has to identify his body which lies cold and still on the mortuary slab, covered with a white sheet.  'M' departs in grief and at the same time, 'C' follows, as a shrouded ghost that only the audience can see.
We see him observing her at their home which they once shared, as he is forced to be a mute witness to her gradual descent into loneliness and despair.  He even sees a similar ghost residing in the house opposite, which appears to be waiting at the window for the owner to return.  Who is this ghost and who are they waiting for?  But we never find out …
There is a crucial scene of several minutes in length, where 'M' sits down on the kitchen floor and consumes a whole chocolate pie, whilst the ghost looks on mournfully, unable to console or comfort her.
Finally, 'M' leaves the house, after repainting it and leaving a scrap of paper on which she has written something, which she has tucked in a crack in a doorframe.  Just what was on the note, is never revealed. The ghost is left behind, unable to access the note and condemned to stay in the house and watch whilst tenants come and go until finally, the house is demolished.  But he is left to haunt the property and the land that is there, as well as the building which will someday be erected in the future.
It is rare to find a movie which draws you in with a pure and simple story and at the same time, gives you 'food for thought'.  Rare indeed.
David Lowery is not a director that I am too familiar with – having only seen Pete's Dragon in 2016 – which I did enjoy.  However, the two films cannot be compared.  He has made a wonderful, thought provoking film and once again, he is reunited with his two leads, Affleck and Mara, having made Ain't Them Bodies Saints together, back in 2013.
Mara gives a finely nuanced performance, and needs few words to communicate her feelings on screen.  They are very well paired and their onscreen chemistry is palpable.  Perfection!
Twitch Factor:  Sub, Sub Zero
* * *
IN SYRIA (aka INSYRIATED)
A mother attempts to keep her family safe as a sniper lies in wait outside her family home in Damascus.
2017 | Belgium | Artificial Eye | 86 mins | Drama |Arabic with English subtitles
Date of release: 08/09/2017
Director: Philippe Van Leeuw
Cast: Hiam Abbass, Diamond Abou Abboud, Juliettte Navis, Mohsen Abbas, Moustapha Al Kar
The film opens on the interior of a spacious apartment where Oum Yazan (Hiam Abbass) resides with her family which consists of her daughters, Yara (Alissar Kaghadou) and Aliya (Ninar Halabi), a son Yazan (Mohammad Jihad Sleik), her father-in-law, Mustafa (Mohsen Abbas), and their Asian maid, Delhani (Juliette Navis). Also sheltering with the family is a couple who had been bombed out of their upstairs apartment – Halima (Diamand Abou Abboud), and Selim (Moustapha Al Kar), together with their newborn.  Yara's boyfriend, Kareem (Elias Khatter) is also there, at least until it is safe for him to leave.  Oum Yazan's husband is due home later that night, but she is unable to reach him by phone. It is left to Oum Yazan to ensure that everyone stays safe.
Unbeknown to Oum Yazan and the other house guests, Halima and Selim are planning to leave the apartment that evening for the safety of Beirut – with the help of a journalist – but Selim needs to meet up with him in order to finalise arrangements.  However, tragedy strikes within minutes of him leaving and he only gets as far as the car park before he is gunned down. The only witness to this tragedy is Delhani.  Distraught, she runs to Oum Yazan who makes her promise that she will not tell Halima what has happened, knowing full well, that she would run out to try and retrieve his body and probably be shot in the process.
They both look out of the window, but cannot be sure that he is dead, though he does not appear to be moving.
Tension is slowly mounting – Delhani and Oum Yazan both hide a secret, while Halima is still unable to speak to her husband and is worrying that something may have happened to him.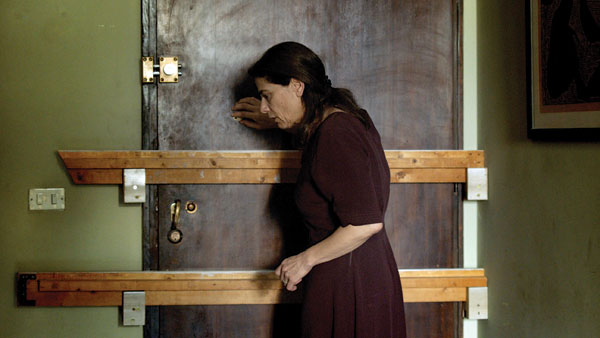 Rockets can be heard exploding and all rush into the kitchen which is their zone of safety, bar Halima who has rushed to the bedroom to fetch her baby.  At the same time, two men break into the apartment, claiming to be security forces, leaving her stranded.  She is beaten and raped but will not give up the fact that the others are in hiding within the apartment and they in turn, do not run to her aid.  But they cannot escape the sounds and we sit there with this moral dilemma.  What would we do in a similar situation?  Here is a mother whose main role is to look after her family and keep them safe – at all costs.
This is Philippe Van Leeuw's second feature film as director, being better known as a Cinematographer. He wanted to communicate the frailty and the force we are all capable of in a situation of distress and in this, he certainly succeeded.    
The Director of Photography – Virginie Surdej, as well as the production designer, Kathy Lebrun, certainly had their work cut out, since they were working in a very confined space.  The drama actually unfolds within a few rooms, part of a corridor and a balcony looking out onto a car park.  But somehow, it all works beautifully.
You will probably recognise Hiam Abbass since she has appeared in many English-speaking films including Munich (2005) and more recently, the TV mini series, The State and can soon be seen in Blade Runner 2049.  This is probably one of her finest and strongest performances to-date.
Juliette Navis gives a well-rounded performance, despite not speaking Arabic and having to be coached to produce her dialogues phonetically.
This is the first time I have seen Diamond Abou Abboud and I was thoroughly impressed by her interpretation of a young woman who fights to keep her child from harm, but in doing so, allows herself to be sexually and mentally abused.  Apart from Abbass, Abboud, and Navis, casting was done using Syrian refugees in Lebanon, where the film was shot.
A tautly constructed drama which could not be more timely, considering what is happening in Syria.
Twitch Factor:  Sub, Sub Zero
* * *
BEACH RATS
A teenager struggles to come to terms with his sexuality.
2017 | UK, USA | Peccadillo Pictures | 98mins |Drama | 
Date of Release:  03/11/2017 TBC
Director:  Eliza Hittman
Cast:  Harris Dickinson; Madeleine Weinstein; Kate Hodge
Frankie, (Harris Dickinson) lives in Brooklyn with his mother, and younger sister.  The father is terminally ill and is being cared for, at home.  His summer is miserable, his mother, Donna (Kate Hodge) wants him to find a girlfriend but all he wants to do is escape the bleakness of his home life.  He kills time getting high and hanging out with his three delinquent fellow 'beach rats', but his innermost secret, which he cannot divulge to anyone, is that he enjoys chatting and flirting with older men online in the privacy of his bedroom.
He is desperately trying to hide who he is, especially from his friends and family, and he becomes even more confused, when on a night out with his friends, an attractive young girl, Simone, (Madeleine Weinstein) makes a play for him.  They end up in his bedroom where she makes it obvious that she wants sex – but he is unable to 'perform'.  She, in turn, is left confused.
After his father passes, his web-camming intensifies and soon he starts to hook up with guys at a nearby cruising beach, whilst at the same time, entering into a relationship with Simone.  In trying to reconcile his pent-up emotions and desires, his decisions lead to dire consequences.
Moonlight certainly paved the way for homoeroticism on screen with much needed insight and tenderness while, at the same time, exploring the damaging plague of hyper-masculinity in our society.
Hittman's debut feature, It Felt Like Love, also explores teenage sexuality, but always in an unvarnished manner, thus keeping it 'real'.  Though at times explicit, she never exploits.  With Beach Rats, Frankie's hook-ups are not depicted as something dirty and sordid, but instead concentrates on the loneliness and confusion of his sexual encounters he shares with his girlfriend.
An amazing and brave performance from Harris Dickinson (who happens to be English, but you would never guess to look at him or his Brooklyn accent).  This is his second feature film and he will next star in Darkest Minds – this young man should go far.
A really good ensemble cast especially given that this is the first feature film for Frankie's 'friends' and 'sister'.
Twitch Factor:  Sub, Sub Zero
* * *
MY PURE LAND
Three women defend their home against a group of armed men who want to take it forcibly from them.
2017 | UK | Independent | 92mins |Drama |Urdu with English subtitles
Date of Release: 15/09/2017
Director/Writer:  Sarmad Masud
Cast:  Suhaee Abro, Eman Malik, Syed Tanveer Hussain, Razia Malik, Atif Akhtar Bhatti, Tayyab Azfal, Ahsen Murad, Sahib Ahmad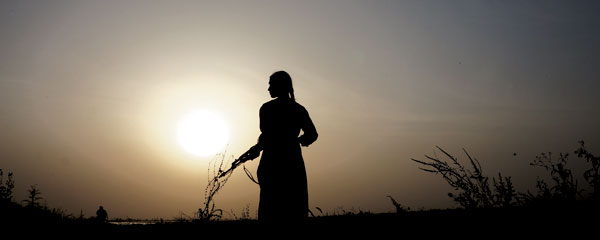 The story is told from a feminist perspective as we follow the main character, Nazo, (Suhaee Abro) along with her mother, Waderi (Razia Malik) and her younger sister, Saeda (Eman Malik) and Zulfiqar (a family friend) who are battling a family member for ownership of the home and surrounding land.  It does have a western feel to it (Cowboys and Indians) but in this case, it is more Cowgirls and Pakistanis …
The main action takes place over a single night, with flashbacks woven through the story in order to give us some background into the characters involved and events leading up to the siege.   
Nazo's father, 'Baba' (Saeed Tanveer Hussain) has always taught the girls to be independent, something which is relatively unheard of within the Pakistani community.  We see him teaching them to fend for themselves, how to use a gun (AK-47) and giving them boy's nicknames.  But he is a good father, instilling in the girls that nothing, not even your life, is more important than honour."
The man who is trying to stake a claim on their home is an uncle, Mehrban (Ahsen Murad) and will 'take no prisoners' in terms of fighting for what he perceives is his right.
There are flashbacks to the arrest of her father and subsequently, her brother which has prompted this attack, since the house is full of women with no hope of winning this battle.
We see the father languishing in prison, the family unable to visit, since they are guarding their family home.  The fight goes on, but sadly, not for him.  Even the police are corrupt and we feel we are watching a losing battle …
This is British born, Sarmad Masud's first feature film and what a debut it is, proving once again, the strength and resilience of women – against all odds.
His short film, Two Dosas (2014), was long-listed for both a BAFTA and an Oscar after picking up numerous awards on the festival circuit.  He also wrote and directed Adha Cup which was the first Urdu language drama to be commissioned by Channel 4, and went on to develop it as a six part TV series with the BBC. 
Tristan Cassel-Delavois' original score was used to great effect – never once detracting from the story unwinding on screen.
What a treasure Masud has found in his lead actress, Suhaee Abro, since she managed to carry the film, despite her less able supporting actors.  Her performance is charismatic.  Although the casting process was lengthy, patience won through in the end.  As well as being an actress, she is also a dancer which becomes apparent as she moves with such an elegant and delicate grace, belying her inner strength, so crucial to the role.
Inspired by the men in her life, her father and husband, Zulfiqar, the real Nazo and her family won the battle against all odds and remain in the house to this day. Soon after, she became a legend in her village and her fearless attitude and sense of justice have prevailed.
In two decades she has raised four children – three daughters and a son – and her ultimate dream is to become Chief Minister of Sindh.
A truly beautiful film …
Twitch Factor:  Sub Zero
Film Reviews: Liliana dalla Piana — Member of BAFTA
liliana@newstyle-mag.com