This month, three out of the four films are factual, but all are 'must-see and run the gamut of emotions – so make sure you have tissues at the ready…
BEAUTIFUL BOY
Based on the best-selling pair of memoirs from father and son David and Nic Sheff, Beautiful Boy chronicles the heartbreaking and inspiring experience of survival, relapse, and recovery in a family coping with addiction over many years.
2018 | USA | Amazon Studios |112 mins | Biography, Drama
Release Date:  18 January 2019
Director: Felix van Groeningen
Cast: Steve Carrell, Timothée Chalamet, Maura Tierney
Based on two memoirs, 'Beautiful Boy' written by David Sheff and 'Tweak' by his son, Nic Sheff.  The title comes from John Lennon's song about his son, Sean, from his last album, 'Double Fantasy' and chronicles the family's heartbreaking experience trying to cope with Nic's crystal meth addiction.
High-flying journalist, (and divorcé) David Sheff (Steve Carell) loves Nic (Timothée Chalamet) without reservations, but cannot understand what makes his boy, who comes from a middle class, comfortable and happy background, doted on by his father and family, turn to drugs? Why did Nic set off on such a self-destructive path, which appears to have no positive end in sight and impacts on everyone in close proximity?
It is a never-ending nightmare and David puts his investigative journalistic skills to good use to try and make sense of his son's condition. He consults all the experts on addiction he can find and studies the subject.  By using kindness, understanding, patience and hard work, he feels that he will be able to solve the problem.  If only life was that simple.
This is Flemish director, Felix van Groeningen's, first English-language film and It is a beautifully observed drama, sensitively dealing with a son's drug addiction and its impact on his father, with stunning cinematography from van Groeningen's regular collaborator, Ruben Impens.
Made by Brad Pitt's production company, Plan B, Beautiful Boy can be added as another notch to his producing belt.
Steve Carrell's performance is heartrending in trying to make sense of his son's addiction.  The pain is etched all over his face and we feel the pull on his emotions as he makes the heartbreaking decision to stop trying to bail his son out and finally leave him to make his own decision – whether he wants to live or die.
I think Steve Carrell, at least, can expect nominations to come knocking on his door…
Timothée Chalamet's performance is faultless and he has a natural charm and charisma which carries him through and engages our sympathy, even when his behaviour should have us do otherwise.
A beautifully crafted film, with stunning performances from the two leads but be prepared for tugs on your emotions.
Twitch Factor:  Sub, Sub Zero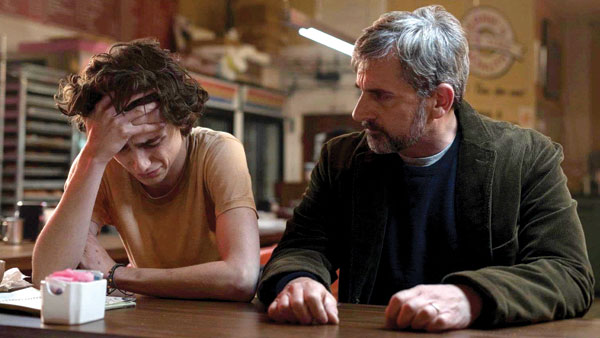 * * *
CAN YOU EVER FORGIVE ME?
Biographer Lee Israel makes her living profiling celebrities. When Lee is no longer able to get published because she has fallen out of step with current tastes, she turns her art form to deception, abetted by her loyal friend Jack.
2018 | USA | Fox Searchlight | 107 mins | Comedy, Drama | 15
Release Date:  1 February 2019
Director: Marielle Heller
Cast: Melissa McCarthy, Richard E. Grant, Dolly Wells, Jane Curtin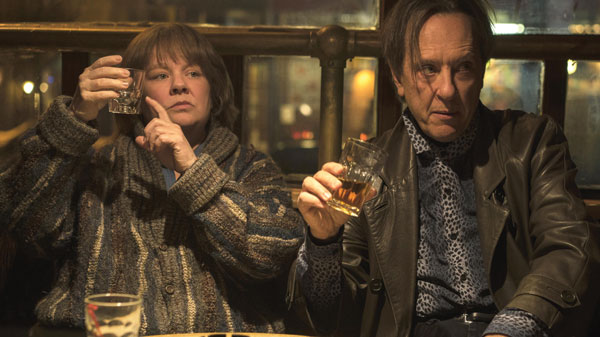 The film is an adaptation of the book, 'Can You Ever Forgive Me? Memoirs of a Literary Forger' by Lee Israel, who was a best-selling celebrity biographer until the publishing world turned its back on her, since her projects were no longer 'fashionable'.
The year is 1991 and Lee (Melissa McCarthy) is single, living in Manhattan and is desperately trying to make ends meet.  She owes rent, her cat is sick and she has just been fired from her proof-reading job in a law firm – to cap it all, she also has a drinking problem.  Her self-destructive behaviour is also a matter of concern, but none of this prevents her from battling on until, hopefully, someone makes her an offer she cannot refuse.
Her current project is a biography of the comedienne, Fanny Brice (portrayed by Barbra Steisand in Funny Girl,) but there are no takers.  Even her agent, Marjorie, (Jane Curtin) has lost all patience with her, telling her that her life would be a lot easier and work more fruitful, if she stopped being so difficult.   
Once the realisation hits her that earning money is not going to be an easy task, she decides to sell her one prized possession, a letter written to her by Katharine Hepburn, when Lee was working on the profile of the actress.
By chance, whilst researching Brice in the library, she finds a hand-written letter from Brice, between the pages of a book.  On learning that the letter would be worth more if it were a little 'spicier', she decides to add a 'PS', which would match Brice's 'turn of phrase'.
From thereon, there is no stopping her.  She finds that her skills can now be put to good use, fabricating letters from Dietrich, Noël Coward and Dorothy Parker, to name but a few, and earning money at the same time
Whilst drinking in a local bar, she meets Jack Hock (Richard E Grant) a gay, homeless and free-spirited individual and they hit it off. As their friendship grows, he notices that suddenly she appears to be solvent and she confides in him, what she is up to.  Eventually, he is abetting her in her pursuits, rather over-enthusiastically and although Israel goes to great lengths to make the letters as authentic as possible, investing in different typewriters, ageing paper in the oven and forging signatures by using a TV set as a lightbox, suspicions are raised and it is all downhill from there.
The film benefits greatly from the combined talents of Director, Marielle Heller, (The Diary of a Teenage Girl) and an elegant and sharp script co-written by Nicole Holofcener (who was originally attached to direct).  There is no sugar-coating their characters, and in Israel they have produced a fascinating but flawed, frustrating but funny individual, with whom we can eventually empathise, even though, on the face of it, there is little to like about her.  However, we have the luxury of being able to see the woman under the carapace and we are privy to the journey which has led to her erratic behaviour and defense mechanism being used to full effect.
Finally, Melissa McCarthy has been given a serious role to get her acting teeth into, and this is it.  Her performance is outstanding and she delivers her best work yet, making it very hard to imagine Julianne Moore, being cast in the role, which was the original plan. The part seems to be tailor-made for McCarthy and no-one else (however good) would do.
Grant does 'louche' as no other – remember Withnail and I? (1987). If you have never seen it before, it's a cult classic!  His portrayal is full of his usual exuberance for life, but underneath it all, you feel his overwhelming loneliness.
Simply put, a wonderful character study of a curmudgeonly, infuriating, and grumbling 'has-been' author, who suddenly finds herself going from 'unwanted' to 'wanted' – in more ways than one!
Not to be missed.
Twitch Factor:  Sub, Sub Zero
* * *
THE GREEN BOOK
A working class Italian-American bouncer becomes the driver of an African-American classical pianist on a tour of venues through the 1960s American South.
2018 | USA | Universal |130 mins | Drama, Comedy
Release Date:  1 February 2019
Director: Peter Farrelly
Cast: Viggo Mortensen, Mahershala Ali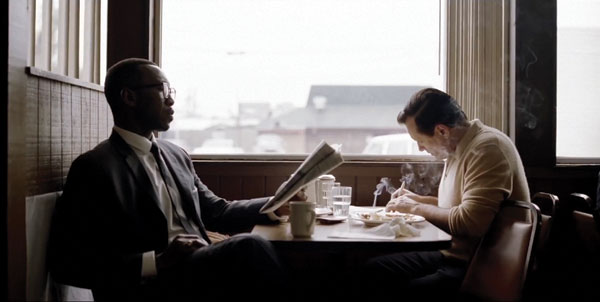 The film is based on a true story written by Donald Walbridge Shirley who was a Jamaican-American born, musical prodigy, who started to play the piano at 2 years of age; by the age of 10, he played much of the standard concert repertory and made his concert debut at 18, playing Tchaikovsky's Piano Concerto No1, in B flat, with the Boston Pops orchestra.  He spoke eight languages fluently, was reputed as an expert painter, and earned a doctorate in Psychology.
The year is 1962 and Tony 'Lip' Vallelonga (Viggo Mortensen) is in dire need of employment since the Copacabana club, in NYC, where he works as a bouncer, is about to undergo renovation.  He puts out 'feelers' to see if there is any other work available to him.
Whilst not being overtly racist, his views are seen quite early on in the film when he returns home one day and sees his wife offering two black handymen, glasses of water.  He says nothing, but when they leave and he sees the empty glasses in the sink, he picks them up and throws them in the bin.
He gets a call to say that a Dr Donald Shirley (Mahershala Ali) is in need of a driver to take him on tour and he will need to travel through the deep south.  Tony attends for an interview, and is taken aback when he sees that the 'doctor' is black and doesn't remotely resemble a doctor and lives in a luxurious apartment over Carnegie Hall.  Shirley is painfully aware of Tony's shortcomings but nevertheless, proceeds to offer him the job, which Tony turns down saying that he couldn't possibly be away from home for 6 months and that his wife would never hear of it.
Not to be put off, Shirley phones Tony's wife, Dolores (Linda Cardellini) to outline the circumstances and job offer and asks her permission to take Tony with him on tour.  Whilst being charmed, she reluctantly gives her consent.
Before they set off, Donald hands Tony, a copy of 'The Negro Motorist Green Book' – from which the film takes its title – which was a survival guide used by 'people of colour', during the 1930s to 1960s, when seeking to travel within the US.  In order to avoid trouble, it showed where it was safe to travel, places to be avoided and at the same time, gave recommendations for safe lodging.
As the road-trip-with-a-difference progresses, so does the friendship between the two men.  Lip sees for himself the constant race-based discrimination and degradation which Shirley has to endure and where even the law turns a blind-eye.
Nearing the end of his tour, one scene, in particular, brings everything into perspective, as Shirley grapples with his innermost feelings towards those who physically and verbally abuse him because of his colour – never once looking past it, in order to acknowledge his great talent.  Early on in his career, he was told outright that because of his skin colour, no American audience would ever accept him on a classical music stage and that he should stick to more popular music eg Jazz.
Masterfully directed by Farrelly who also co-wrote the screenplay with actor-producer, Brian Hayes Currie and Tony Lip's son, Nick Vallelonga.
It is a film with a big heart, and gets the message across without any hardcore preaching, into which it could quite easily have slipped.
Stunning Costume design by Betsy Heimann and production design by Tim Galvin.
Very strong performances from Mortensen and Ali.  Mortensen never allows his role to be overplayed and become a caricature, which would have been an easy thing to do with a thick Italian-American accent, larger-than-life character and a gut to boot!
On the flip side of the coin, Ali gives a beautifully nuanced and understated performance, with a quiet presence and natural elegance and poise which make him a perfect choice to play Shirley.  His dignity, in the face of the degradation and humiliation which he endures, mainly in stoic silence, is heartbreaking to watch and his face and eyes convey it all.
'Lip' and Shirley remained friends until their deaths, within five months of each other, in 2013.
Another must-see film.
Twitch Factor:  Sub, Sub, Sub Zero
* * *
CAPERNAUM (CAPHARNAÜM)
While serving a five-year sentence for a violent crime, a 12-year-old boy sues his parents for neglect.
2018 | Lebanon | Sony Pictures Classics |130 mins |Drama|Arabic/Amharic with English subtitles
Release Date:  1 February 2019
Director: Nadine Lobaki
Cast: Zain Al Rafeea, Yordanos Shiferaw, Boluwatife Treasure Bankole, Kawthar Al Haddad, Cedra Izam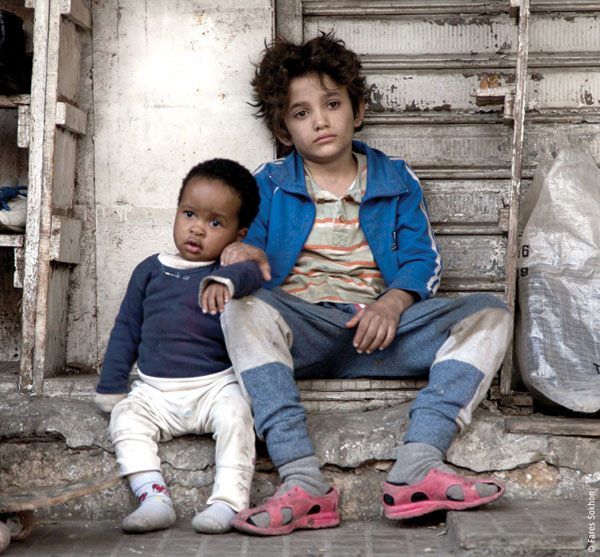 A young boy is seen standing in court, looking around him and the camera pans on a couple, whom we believe to be his parents.  When his turn comes to speak, he tells the judge he is there because he wants to sue his parents for having brought him into the world and they have failed to protect him from the poverty which surrounds them, and the desperate and humiliating circumstances in which he finds himself.
We hear both sides and we are also left wondering what actions have led to his prison sentence of 5 years. Eventually, in flashback, all is slowly revealed.
Zain (Zain Al Rafeea) is an angry 12-year-old, who has seen more than his fair share of the ugliness, desperation and poverty that is a part of his day-to-day life and is 'an old man' before his time.
His family's only source of income appears to be the forging of Tramadol prescriptions; dissolving the crushed tablets in water in which clothes are then 'washed'.  When dry, they are brought into the jail as gifts to incarcerated family members where the clothes are boiled up, wrung out and the liquid sold as 'Tramadol shots', to fellow inmates.
Meanwhile, Zain does odd delivery jobs for their landlord's son, who appears to have a crush on his 11-year old sister, Samar (Cedra Izam).  When he notices that his sister has started her period, he urges her not to tell their parents, since he is painfully aware that in order to make ends meet, they will sell her into marriage with their landlord's son.  His contempt for his parents comes to a head, when his mother announces that Samar will wed.
Nevertheless, despite a desperate stand-off with his parents, his beloved sister, Samar is sold for a few chickens.  The is the turning point for him and in order to escape his life of degradation and misery, he runs away.
He soon makes friends with an Ethiopian immigrant, Rahil (Yordanos Shiferaw) who brings her child, Yonas (Boluwatife Treasure Bankole) to work each day, hidden in a shopping trolley, since she would be fired if her employers knew she had a child. 
She takes him in and feeds him and in return, he makes himself useful helping to look after the toddler whilst she goes out to work.  However, she needs to get new papers forged, but she cannot come up with enough money.  While trying to find more work to earn the extra money required, she is picked up by the authorities, and it is left to Zain to become the child's guardian.
When Capernaum premiered at the 2018 Cannes Film Festival it received a well-justified, 15-minute standing ovation and it subsequently walked away with the Jury Prize.   
With a stunning score by Khaled Mouzanar (Labaki's husband), who also produced the film, she has proven, once again, that she is not a 'one-hit-wonder' and has surpassed even her first two films, Caramel (2007) and Where Do We Go From Here? (2011).  By the way, if you haven't seen these films, I urge you to download and watch them, perhaps before you see Capernaum, although they are not in any way related in content.  Just to get a flavour of her work.
What a performance from Al-Rafeea, 13-year-old Syrian refugee who, prior to working on the film, had been working as a delivery boy in Beirut.  Having only just learnt to write his name, his performance in Capernaum, will melt even the hardest of hearts.  It is truly an accomplishment.
Cedra Izam who plays, Samar, was discovered by Labaki selling chewing gum in the streets.  She also puts in a very credible performance.
A finely nuanced performance from, Shiferaw, herself a refugee from Eritrea, who whilst filming, finds her life imitating art, when she is arrested and incarcerated for 2 weeks.  The producers eventually managed to get her released and she carried on filming.  Her performance is captivating – no pun intended.
As for the gorgeous, gorgeous, Boluwatife Treasure Bankole (actually, a girl!) with big, fat, chubby cheeks you want to bite, her onscreen charisma and intelligence, far surpass her age.  What a find – and she never utters a word!
Both should be honoured with awards for Best Child Actor and Best Child Actor in a Supporting Role, respectively.  Someone wake-up and smell the roses!
Not to be missed at any price and don't forget the tissues!
Twitch factor:  Sub, Sub, Sub Zero