MOONLIGHT
A young black man journeys from childhood to adulthood and struggles to find his place in the world while growing up in a rough neighbourhood of Miami.
2016/USA/A24/110 mins/ Drama/18
Release date: 21/10/2016
Writer/Director: Barry Jenkins
Cast: Naomie Harris, Trevante Rhodes, André Holland, Janelle Monáe
You have only to look back at the past year to realise that inhumanity towards minority groups in America such as Blacks and gays, is still 'alive and kicking' such as the gunman who went on a shooting rampage in a popular gay nightclub in Orlando, Florida on 12 June of this year and a recent investigation by The New York Times which found that prison guards in New York State prisons punish black inmates more severely than whites.
We need to be awakened to the knowledge that the world is regressing in terms of race and sexuality which is threatening to become more prevalent.
Moonlight is based on the play In Moonlight Black Boys Look Blue which was written by Tarell Alvin McCraney, an American playwright and actor.
The film follows the transition of a young man's life in three key stages and like the title of the film, it is pure magic to watch.
In the first stage, we are introduced to 9 year old Chiron who is a lonely and withdrawn child which makes him a prime target for bullying.  One day, whilst being chased by a group of boys, a local drug dealer, Juan, (Mahershala Ali) comes to his rescue and tries to befriend him.  Realising that the boy spends most of his time fending for himself – his mother, Paula (Naomie Harris) is a crack-addicted nurse who in between bouts of acknowledging 'Little' Chiron, she is also guilty of cruel neglect – he offers to take him home for something to eat and to meet his girlfriend, Teresa (Janelle Monáe).
Slowly they become his surrogate family where he feels comfortable and able to express his feelings, much to the consternation of his real mother.
In the second segment, Chiron is now a teenager who has learned to survive and hide his burgeoning sexuality by developing a tough exterior.  His only friend, Kevin, appears to be interested in girls and goes to great lengths to prove himself in this respect but Chiron is not completely convinced.  One day, whilst they are sitting on the beach Chiron finally succumbs to his latent sexuality.
In the final segment, Chiron is a man who is trying to face 'what he is' whilst still keeping his sexuality under wraps.
Instead of coming out of the screening feeling depressed, I came out with a lightness of heart.  That's the effect it had on me and I think a lot of the audience felt likewise.
Writer/director Barry Jenkins' has treated the difficult subject matter of this film with great sensitivity but without 'whitewashing' (excuse the pun).  It is an extraordinary film, with all-round amazing performances and nothing is rammed down your throat.  It is what it is.
This is Naomie Harris' (Miss Moneypenny) best role to date and she gives a finely nuanced performance.  This should certainly put her in amongst 'the big league'.  I for one, certainly hope so and not before time.
Alex R Hibbert ('Little Chiron'), Ashton Sanders (Teen Chiron) and finally, Trevante Rhodes, an ex-athlete in his breakout role as the young adult Chiron, give prolific performances, especially Hibbert, who was plucked from obscurity with no prior acting experience.  Each performance is subtle, and intuitive as well as heartrending.  The expressions on their faces tells us all.
Cinematographer, James Laxton's sensitive use of camera work is exquisite.
This has to be a major contender for all major awards this season – an absolute 'must-see'.
Twitch Factor:  Sub, Sub, Sub, Zero
============================================================================
CHI-RAQ
A modern day adaptation of the ancient Greek play Lysistrata by Aristophanes, set against the backdrop of gang violence in Chicago.
2015/USA/Vertigo/127 mins/Drama/18
Release date: 02/12/16
Director: Spike Lee
Cast: Nick Cannon, Teyonah Parris, Samuel L Jackson, Wesley Snipes, Angela Bassett
Chi-Raq is the controversial nickname given to the city of Chicago where gun deaths outnumber those in Iraq.
The film is based on Aristophanes' Lysistrata which opens with Nick Cannon's 'Pray 4 My City' whilst at the same time, the lyrics are printed on screen and finishes with the line, "I don't live in Chicago, I live in Chi-Raq."
The narrator, Dolmedes (Samuel L Jackson) explains that communities in conflict is not a new phenomenon and goes on to explain how previous scribes wrote about such tales using rhyme.
Chi-Raq (Nick Cannon) is the head of the 'Spartans', as well as the boyfriend of our eponymous heroine, Lysistrata (Teyonah Parris).  His gang is in constant conflict with the 'Trojans' led by Cyclops (Wesley Snipes) – complete with red, glittery eye patch over one eye – hence his nickname.
After one particular night of fighting leaves a young girl dead, Lysistrata turns to Miss Evans (Angela Bassett) who helps her to find a solution to put an end to the conflict between the warring factions.
This is where the fun begins … Lysistrata convenes a meeting in which women from both conflicted sides, rally together to deny their menfolk sex until they all agree to 'lay down their arms' and stop any further bloodshed.  "No Peace, No Pussy." A great premise, if ever there was one!
There is one particularly funny scene, where Lysistrata dressed in Beyoncé (on-stage-style) fashion, seduces a lascivious Civil War obsessed General.  Another, is a very erotic dance routine to the Chi-Lites performed by the ladies on opposing sides.
Whilst Chi-Raq is trying to get a message across, it does so in a non-combative sense. It is never boring, it is has plenty of humour and is dripping in style and sexiness.
This is the best film that Spike Lee has made in a very long time. His characters are larger than life, but still maintain a modicum of reality.
Teyonah Parris, is a gloriously sexy Lysistrata – as she should be. How else would you have us believe that by withholding sex from her boyfriend he will eventually see the error of his ways? She is definitely a star on the ascendant …
You may also remember her as Dawn Chambers, the secretary from the later seasons of Mad Men. This role could not be more far-removed from that character.  She is definitely an actress to watch.
Samuel L Jackson – what more can I say?  He just loves to play colourful characters and he does 'strutting dandy' supremely well.
Nick Cannon – probably better known over here as Mariah Carey's ex-husband, is also a very accomplished rapper, actor, comedian and music producer.  The chemistry between both leads is tangible and he is perfect as the macho, Chi-Raq. He is really fit too … which also helps!
Fabulous soundtrack including Nick Cannon, Jennifer Hudson and R Kelly.
There are no half measures with this film – it is a film you will either love or hate.  I think it also helps if you are a fan of the great Spike Lee.
If you want to see another good film based on the above story, you can do no better than to see Where Do We Go Now? (2011) a film by Lebanese director, Nadine Labaki.  Perfection.
Twitch Factor:  Sub Zero
============================================================================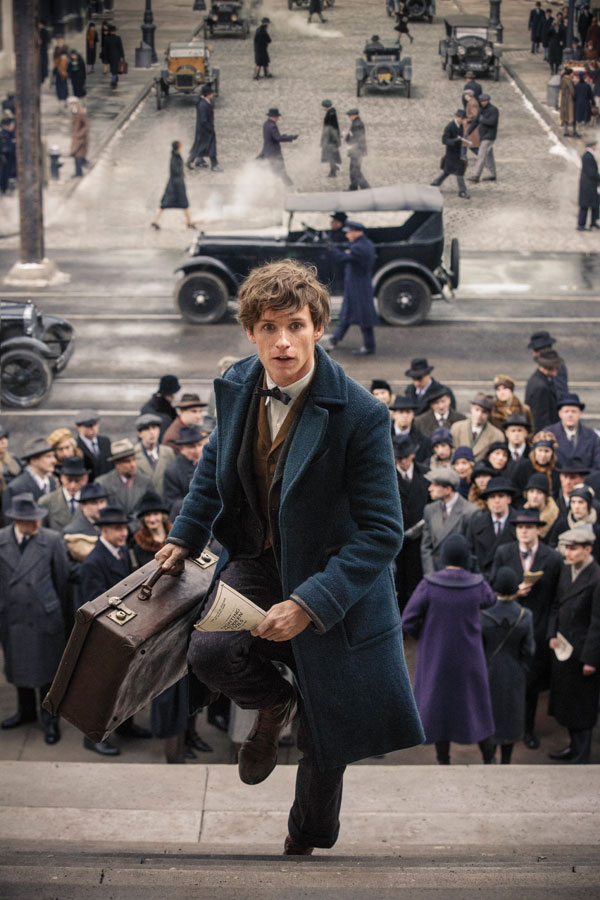 FANTASTIC BEASTS AND WHERE TO FIND THEM
Set 70 years before the adventures of Harry Potter, wizard, Newt Scamander, recaptures magical beasts in New York.
2016/UK/Warner Brothers UK/133 mins/Fantasy, Drama/ 12A
Release date: 18/11/2016
Director: David Yates
Cast: Eddie Redmayne, Katherine Waterston, Dan Fogler, Colin Farrell,
Fantastic Beasts is inspired by the book written in 2001 by JK Rowling under the pseudonym of 'Newt Scamander' and introduces us to the magical, mythical creatures which inhabit the Harry Potter universe.
The film opens with dark forces running amok below the surface of Manhattan, knocking down buildings and tearing up streets whilst, Newt Scamander (Eddie Redmayne) a British magizoologist – a collector-protector of exotic animals – lands in America, quivering suitcase in hand and is being questioned by Customs and Immigration.  I am sure you all know the feeling well.  Having barely passed the interrogation process by the skin of his teeth, he finds himself on the wrong side of the Magical Congress.
The contents of his suitcase seems to be the problem.  Inside the luggage, is an array of extraordinary creatures, including a duck-billed Platypus (a Niffler) who is drawn to a shiny coin on the pavement and makes his bid for freedom.  Newt runs after him into a bank, where the Niffler is scuttling around apparently unnoticed by the mere mortals.  Newt sits down next to Jacob Kowalski (Dan Fogler) who is trying to get a loan from the bank and both come out empty-handed.  However, Newt has inadvertently picked up the wrong suitcase and soon realises his mistake when he sees Jacob walking away with the give-away 'twitching' suitcase.
He follows Jacob, whilst he, himself, is being followed by disgraced MACUSA employee, Porpentina 'Tina' Goldstein (Katherine Waterston).  Meanwhile, Jacob arrives home and soon realises that his suitcase is not what it appears to be and the remaining 'beasties' escape.
This film is highly entertaining and thoroughly enjoyable and I am already looking forward to the next four in the series.  I much preferred it to the Harry Potter films but I am certain I am in the minority here.
Once again, the glorious 'Harry Potter' team come together – with the four-time Potter director, David Yates and production designer, Stuart Craig (Harry Potter series)and James Hambridge, urban dystopia specialist (Hellboy, The Dark Knight) – these, together with J K Rowling's screenplay make an effortless transition from Hogwarts to New York and beyond.
Eddie Redmayne is the perfect 'Newt' – he is such a natural that at one point I began to think was he actually acting or just being himself?  Poor man, he is that good. In real life, I probably would have wanted to slap him, just to get some sort of adverse reaction from him.  Such is my wont …
Katherine Waterstone provides some sort of love interest – or perhaps beginnings of such.  She is not a conventional beauty but there again, neither is Redmayne, so both are perfect in their quirkiness.
Dan Fogler reminds me of a young John Belushi crossed with a young Nathan Lane.  Either way, he puts in a really good performance, albeit a little 'theatrical'.  However, that's what the film is all about, right?
One of my favourite characters is Queenie played by Alison Sudol.  Whilst being gorgeous to look at, with liquid eyes and quivering lips, she can also act.  I hope their relationship takes off in future films ….
I love watching films depicting New York City during the jazz age and this did it for me – along with the storyline, which goes without saying. It made me feel all warm and tingly helped by the fantastical array of mythical creatures – my favourite being the kleptomaniac, duck-billed Platypus who was beyond cute.  He could teach my Cocoa, a few tricks – not that he needs to learn any more than he already does.  By the way, 'Cocoa' is my Siberian Forest cat who is beyond all reproach.
Not to be missed.
Twitch Factor:  Sub, Sub, Zero
============================================================================
SULLY
A biographical drama based on the true story of Captain Chesley "Sully" Sullenberger, who safely crash-landed a plane on the Hudson River in 2009.
2016/Warner Bros/96 mins/Drama/12A
Release date: 2/12/2016
Director: Clint Eastwood
Cast: Tom Hanks, Aaron Eckhart, Laura Linney
It can be said that Clint Eastwood never sets himself easy tasks and this is one of them.  Who else could have filled a screen with 96mins of film telling the true story of US Airways Flight 1549 which took off from LaGuardia airport on 15 January 2009 only to come to an abrupt end, 6mins later, in the Hudson River?
However, for the most part, Sully tells the story of the aftermath of the landing and the subsequent investigation by the National Transportation Safety Board (NTSB), 8 months later.  It also pays tribute not only to the Captain, Chesley Sullenberger, but also his co Pilot, Jeffrey Skiles, the flight attendants and ferry boat crews who plucked all 155 passengers from the freezing water.
In telling the story, a little 'artistic licence' has been used – who hasn't resorted to this at some time or another?
In Sullenberger's 2009 memoir, Highest Duty: My Search for What Really Matters (co-authored with Jeffrey Zaslow) no mention was made of the NTSB's investigation and therefore it comes as a great surprise to learn that Sully, hailed as a hero, was then accused of not having made the correct choice and that he could have endangered everyone's lives.
The ensuing investigation ended some 18 months later.  But for cinematic purposes, the investigation appeared to take place days, rather than months, after the crash-landing.  The NTSB Investigators used simulator pilots to attempt airport landings both at LaGuardia and Teterboro – all test runs landed safely at both airports, thus confirming the NTSB's data analysis, that Sullenberger had put the lives of his passengers and crew at risk, by opting to land on the Hudson rather than trying to reach either airport.
This is probably one of Clint Eastwood's finest films and he has made a really good film with very little storyline to work from – hence a little of the aforementioned 'artistic licence'.
The special effects are excellent, and the images of the plane flying low over the New York skyline evoke memories of 9/11 and along with those images, the feeling of impending disaster and helplessness. However, we already know that everyone survives.
Todd Komarnicki's screenplay is to all intents and purposes an homage to a hero who had the knowledge and expertise to pilot the plane to safety whilst also using flashbacks and flash-forwards to better inform us of the character.  It is as much a celebration of his heroism as it is a forensic examination of what leads him to make the decisions he did.
You all know by now how much I like Tom Hanks and he doesn't disappoint.  He makes an admirable Sully as a man who stands by his principles and first and foremost takes pride in his work and his responsibilities to his passengers and crew.
Laura Linney as Sully's wife makes the most of a role which never takes her out of the house or off the phone.
Watch the end credits for real footage of Chesley Sullenberger, Jeff Skiles, the flight attendants, passengers, and rescue crew.
Twitch Factor:  Sub Zero