New Style Cinema. January/February 2020
ORDINARY LOVE
An extraordinary look at the lives of a middle-aged couple in the midst of the wife's breast cancer diagnosis.
2019 | UK|92 mins |  |Drama
Release Date: 6 December 2019
Directors: Lisa Barros D'Sa, Glenn Leyburn
Starring: Lesley Manville, Liam Neeson, David Wilmot
Ordinary Love is a poignant study of a retired, middle-aged couple, Joan (Lesley Manville) and Tom (Liam Neeson), living in a suburb of Belfast, who are still coming to terms with the loss of their only child, Debbie.
They lead an amiable, if bland life, with a daily, rather boring, routine of a brisk walk along the waterfront, returning home, having supper, watching TV, chatting and then going to bed.  They appear to be blissfully unaware of a life outside their little enclave.  However, everything changes, and their relationship is further tested when Joan finds a lump in her left breast and is diagnosed with cancer. 
It is interesting to note the gradual changes in Joan's demeanour, when she realises that she recognises a fellow patient, Peter (David Wilmot) at the hospital, who was her daughter's former teacher and whom she did not like at the time.  It transpires that his cancer is terminal and his husband, Steve (Amit Shah) is finding it very difficult to come to terms with this.
As their meetings become more frequent, she finds solace in their easy companionship since, whilst her husband is supportive, he cannot quite understand what it is she is going through and it is far easier for her to articulate her emotions and fears, with someone who is on the same journey.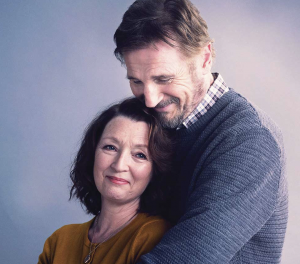 Ordinary Love is sensitively directed by married couple, Barros D'Sa and Leyburn but never resorts to using manipulation or sentimentality to achieve its goal.
Owen McCafferty's script is well observed and perceptively down-to-earth and captures all the trials and tribulations that one would expect from any film about cancer.  It is his first screenplay and is informed by his own experience supporting his wife through breast cancer.
Piers McGrail's cinematography uses subdued lighting to great effect – especially in the home interior scenes, but uses a stronger, more clinical light for the hospital scenes.
Manville and Neeson have great on-screen chemistry which brings out the empathy and intimacy needed for their roles.  Manville gives a particularly finely nuanced and memorable performance and hopefully should garner some major nominations en route.
A definite must-see but do be prepared since it is a little harrowing to watch and the central performances are so 'natural' and 'real'.
Twitch Factor:  Sub, Sub Zero
* * *
THE TWO POPES
Behind Vatican walls, the conservative Pope Benedict and the liberal future Pope Francis must find common ground to forge a new path for the Catholic Church.
2019 |UK, Italy, Argentina, USA|125 mins|Netflix|Biography, Comedy, Drama (Latin, Italian, English, Spanish, German, Portuguese, French)
Release Date: 20 December 2019
Director:  Fernando Meirelles
Starring: Jonathan Pryce, Anthony Hopkins, Juan Minujín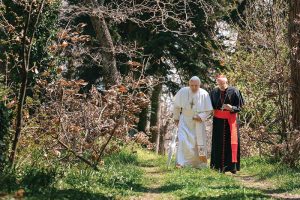 A film inspired by true events, Fernando Meirelles, the Academy Award-nominated director of 'City of God' brings us the low-down on what was one of the most dramatic transitions of power in the last 2000 years.
It is 2005, after the death of Pope John Paul II and 115 cardinals are participating in the voting for a new Pontiff.  Among them are Cardinals Jorge Mario Bergoglio of Argentina and Joseph Aloisius Ratzinger of Germany.  The ballot results, (leaked by an anonymous cardinal) are Ratzinger 84 votes and Bergoglio 26.
The film trips backwards and forwards, giving us more of an idea of the lives lived, prior to being called to the church.
Cardinal Bergoglio (Jonathan Pryce) is dissatisfied with the direction in which the church is being led and in 2012 requests permission to retire from Pope Benedict (Anthony Hopkins).  The Pope summons him to Castel Gandolfo where he makes several attempts to hand in his resignation, but to no avail.  There are some lovely moments where Bergoglio turns up in ordinary clothes and is asked if he would like to change into his Cardinal's outfit, to which he firmly replies that he will stay as he is.  The same applies to being asked to wear a more appropriate pair of red leather shoes, but he eschews these in favour of his own rather well-worn shoes.
In sharp contrast, Pope Benedict is fastidious to a fault in all manner of ways.  Bergoglio is humble and has no time for pomp and circumstance, whereas the Pope is the complete opposite.  He is a traditionalist and as far as he is concerned, there is no room for anything else. It is the Pontiff's right.
In February 2013 Benedict shocked the world with a Latin-language announcement of his resignation (it was well known that whenever he had something disagreeable to announce, his language of choice was always Latin).   The reason given for his resignation was that he was getting too old and lacked the strength to carry on in office.  He was the first Roman Pontiff to resign from office in almost 600 years.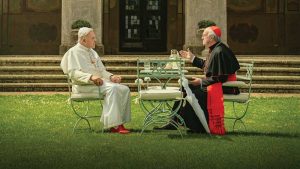 Meirelles, once again, proves what a great director he is.  Who can forget 'City of God' (if you haven't seen it, this should be a priority!)
The script, beautifully written by Anthony McCarten, provides us with very entertaining conversations (even if imagined) which are humorous and sharp.  It is a real sparring match between the two of them, only winding up a little like the 'Odd Couple' at the end of the film, but nevertheless, it all adds to the sheer enjoyment of it all.

The production designer, Mark Tildesly, painstakingly and stunningly replicated the Vatican interiors on the Cinecittà film lot, since no fictional filming is allowed within the Vatican.
César Charlone's cinematography is stunning – whether it is the exterior shots in the gardens or the interiors of the Vatican. 
Hopkins is very watchable as Benedict:  a finely nuanced mixture of some of his previous roles:  a piercing hooded gaze, (a milder version of Hannibal Lecter, with a hauteur, reminiscent of King Lear).   
But it is Jonathan Pryce to whom the audience will lean.  He has a twinkle in his eye, which you cannot ignore, and he has the best put-downs (in the nicest possible way, he is talking to the Pope, after all).   
They both deserve to be nominated, but I cannot imagine how that will be decided, since they obviously have equal screen time, and equally important roles.  Nominations should also come in for Best Film and Director categories.  We shall have to wait and see.
A very entertaining 'double-act' film and broadly speaking, you don't really need to know much about the Roman Catholic religion, although some of the finer nuances of speech, may escape you.
You will come out with a spring in your step and a warm, fuzzy feeling.
Twitch Factor:  Sub, Sub Zero
* * *
1917
Two young British privates during the First World War are given an impossible mission.
2019 | UK/USA|110mins |Dreamworks |Drama, War
Release Date: 10 January 2020
Director: Sam Mendes
Starring: George McKay, Dean-Charles Chapman, Colin Firth, Andrew Scott, Benedict Cumberbatch, Richard Madden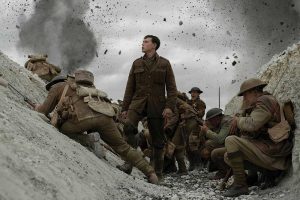 Lance-Corporals Schofield (George MacKay) and Blake (Dean-Charles Chapman) are given orders by a General Erinore (Colin Firth) to cross over the trenches, into enemy territory, recently suspiciously vacated by the German Forces. They need to hand-deliver a command which will prevent a 1600-strong regiment, from charging into a certain death.
Blake is the least experienced and since his brother is in one of those troops, all he wants to do is save his brother from being ambushed and killed without giving much thought to this obvious suicide mission.  On the other hand, Schofield has survived the Somme and is more than aware what lies on the other side. 
Blake and Schofield travel through an apocalyptic, where dead bodies – human and animal – litter the landscape and all the while, with a sense of futility and fear.
Whilst 1917 is not based on a true happening, it is nevertheless dedicated to Sam Mendes' grandfather and his war time stories, which he never divulged to his children, only to his grandchildren.
It is a war film with a difference and Mendes' most ambitious.  Unlike War Horse, it is initially shot in full daylight, rather than using filters and smoky visuals.  Mendes wanted to give it the appearance of a single shot film, and therefore, every scene had to be carefully choreographed in order to maintain the illusion and it is a tribute to Director of Photography, Roger Deakins' expertise and the seamless editing of Lee Smith.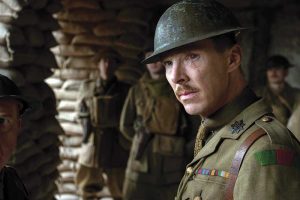 Without a doubt, this is MacKay's film, who can next be seen in True History of The Kelly Gang, where he pays a feral outback rebel, as opposed to a young soldier who having already has a taste of war, is well aware of the danger he is in with every step he takes towards no man's land.  His performance is remarkable not only in terms of his acting skills, but with regard to the physicality he brought to the role.  I cannot imagine how exhausting the process must have been for him.
Apparently, whilst filming, there is a scene near the end where he can be seen running through the trenches, with 500 plus extras all moving at the same time, and he is knocked by two of them and he falls down.  Since there wasn't going to be a second take, Mendes was praying that he would just get up and carry on running – which he did, and no-one would guess that this had not been scripted.  Such was his tenacity and professionalism.       
A veritable nail-biting, edge-of-your-seat drama, which honours the 40 million who lost their lives in this futile fight.
Twitch Factor:  Sub, Sub Zero
* * *
MOTHERLESS BROOKLYN
In 1950s New York, a lonely private detective afflicted with Tourette's Syndrome ventures to solve the murder of his mentor and only friend.
2019 | USA|144mins |Warner Bros|Crime, Drama
Release Date: 6 December 2019
Director: Edward Norton
Starring: Edward Norton, Gugu Mbatha-Raw, Alec Baldwin, Bruce Willis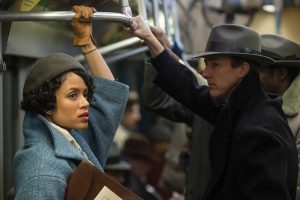 Lionel Essrog (Edward Norton), is a lonely private detective with a 'tic' (Tourette Syndrome) which means he will utter disjointed phrases, accompanied by jerks of his head, at inappropriate times.  When his friend and mentor, Frank Minna (Bruce Willis) is murdered, he sets out to find the killer.
Slowly but surely his obsessive mind allows him to unravel closely guarded secrets which appear to hold New York city in the balance.
It is a mystery which takes him from the slums of Brooklyn, the jazz clubs of Harlem and finally to the halls of power, involving a ruthless politician, Moses Randolph (Alex Baldwin). En route, he meets a smart community activist, Laura Rose (Gug Mbatha-Raw) and a friendship soon develops between them, since she sees past his tics and involuntary yelps and the two quickly become a team, in order to overthrow the conspiracy, lies and corruption which lie within the hallowed halls.     
Oscar nominee Edward Norton directed, wrote, produced and stars in 'Motherless Brooklyn'.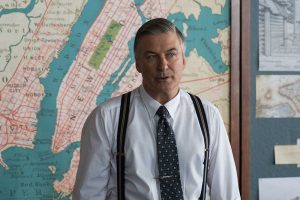 The film is a labour of love for Norton, which has taken him 10 years to reach the screen, after seeing the potential in Jonathan Lethem's novel by the same name. He has brought together an ensemble cast extraordinaire, including Bruce Willis, Alec Baldwin, Willem Dafoe, Gugu Mbatha-Raw and Bobby Cannavale to name but a few.  He also transposed it from the late 90s, into the 1950s, giving it a distinctive atmosphere at a time of great change in New York city.
Added to the mix, are Dick Pope, two-time Oscar nominated director of photography, production designer Beth Mickle and costume designer Amy Roth.  The music used also plays an important role in setting the tone and establishing the period.  The sultry jazz score is composed by Daniel Pemberton and features Wynton Marsalis on trumpet and also features an original song written and performed by Thom Yorke.
A stunning and very stylish film, perhaps a little heavy-going in parts, but nevertheless, well worth watching.
Twitch Factor:  Sub, Sub Zero