New Style Cinema. April 2019
ROSIE
ROSIE tells the story of a mother trying to protect her family after their landlord sells their rented home and they become homeless.
2018 |Ireland|Element Pictures | Drama |89mins
Release Date:   March 2019
Director:  Paddy Breathnach
Cast: Sarah Greene, Moe Dunford, Ellie O'Halloran, Ruby Dunne, Darrah McKenzie & Molly McCann
The film unfolds over an intense 36 hrs. With family homelessness at its zenith in Ireland, Rosie (Sarah Greene), her partner John-Paul (Moe Dunford) and their four children are driving around Dublin, homeless, since their landlord has decided to sell their rented accommodation.   
Whilst John-Paul works as a kitchen porter, it is left to Sarah to make sure that the children still attend school, thus maintaining appearances, whilst at the same time, trying to find a place that will take them all.  A 'big ask' it would seem.
She works through a telephone list of Council temporary accommodation, but to no avail until eventually she is offered a room for one night only.
They all squeeze into the hotel room but Sarah strives hard to make it a fun event for her children, never letting them see or understand the dire circumstances which they are facing.  She is their rock and nothing will come between her and her family.
A very moving and beautifully crafted film with understated and naturalistic performances from the lead actors and children.  A compelling story about a family who, through no fault of their own, are made homeless and even with the hopelessness of their situation, through it all, they are very much a loving and united family. At the heart of the family are the children, and both mother and father try to maintain as much normality in their life, as is possible, given their predicament.
Paddy Brethnach has made a beautifully observed film with a perfect cast.
Greene is especially memorable as the mother who is barely holding everything together and as more and more rejections reach her ears, her simmering despair threatens to overwhelm her.
Dunford is the perfect foil as her partner, who does his best to support her both physically and mentally and with their combined sense of humour, they are united in solidarity.
The child actors are a complete revelation; you feel as if you are a fly-on-the-wall, they are so natural.
A heartrending film, not to be missed.
Twitch Factor:  Sub, Sub Zero
* * *   
BORDER
A customs officer develops an unusual attraction to a strange traveler while aiding a police investigation.
2018 | Sweden, Denmark | MUBI | 108 minutes | Drama, Fantasy, Romance (Swedish with English subtitles)
Release Date:  8 March 2019
Director: Ali Abbasi
Cast: Eva Melander, Eero Milonoff, Jörgen Thorsson
Based on an original short story, "Gräns", by John Ajvide Lindqvist, the film is set in a rural port somewhere on the Swedish/Finnish border.  Tina (Eva Melander) works as a Swedish Customs officer, who has an extraordinary sense of smell which enables her to detect fear, guilt and shame in border crossers.
Tina lives in an isolated area, surrounded by woods which are inhabited by abundant wildlife with whom, she seems to have an affinity.
Her home is shared with a useless individual, Roland (Jörgen Thorsson) who appears to have more interest in his show dogs, than in her.
At work, one day, she stops an individual, Vore (Eero Milonoff) but for once, she becomes confused.   She draws him aside and asks her colleague to check his bag.  Finding nothing untoward, he is then given a body search.  This turns out to be rather an embarrassing situation, which Vore takes all in his stride.  He is not what he seems and Tina must now make a decision which could alter her thinking and way of life.
This is Nordic film noir at its very best.  A stunning and intelligent film, which is tastefully directed by Abbasi.  It is a film about self-discovery and the connection between two 'types' – I can't say more, since it would be a 'spoiler'.
Melander and Milonoff are superb, with Melander giving a beautifully nuanced and sympathetic performance.  Her make-up and prosthetics took more than four hours a day and she gained over 20lbs in weight.  But what a transformation.  She is completely unrecognisable.
It is very difficult to review a film without giving too much away and unfortunately, in this case, to say too much, would be an extreme spoiler.  Suffice to say, that everyone should see this film – it is a remarkable and unique piece and you won't be disappointed. Unless, of course, you find the subject matter too 'disturbing'.  Suck it and see…
Nadim Carlsen's cinematography is exquisite and together with Frida Hoas' stunning production design and the faultless make-up/prosthetics, it is a cinematic masterpiece.
Twitch Factor:  Sub, Sub, Sub Zero
* * *
BENJAMIN
A rising young filmmaker is thrown into emotional turmoil by a burgeoning romance and the upcoming premiere of his second feature.
2018 | UK |Verve Pictures | 85 mins | Comedy
Release Date:  15 March 2019
Directed by:  Simon Amstell
Starring:  Colin Morgan, Anna Chancellor, Phénix Brossard, Jack Rowan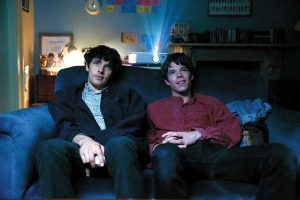 Benjamin (Colin Morgan) is a filmmaker who is riddled with self-doubt and anxiety surrounding the release of his second film, 'No Self'.  It is a film about love and disconnection and stars himself, cast opposite a young actor Harry (Jack Rowan).
Benjamin is a Vegan, living in a one-bedroom flat in North London, with only his cat for company and spends most of his nights watching YouTube and pigging-out on ice cream (presumably also Vegan).
Billie (Jessica Raine) his PR lady, arrives at the flat to take some shots for his new film, and invites Benjamin to a party in East London. Reluctantly Benjamin drags himself down there, accompanied by his best friend, Stephen, (Joel Fry) an unsuccessful comedian. When they arrive, it becomes very obvious that they are the 'oldies' and stick out like sore thumbs.
As they prepare to leave, Benjamin is attracted to the band on stage, in particular their young lead singer, a French music student called Noah (Phénix Brossard).  Deciding to stay, Benjamin introduces himself and is invited to dine with the band.   Trying to find common areas of interest, it transpires that Noah is a Vegan too and they end up spending the night together.
As part of the London Film Festival, Benjamin's film is premiered at The Curzon Soho. It is an unmitigated disaster, compounded by the fact that in the midst of all this, Stephen has a row with Billie and Benjamin with Stephen and Noah doesn't think he is ready for a relationship.  Benjamin is devastated, compounded by the fact that his film is given bad reviews by Mark Kermode and Simon Mayo – which are funny.
Benjamin's career, as well as his relationships, are in crisis.
A bittersweet film drawn upon Amstell's own attempts at romance. It explores loneliness and depression and the need for intimacy.  It follows Benjamin's journey in trying to overcome his defense mechanisms and thus enabling him to truly feel free and unencumbered.
Morgan gives a strong and compelling performance, with a plausible chemistry between himself and new-comer, Phénix Brossard, who plays Noah.
Twitch Factor: Sub Zero
* * *
EVERYBODY KNOWS (TODOS LO SABEN)
When Laura returns to her Spanish hometown for her sisters' wedding, the joyful reunion soon turns tragic by unexpected events, revealing a dark web of hidden secrets.
2018 | Spain | Universal | 133 mins | Drama (Spanish with English subtitles)
Release Date:  8 March 2019
Directed by: Asghar Farhadi
Starring: Penélope Cruz, Javier Bardem, Bárbara Lennie, ~Ricardo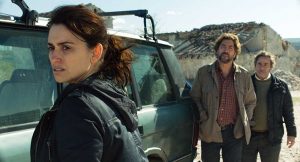 Currently living in Buenos Aires, Laura (Penélope Cruz) returns to her childhood home, a village outside Madrid, to celebrate her sister's wedding. Her husband, Alejandro (Ricardo Darín) for reasons unknown, is not accompanying her, but her two children are.
Preparations are in full swing and her teenage daughter, Irene (Carla Campra) soon finds herself attracted to a local boy, Felipe (Sergio Castellanos) a little to the consternation of her mother.  While Laura spends most of her time catching up with old friends, at one point she finds herself reunited with Paco (Javier Bardem) with whom she had had a relationship but broke his heart, when she left to get married. He now co-owns a vineyard which he bought at 'friends and family' rates from her, all those years ago.  It also appears, that her family has never forgotten this and there is still a bone of contention there.
The wedding day arrives and festivities are in full swing.  Laura watches as Irene flirts and makes merry with Felipe, until at one point, Irene tells her she is not feeling well.  Laura puts her to bed, making sure she has done everything to make her comfortable and returns to the wedding reception.
The night wears on and Laura decides to check on Irene.  When she sees that her bed is empty and that a pile of newspaper cuttings are scattered on her bed, panic sets in and a search of the house ensues until it becomes evident that she is nowhere to be found.  Paco and the rest of the family spread far and wide in order to help with the hunt for the missing young girl.
A mysterious and untraceable text is received demanding a ransom and at this juncture, it is evident that Irene has been kidnapped and that there will be dire consequences should the police be notified.
Paco takes it upon himself to do the best he can to track her down and seeks advice from a retired detective friend who believes that she was specifically targeted by a family member or someone close to it.
During the tense days that follow, various family and community tensions surface and deeply buried secrets are revealed.
Everybody Knows opened last year's Cannes Film Festival.  Farhadi has produced a powerfully acted drama, underpinned by three heavyweight performances, namely, Penélope Cruz, Javier Bardem and Ricardo Darín.
However, out of the three, Cruz is the most underused, although she never fails to deliver and appears in almost every scene.
The cinematographer, José Luis Alcaine, gives us plenty to feast upon; the picturesque exterior shots village and surrounding countryside and the wedding festivities, together with the interior shots both at the wedding, as well as the dilapidated ruins where Irene is being held.
Although I think the film is a tad too long, spending what seems an inordinate amount of time on the wedding festivities, it does not detract from the overall enjoyment of the film.
Twitch Factor:  Sub, Sub Zero