New Style Cinema October 2017
BABY DRIVER
Coerced into robbing banks, a young and music-obsessed getaway driver finds a chance to escape his criminal lifestyle. 
2017 | UK, USA | Columbia Pictures | 113mins | Action, Comedy | 15
Date of Release: 28/6/2017
Director: Edgar Wright
Cast: Ansel Elgort, Lily James, Kevin Spacey
This is one of the most thrilling and entertaining films in a long while.  Full on action with a 35 song soundtrack which is used to dictate the storyline of the film.
From the opening scene with its stylish 'threesome' to the opening strains of Bob & Earl's 'Harlem Shuffle' (a bit of a teaser, since it could well have morphed into House of Pain's 'Jump Around') over the opening credits, you know that you are in for a great ride! For me, Harlem Shuffle is the epitome of 60s R&B and no other cover comes anywhere close.
Here's a film that should be on everyone's bucket list – not least because it will transport you to Nirvana and back, without having to leave the mortal coil.
At the centre of the film is 'Baby' (Ansel Elgort) who is the getaway driver of choice for Doc (Kevin Spacey) albeit by coercion.
Having sustained an accident in his youth, Baby's earphones are constantly 'glued to his ears' and his iPod, in an effort to override the tinnitus which plagues his hearing.  We soon learn, that this in no way impairs him hearing orders or the important details of an upcoming heist.  His life is perfectly synchronised to his carefully chosen iPod playlists.
At home, he cares for his physically impaired foster father, Joseph (CJ Jones) who listens to music with his fingertips and has taught Baby signing and lip reading – which turn out to be invaluable skills in his present employment.
Baby's fellow work mates consist of a husband-and-wife team, Buddy (Jon Hamm) and Darling (Eiza González); Bats (Jamie Foxx) a deranged loose cannon; Griff (Jon Bernthal); Eddie No-Nose (Flea) and JD (Lanny Joon).
Into the mix comes a waitress, Debora (Lily James) who works at his local burger joint.  The attraction is immediate for both of them, as he watches her singing 'B-A-B-Y' by Carla Thomas, to herself as she waits tables.
Amidst thunderous car chases, shootouts, love blossoms and Baby can only dream of the day in which his debt to Doc is repaid, with one last heist.
The on-screen pairing of Lily James and Ansel Elgort is perfect – both being cute, with palpable chemistry and they can act.  The rest of the cast – not so cute – but worthy of mention for bringing the various characters to life.  Jon Hamm, especially, as you have never seen him before.  Just perfect all round casting.
It's not just the action sequences that drive this film, but the well thought out soundtrack which practically needs no words from the actors.  The coffee run choreographed to the sounds of 'Harlem Shuffle' with the words displayed, graffiti-style on the walls and signs en route, to 'Nowhere to run, Nowhere to Hide' as Baby finds himself trapped in an arms deal – all beautifully synchronised.
I am not a great fan of Edgar Wright's previous films – apart from Ant-Man – which failed miserably at the Box Office, but there is no accounting for taste … However, with 'Baby' he has gone up quite a few notches in my estimation and I hope he carries on in this tradition.  His direction is perfection personified, with a very well written and humorous script.
The choreographer (Ryan Huffington) and stun co-ordination team (Darrin Prescott, Robert Nagle, Jeremy Fry) work seamlessly together to create perfect harmony and the cinematographer (Bill Pope) uses the Atlanta locations to great effect.  This is as good as it gets.
You cannot fail to fall in love with the soundtrack if, like me, you were on the construction team for Noah's Ark.  I left the screening positively beaming and with a definite swing to my rear-end, which was sight to behold, let me tell you.
"Shake, shake, shake … shake a tail feather baby!"
Move over 'La La Land' – this is a killer musical thriller!
Twitch Factor: Sub, sub, sub Zero
===========================================================================
FROM THE LAND OF THE MOON (Mal de Pierres)
In 1950s France, a woman stuck in a loveless marriage is sent to the Alps, where she falls in love with another man.
2017 | France | Studio Canal | 118 mins | Romance, Drama | 15
Date of Release: 09/06/2017
Director: Nicole Garcia
Cast: Marion Cotillard, Louis Garrel, Alex Brendemühl
The film is based on Milena Agus's 2006 novella, which has been relocated from Italy by director Nicole Garcia to 1940s Provence, the Swiss alps and Lyon, ending somewhere in the mid-60s.
The opening scene shows Gabrielle (Marion Cotillard) and her husband, José (Alex Brendemühl) taking their son to a music competition where he will be playing the piano.  Gabrielle is distant, while father and son appear to be more connected.  As they drive into Lyon, the car passes a street, which obviously stirs some deep memory for Gabrielle.  She asks José to stop the car and gets out, telling them that she will meet them at the concert hall.  From here, the story is told in flashback.
Gabrielle is the daughter of a lavender farmer who is growing bored with her claustrophobic countryside life.  She develops a crush on her teacher who unwittingly adds 'fuel to her fire' by giving her literary recommendations, such as 'Wuthering Heights'.  Things come to a head at the family meal to celebrate the harvest.  Lo and behold, José (a Spaniard who fought against Franco and now works for her family) comes to her rescue, literally. They view him as a candidate for a marriage of convenience, that way she will be off their hands – and who can blame them? She is like a caged animal, bored and frustrated and the way they see it, she needs a man.
José and Gabriella marry and move to the coast, where José builds a house for them.  Having previously suffered with severe and debilitating stomach cramps – real or imagined – these return and her doctor prescribes a stay at a spa in the Swiss mountains.  Once there, she meets someone who might be able to reinvigorate her lust for life or her life for lust.  André Sauvage (Louis Garrel) is a veteran of the war in Indochina.  A brooding, floppy haired hunk of a man, with a kidney infection which incapacitates him and requires copious amounts of opium to dull the pain.  His obvious suffering is like 'a moth to a flame' for Gabrielle.
An amour fou unfolds, with added complications …
The French director, Nicole Garcia, is also an actress and screenwriter.  The film does have a 'woman's touch' and I think it is well directed.  It received 5 nominations in all; 3 Césars, the Palme d'Or at Cannes 2016 and Globes de Cristal, but failed to win any.
Beautiful photography from Christophe Beaucarne, who is a Belgian cinematographer whose previous film, 'The Brand New Testament' which I reviewed in April 2015, was superb and another film to add to the 'bucket list'.
Marion Cotillard is in full, palpable magnetism mode.  But 'suffering' wins the day – 'suffering' is her middle name and no-one 'suffers' quite like Cotillard.  She is a great actress and I find her acting riveting and I never tire of watching her.
Alex Brendemühl is perfect as the cuckold and put-upon husband whose only mistake (and it was a biggie) was to marry Gabrielle – a nightmare on two legs.
Louis Garrel is well cast in his role as the 'dreamboat'.  Who wouldn't succumb to Cotillard and her wicked ways – kidney pain or no kidney pain?
Unfortunately, the denouement, leaves much to be desired – especially in the realms of probability.  However, that said, it didn't spoil it too much for me.
Twitch Factor:  Sub Zero
===========================================================================
WHITNEY:  CAN I BE ME
A documentary which looks back on the life, stardom, and tragic death of pop icon, Whitney Houston.
2017 | USA, UK | Dogwoof | 105 mins | Documentary | 15
Release date: 16/06/2017
Directors: Nick Broomfield, Rudi Dolezal
Cast:  Whitney Houston, Bobbi Kristina Brown, Bobby Brown
Nick Broomfield's documentary is a riveting and compassionate look at a waning star falling prey to celebrity and the use of chemical substances in order to keep up with the turmoil surrounding her.  It raises many questions, in the main left unanswered, since surely legal repercussions would ensue.
The film is replete with previously unseen footage from Houston's last major tour in the early 90s.  It also serves to confirm that she was a 'cash cow' used by friends and family alike – and an exhausted one at that.  Dancing to everyone's tune, especially Bobby Brown, but at the same time, the film falls short of laying the blame for her downward splral, at anyone's feet.
It delves into the relationship with her childhood friend, Robyn Crawford, from whom she was inseparable until rumours abounded as to the true nature of their friendship.  It was easy for people to point fingers, since Robyn, herself, was quite masculine in her mode of attire and how she comported herself, but what difference would it have made?  It was obvious that Whitney was besotted with her Svengali-type husband – even with his inherent jealousy to the fore.  At most she could have been bisexual – she had the best of both worlds.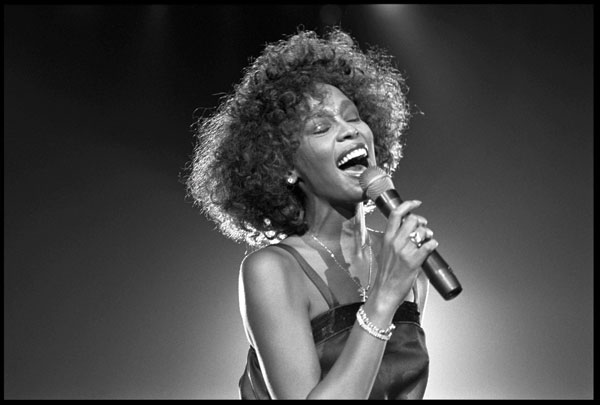 The drugs were taking their toll and she was easy to manipulate and eventually this lead to Bobby being able to persuade her that Robyn should be let go. It is unclear why Robyn and Bobby didn't see 'eye to eye' (for want of a better expression) and perhaps it was jealousy on both their parts, or perhaps Robyn could see the effect her relationship with Bobby was having on her life.  Something had to give, but it wasn't going to be Bobby.
There are many poignant and moving moments, one of which is when Houston brings her daughter on stage to sing 'My Love is your Love' and the other, when she is belting out, probably her most famous recording – 'I Will Always Love You'.  A totally different cover to Dolly Parton's self-penned rendition – which is altogether a much more muted and melancholic version.
Exhaustion, family tensions, a turbulent marriage, exacerbated by substance abuse, finally lead to Whitney being found dead in The Beverly Hilton on 11 February 2012, having drowned in the bath after a heart attack.  She was only 48 years of age and sadly, within three years, her daughter, Bobbi Kristina, would be found in a similar situation – she was only 22.
Whitney was the daughter of gospel star Cissy Houston and cousin to Dionne Warwick.  From a young age, she sang in her local church gospel choir, who eventually came to the attention of Clive Davis, the CEO of Arista Records.  However, he wanted a more 'mainstream' Houston and proceeded to market her as quasi-white which lead to her being booed at a 1989 Soul Train event for 'selling out' her 'blackness'.  She was mortified.
Apart from Robyn, there appears to have been one other person looking out for Houston and that David Roberts, her Welsh bodyguard who witnessed the singer's downward spiral into the abyss.  He saw the extent of her drug abuse and her slide towards self-destruction.  He went so far as to write a letter to Houston's lawyer, voicing his concerns, in no uncertain terms.  The letter is shown on screen, greatly redacted and one can only surmise that the contents would make it much clearer on what was actually going on in her tumultuous life. The letter was eventually dismissed and he was warned-off.
One cannot help but wonder if Robyn Crawford's relationship had been allowed to follow a natural course and not compromised by Brown, had David Roberts not left, she may well have been around today – in fact they both might have been saved – to an extent.  Sad, but true.
Whitney had lost her sense of identity.  "Can I be me?"
Twitch Factor:  Sub, Sub, Sub Zero
===========================================================================
MAUDIE
A biographical drama that tells the story of Nova Scotian artist, Maud Lewis, who continued to produce paintings despite a debilitating physical condition. 
2017 | USA | Columbia Pictures | 115 mins | Drama | 12A
Date of Release: 04/08/2017
Director: Aisling Walsh
Cast: Ethan Hawke, Sally Hawkins, Kari Matchett
The story is set on the outskirts of a Nova Scotia town.  We meet Maud Lewis (Sally Hawkins) who at the beginning of the film is in her early 30s and is trying to gain her independence but, due to a childhood disability, is finding it difficult to convince her family that she can cope on her own.
Her brother, Charles (Zachary Bennet) has royally dumped her with her Aunt Ida (Gabrielle Rose).  Whilst visiting her, and listening to her protestations of wanting to go back home and live independently, he informs her that the family home has been sold and for the foreseeable future she will have to remain with her aunt. This only serves to make Maudie more determined to find work and move out, despite being told that with her disability it will be difficult for her to find employment.
From the start, her strong-willed determination to succeed is obvious.  One day, whilst visiting the grocery store, she sees an ad for a housekeeper, posted by Everett Lewis (Ethan Hawke) which she promptly steals in order that no-one else will apply for the position.  This is her chance to make something of herself.
However, it becomes clear that she may have bitten off more than she can chew.  That said, there is no accounting for pride and determination, which she has in spades.
Everett is a man of few words, a brusque and no-nonsense type of man who wants a woman to look after his needs – namely keeping his small, ramshackle one room hut clean and tidy and a cooked meal when he arrives home from his work as a fish peddlar.  She is treated as little more than a slave, but this would appear more to do with his ignorance in relation to women, than his need to dominate.  A woman's place, after all, is in the home, looking after a man's needs – or so the saying goes …  Sex doesn't immediately rear its head and when it does, she is holding all the cards.
She soon becomes bored and in between her household chores she decides to revisit her one enjoyment in life – her painting.  She finds some household paint and starts to paint her colourful motifs of flowers on the dour walls.  Everett doesn't appreciate her efforts to make his shack more colourful and homely, but resists making too much of an argument against her efforts.  Soon the entire interior is covered.
One day, a woman from New York, Sandra (Kari Matchett) comes knocking on her door, wanting to see more of Maudie's paintings which are exhibited in her windows – more for decoration than anything else.  She offers to pay her and also wants to commission a painting from her.  This leads to her becoming a reasonably well known artist and it was alleged that Richard Nixon, Vice President, at the time, also wanted one of her paintings.
The film is directed by Aysling Walsh who gave us 'Song for a Raggy Boy' 2003, a beautiful film set in a Catholic boys' school just before the start of World War II.  The script is written by Sherry White and is inspired by the life of Maud Lewis (1903-1970) who was a self-taught artist who appears to have suffered from juvenile rheumatoid arthritis. The film dwells on the trials and tribulations of the pair – mainly due to poverty, ignorance (for his part), differing temperaments, disability, together with the harsh location and the isolation.
The two leading performances are stunning and I cannot imagine a more perfect pairing.  Sally Hawkins' technical skill is admirable and she totally owns the role.  Her knowing half-smiles, when she uses her feminine wiles to get what she wants, without Everett cottoning on that he has played straight into her hands; her voice range; the crooked limp, culminating in her contracted and twisted spine when she can all but manage to hold her paint brushes in her bent and gnarled fingers.  She lives and breathes Maud.
This is definitely Sally Hawkins pièce de resistance.  I do hope there will be a few 'nods' for her – perhaps a Bafta – all dependent, of course, on what the upcoming season has to offer with regard to Leading Actress roles.
Ethan Hawke's performance is just as mesmerising. His gait, his monosyllabic conversations with her and everyone else he meets and his sexual fumblings.  He is a man of very few words, as though on a budget and any words over and above his allotted number, would cost him dear.  The element of surprise when he momentarily loses control.  All finely nuanced.  He too deserves nominations, at least.
The cinematography (Guy Godfree) is stunning and the colours used are muted and serve to highlight the time and location.
The final credits throw no light on the fact that this is a true story – there is a photo of the real 'Maudie' and Everett, but no accompanying narrative.  Shame, since I am sure the audience would like to have learnt more about the strange coupling.  What is obvious, however, is the fact that neither actor resembles the 'originals'.
The film has left me fascinated by this woman who, against all odds, made her way in life and became a success.  I love her work – the beautiful, colourful naive paintings, so childlike, yet also inspiring.  My favourite is the painting shown at the end of the credits of the three black cats, with big, round yellow eyes – resembling a triptych (but on one panel) of my gorgeous Cocoa.
Twitch Factor:  Sub, Sub, Sub Zero