OVER THE GARDEN WALL
Cartoon Network's first animated mini-series will premiere over five consecutive nights beginning on Monday, 6 April at 6:00 pm.
Cast: Elijah Wood (Lord of the Rings Trilogy), Melanie Lynskey (Two and a Half Men) and Collin Dean (The War At Home)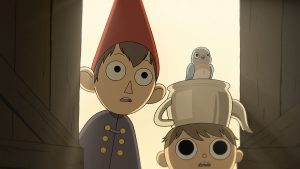 And so I found myself one Saturday morning, surrounded by throngs of children (and their parents) at the gorgeous Ham Yard Hotel.  This was my first foray into the hotel and coupled with the chance to watch some fine animation, I was not going to turn down this invitation, no siree!  Also, the invite mentioned all sorts of delicious morsels would be available, even better ….
This ten episode mystery adventure, created by Patrick McHale (Adventure Time) is produced by Cartoon Network Studios.
Over the Garden Wall is the story of two brothers, Wirt (voiced by Elijah Wood) and Greg (voiced by Collin Dean), who find themselves lost in the Unknown; a strange forest adrift in time. With the help of a wise old Woodsman (voiced by Christopher Lloyd) and a foul-tempered bluebird named Beatrice (voiced by Melanie Lynskey), Wirt and Greg must travel across this strange land in hope of finding their way home. At the heart of Over the Garden Wall are two brothers who are looking for direction in different ways. Wirt gets lost in his own thoughts, while Greg gets lost in the wonder and fun of the world around him.
The visually stunning series offers a soft and nostalgic storybook feeling, inspired by folk art, classical illustrations and features a soundtrack full of Americana-influenced original songs. The ten-part miniseries includes guest voices from film, television, theatre and music including John Cleese, Tim Curry, Chris Isaak, Bebe Neuwirth, Shannyn Sossamon, Jack Jones, Samuel Ramey, and Deborah Voight, among others.
Watch out for the singing frogs!
Twitch Factor:  Zero
MOMMY
Diane Després is a widowed mother who is overwhelmed by the difficulty of raising her troubled, sometimes violent son Steve as a single parent. She then begins to receive assistance and support from her mysterious new neighbour, Kyla.
2015/Canada/Metrodome/139mins/Drama
Release Date: 20/03/2015
Director: Xavier Dolan
Cast:  Anne Dorval, Suzanne Clément, Antoine-Olivier Pilon, Patrick Huard, Alexandre Goyette, Michèle Lituac, Viviane Pascal, Natalie Hamel-Roy
The film centres on three main characters: mother (Anne Dorval), son (Antonie-Olivier Pilon) and the mysterious new neighbour, Kyla (Suzanne Clément).
There is a constant battle of wits between an ADHD afflicted teenager, Steve and his mother, Diane Després who is sassy and brassy in equal measure.  Having been expelled from an institution after setting fire to the cafeteria, his mother decides to home school him.  Diane makes the acquaintance of her reclusive neighbour, Kyla (Suzanne Clément) and when she finds out that she is a teacher 'on sabbatical' she asks her if she would be willing to home school him.  Kyla having previously seen Steve 'in action' struggles to say 'yes'.  However, Steve is ecstatic when she agrees to teach him and as their relationship progresses, he in turn becomes more willing to learn.  The three of them form an unlikely 'family unit' each differently outcast from society.
If you can get past the awful jarring on the ears of the Québécois French, you are in for a treat in terms of excellence. It is funny, heartbreaking and an original work right down to the narrowly proportioned frame (1:1 aspect ratio) which means it sits quite happily as a ' small square' within an oblong screen.  At first this can be quite disconcerting but as the film progresses it ceases to distract.  However, the scope widens at key moments during the film emulating (metaphorically) whatever is being portrayed on screen.
There is much screaming and shouting in this film but the performances always remain beautifully controlled which contrast with the explosive energy emanating from Pilon.
Amazing performances from the three lead actors and whilst it is the loud and vociferous antics of Pilon and Dorval who gain your attention, it is Clément with her stuttering awkwardness mixed with 'something not quite right' whom you want to learn more about.  Unfortunately, you are never told why she has taken a 'sabbatical' (apart from the fact that she may have had a breakdown of sorts) and has moved from the big city to a small town.  I wanted the film to delve a little further into her background since there was obviously an 'air of mystery' pervading her character.
The film is devastating whilst simultaneously being life affirming. A lesson in 'no matter what life throws at you, never give up'.
Once again, a lively soundtrack including Dido, Celine Dion and Oasis, Lana del Ray, Ellie Goulding and an ear-shattering karaoke rendition of Andrea Boccelli's, 'Vivo per Lei'!
Twitch Factor:  Sub, Sub Zero
X+Y
This is a British film to relish and is a compassionate drama about a socially awkward but gifted teenage genius, Nathan, (Asa Butterfield) who goes to Taiwan when he lands a place on the British squad at the International Mathematical Olympiad. Under the guidance of a fellow
2014/UK/111mins/KochMedia/Comedy/Drama
Release Date: 13/03/2015
Director: Morgan Matthews
Cast: Asa Butterfield, Rafe Spall, Sally Hawkins, Eddie Marsan
It seems that the film world's interest in Maths is not prepared to wane, just yet.  We have had The Imitation Game and The Theory of Everything and now we have X+Y.  This is a British film to relish. 
Sally Hawkins plays a bereaved mother to autistic Nathan (Asa Butterfield), a teenager also traumatised by the car crash that killed his father. (Even in flashback this is quite a heart-wrenching and shocking scene). We are never quite sure whether it is his father's death or his autism which is the cause of his psycho-emotional condition.  Rafe Spall, (son of Timothy), is the cynical and grumpy Maths teacher who has early-stage MS and coaches Nathan for the International Mathematical Olympiad whilst managing, along the way, to form a romantic attachment to Nathan's mother. Eddie Marsan pops up as the minder who escorts all the young hopefuls to the Taipei play-offs and then onto the Cambridge finals.
Cinematographer, Danny Cohen uses Nathan's obsession with patterns as a point of reference for his clever photography; rows of desks in a vast exam room, rows of little box-houses in suburbia.
Since first seeing Asa Butterfield in 'The Boy in the Striped Pyjamas' (2008) – with those vivid blue eyes and natural acting talent – I have only seen him in Scorsese's Hugo (2010) in which I believe his talent was wasted.  This brings him back onto our screens as a rising talent and he will go far.  His performance is brilliantly convincing and finely nuanced – never overacted.  The performances are absolutely lovely: Rafe Spall is on form as the cynical yet inspiring Maths teacher, Mr Humphreys who is suffering from MS; Sally Hawkins is brilliant, as usual, as the bereaved mother whose pain at not being able to communicate with her son can be seen behind forced smiles and worried eyes.  One of my favourite British actors, Eddie Marsan is fabulous as Team UK's ultra-competitive leader.
The Director, Morgan Matthews, has drawn from his Bafta-nominated documentary Beautiful Young Minds for insight into Nathan's place on the spectrum of autism. The result is a funny, charming and ultimately uplifting film.
Twitch Factor:  Sub Zero
WHILE WE'RE YOUNG
A middle-aged couple's career and marriage are overturned when a disarming young couple enters their lives.
   2015/UK/ICON/97mins/Comedy/Drama
 Release Date: 03/04/2015
 Director: Noah Baumbach
 Cast:  Amanda Seyfried, Naomi Watts, Ben Stiller
 Ageing hipsters, documentary filmmaker (Ben Stiller) and his wife  (Naomi Watts) find their lives loosened up after befriending a pair of  free-spirited younger hipsters (Adam Driver and Amanda Seyfried).
 This is a truly original comedy which highlights our hopes, dreams and  ambitions which ebb and flow over the years.  It makes you dwell on aging, your own life experiences and disappointments, all of which are reflected in the characters on the screen.  This is not a film about eternal youth but rather about coming to terms with the aging process.  We have lived and loved and hopefully (for the most part) have come out at the other end, older and wiser.  The script is sharp and very accurate about the way we live now.  It is also keenly observed .. "It's like their apartment is full of everything we once threw out, but it looks so good the way they have it."…
The casting is razor sharp, this is Ben Stiller's second film with Baumbach having starred in Greenberg (2010) and also Adam Driver's second film with the director (Frances Ha).  Amanda Seyfried's role was apparently written for Greta Gerwig (Baumbach's partner) and her performance peaks with a priceless impression of Mia Farrow in Rosemary's Baby, and it is a shame she doesn't get more to do.  Naomi Watts performance is on form and for me culminates with a very credible hip hop performance! Beastie Boy, Adam Horovitz plays a stay-at-home dad who, along with his wife, is forever encouraging Josh and Cornelia to have children.
Twitch Factor:  Sub, Sub Zero
THE TALE OF THE PRINCESS KAGUYA
The Tale of the Princess Kaguya is an adaptation of a 10th Century legend in which a bamboo woodcutter discovers a tiny baby girl in a shining stalk of bamboo. 'Princess' as the woodcutter and his wife decide to name her, leads an idyllic life until her father finds a cache of gold, gems and precious silks riches hidden in the same forest (where she was found) and which he believes are her celestial dowry. The tiny girl grows rapidly into an exquisite young girl.  She enthrals all those whom she encounters but ultimately she must confront her fate ……..
2013/Japan/137mins/STUDIOCANAL/Animation/Drama/Fantasy
Release Date: 20/03/2015
Director: Isao Takahata
Cast: Aki Asakura, Kengo Kora, Takeo Chii, Nobuko Miyamoto
Spirited Away (2001) was Studio Ghibli's most notable film having won an Oscar for Best Animated Picture in 2003 and was the highest grossing animé film made in Japan, grossing over $274 million worldwide. 'Princess Kaguya' was nominated for an Oscar for Best Animated Picture in 2015 but sadly failed to win.
This film is a visual treat – beautifully shot with delicate Japanese artwork in charcoal lines and pastel tones.  Isao Takahata's imagery is a welcome change from the stronger coloured CGI of most American animation and the classier animé we would normally expect from Studio Ghibli, the film's production house.  The score has an almost Western feel to it and should appeal to most people, whilst the songs are totally enchanting.
The final scene in which the princess meets the heavenly beings who placed her in the bamboo grove in the first place, is a gorgeous raigō-zu – a stunning tableau of the Amida Buddha and attendants descending on a cloud from the heavens that heralds a passage into the next world. It is a fantastical parade of celestial creatures who can glide through walls and turn flying arrows into flowers.
It is a joy to watch and although this took a painstaking eight years to complete, the finished product is well worth the wait.  Sadly, Ghibli has one more film left to release before (if reports of closure are to be believed), the Studio breathes its last.  Hayao Miyazaki the director of Spirited Away and the co-founder of this studio, announced his retirement last year, at 73, and now, at 79, Takahata's time has come to do the same …
Unless you are specifically allergic to 'subtitles', I urge you to watch this in the original language since to watch it 'anglicized' would be a great miscarriage of justice!  There is something vaguely disturbing watching an overtly Japanese film with American voices rattling in the background. At the very least they could use Japanese actors voicing the characters – this would lend some semblance of reality. The English-language version is voiced by Chloë Grace Moretz, James Caan, Mary Steenbergen, Lucy Liu and Beau Bridges to mention but a few household names.  Don't get me wrong, I greatly admire the aforementioned actors, but I don't want to hear their voices appended to a Japanese film!
Twitch Factor:  Sub, Sub Zero