THE ABSENT ONE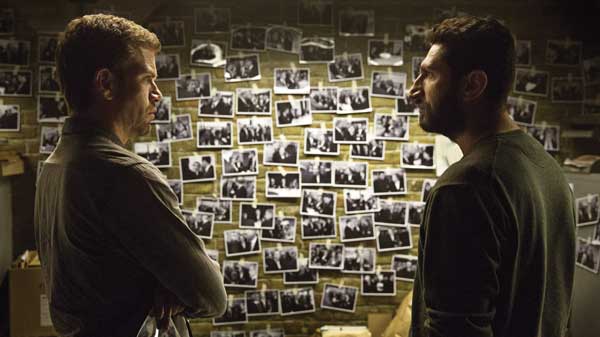 A troubling affair involving the murder of twin siblings is reopened by the Copenhagen 'Cold-Case' division after the children's father commits suicide.
2014/Denmark-Germany-Sweden/Picturehouse Entertainment/119 mins/Crime-Thriller
Release Date: 08/04/2016
Director: Mikkel Nørgaard
Cast: Carl Mørck Fares Fares, Pilou Asbæk
From Borgen director Mikkel Nørgaard comes The Absent One, which is a follow up to The Keeper of Lost Causes (2013) a Danish crime thriller adapted from a novel by Jussi Adler-Olsen.
The film centres on an investigation into a forgotten double homicide of a twin brother and sister in a country cottage back in 1994.  At the time, a number of clues point in the direction of a group of young entitled students from a nearby boarding school.  The case is closed, however, when a local junkie pleads guilty to the murders and is subsequently convicted.
20 years later, the father of the murdered children (an ex-Policeman) confronts the lead detective of Department Q, Carl Mørck (Nikolaj Lie Kaas), and begs him to reopen the case, since he believes the killer(s) to be still at large.  Only when the father commits suicide, does he decide to delve deeper.
Together with his partner, Assad (Fares Fares) and with more than a little help from their new office recruit, Rose (Johanne Louise Schmidt), they go through the old files which the father left behind.  They find a recording of a call made to emergency services on the night of the murders, from a desperate young girl who appears to know what has happened, but disconnects prior to finishing the call.
A story begins to unfold and is told in flashback of a rebellious young student, Kimmie ((Sarah-Sofie Boussnina) who finds herself in a fancy boarding school, bored out of her mind.  She makes no friends, but eventually finds herself drawn to the 'bad boy' of the school Ditlev (Marco Ilsø).
Fast forward to the present day, and Ditlev is now a very rich tycoon (played as an adult by Pilou Asbæk).  Meanwhile, Kimmie has not been seen since the murders and the detectives are not the only ones trying to track her down as she poses a threat to a group of highly influential men at the top of society.
I loved this film and although it feels more like a stylish Danish/Swedish television drama rather than a feature film, this does not detract from the fact that it is very good and will keep you enthralled right up to the 'over-the-top ending.  It is expertly paced and well played with excellent performances all round.
There is something to be said about 'good cop'/'bad cop' combos – as long as they have chemistry. Kaas embodies Carl's broody, tough cop persona, whilst Fares, as his sidekick, Assad, is amiable and much more relaxed. They complemented each other so well, that I wanted to know more about their characters and I will definitely watch the first film (The Keeper of Lost Causes) which hopefully will give me more of an insight into the unlikely duo.
I could find no fault with the direction, Mikkel Nørgaard and the adaptation has been well scripted by Nikolaj Arcel, together with, Rasmus Heisterberg.   
I understand a third film is being directed by Norwegian, Hans Petter Moland, and is due to start filming this month.
The digital release will be available on iTunes on 6 June.
Twitch Factor:  Sub, Sub Zero
=========================================================================================
EYE IN THE SKY
A proposed UK drone strike against Al Shabaab militants is complicated when a young girl enters the kill zone.
2016/UK/Entertainment One/102mins/Drama
Release Date: 15/04/2016
Director: Gavin Hood
Cast: Helen Mirren, Aaron Paul, Alan Rickman, Barkhad Abdi
The film opens in Nairobi where a young girl (Alia) is playing in her backyard with a hula hoop.  There are intermittent shots throughout the film with similar aerial shots, seemingly taken from airborne surveillance cameras with the words, 'not for targeting' appearing in the lower left of the frame.
Fast forward from Nairobi, to London and Nevada and beyond as the key players, Katherine Powell (Helen Mirren) a politically pragmatic British Colonel, whose mission is to "capture, not kill"; Lt General Frank Benson (Alan Rickman) and various Ministers and Politicians convene over the airwaves, in a joint anti-terror operation.
A battle of wills ensues (as well as 'buck-passing) when it becomes apparent that not only are there moral and legal implications if a missile attack is launched in a "friendly country that is not at war", but there will be also collateral damage – an innocent young girl's life against the prospect of imminent multiple terrorist deaths.
This is the central moral dilemma which they all face and no-one is willing to give the final 'go ahead'.
Gavin Hood (Director) manages to produce a delicate balance of nail-biting drama with a generous portion of satire which doesn't detract (nor is it meant to) from the drama unfolding on screen.  The film doesn't take sides, but does throw up moral questions.  Watch out for Hood who also plays Lt. Colonel Ed Walsh.
The script is dialogue-heavy and very well written by Guy Hibbert.
This is Alan Rickman's 'grand finale' and he is at his 'acerbic' and disdainful best. He has 'departed' on a high and he would have been proud of the end result.
I haven't seen Barkhad Abdi (Jama Fara) since his credible performance as the lead hijacker in Paul Greengrass's, Captain Phillips, which earned him a well-deserved Bafta, together with an Oscar and Golden Globe nomination.  His performance here is understated and convincing as the lynchpin caught in the middle of the moral dilemma.
A provocatively tense thriller which will have you holding your breath and clenching your buttocks!
Twitch Factor:  Sub, Sub Zero
=========================================================================================
MA MA
A story about a 'happy go lucky' woman (Magda) whose positivity is suddenly stretched to the limits.
2016/Spain-France/Metrodome/111mins/Drama
Release Date: 24/06/2016
Director:  Julio Medem
Cast:  Penelope Cruz, Luis Tosar, Asier Etxeandia
Magda (Penelope Cruz) has been diagnosed with breast cancer and is told by her gynaecologist, Julian (Asier Etxeandia) that she will need chemotherapy, followed by a mastectomy. With this news running around in her head, she heads off to a football game in which her son, Dani (Teo Planell) is playing and winning.  A talent scout, Arturo (Luis Tosar) who is also watching the game notices her son's burgeoning talent.  Whilst engaging him in conversation, Arturo tells her that he is looking to enrol young players in the junior leagues that could lead to a professional career. As this news bring some welcome relief to her life, Arturo gets a call that his wife and daughter have been involved in a car accident and his daughter has subsequently died.
Magda takes the distraught man to the hospital and continues to visit him at his wife's bedside in between her subsequent chemo therapy treatments.  Meanwhile she is keeping her health problems to herself, not even confiding in her ex-husband, Raul (Alex Brendemuhl), an academic who has abandoned the family for an affair with a student.
Arturo and Magda' relationship deepens as they become more dependent on each other during their individual ordeals, and even more so when Arturo is widowed.
After recovering from her mastectomy, Magda, Arturo and Dani settle into their domestic alliance.
Julio Medem's film is, for the most part, a 'smile-struggling-through-tears' concoction which is well handled.  However, at some point, it turns into a mediocre 'mish mash' – maudlin, full of tear-jerking moments and it doesn't know whether to laugh or cry at itself.
This has the appearance of a 'vanity project' which does not bode too well for Penelope Cruz, who also produced the film, along with Julio Medem and Alvaro Longoria.  She is a magnificent actress and I have been a fan since seeing her in Jamon Jamon (1992, but this film is very lightweight and you end up wishing she would just die and get it over and done with.  I do not mean to sound offensive, since the subject matter is serious and not to be made light of, but this film appears to be a little confused – it doesn't know whether to be serious or humorous.  There is nothing wrong in having a positive outlook – especially when given life threatening news – but when you add into the mix, a 'singing gynaecologist' with puppy dog eyes who appears to have only one patient to look after – namely Magda, would you put your trust or, in this case, boobs, in their hands?
Having said, all this, I wouldn't completely dismiss the film, since all the actors work extremely well together – it's just a pity that it suddenly loses the plot ….  It also serves to remind you that whatever life throws at you, trying to remain positive should always remain in the forefront of your mind – something easier said, than done.
Twitch Factor:  Zero
=========================================================================================
FLORENCE FOSTER JENKINS
The true story of Florence Foster Jenkins, the legendary New York heiress and socialite who obsessively pursued her dream of becoming a great singer.
2016/UK/Pathé/105mins/Biography-Comedy-Drama
Release Date: 06/05/2016
Director: Stephen Frears
Cast: Meryl Streep, Hugh Grant, Simon Helberg, Rebecca Ferguson
The film is set in 1940s New York.  Florence Foster Jenkins (Meryl Streep) is a Philanthropist and amateur Soprano (with a penchant for sandwiches and Potato Salad) who just happens to be tone deaf!  However, her love of music is entirely genuine – rather than simply being led by an over abundant ego and this appears to be the one factor keeping her alive.
At 18 years of age she contracts syphilis from her first husband, Dr Frank Thornton Jenkins, and it is an upward struggle from thereon, to battle against the debilitating life-long symptoms, albeit that she lives way beyond her life expectancy.
Her doting second husband, St Clair Bayfield (Hugh Grant) tries hard to keep her detractors at bay and simply resorts to paying-off people to keep quiet which includes theatre critics and maestros, as well as her accompanist, Cosmé McMoon (Simon Helberg).  Despite the critical onslaught, she remains adamant that she will achieve her ambition to 'sing' in public at Carnegie Hall.
I first became 'acquainted' with Florence in the London stage production of Glorious!, with Maureen Lipman playing the lead. Prior to that, I had never even heard of her.  I fell in love with the woman, simply because she was so utterly oblivious to her lack of talent, but still wanted to pursue her passion – to sing in public.
Stephen Frears' film is charming and entertaining, with a dash of sentimentality.  That said, to his credit, Frears never lets the story become maudlin, although this could have been quite easy to do since Florence cut a somewhat tragic figure, being ridiculed and jeered at by all and sundry, but still soldiering on and appearing oblivious to it all.
Meryl Streep, as usual, gets 'stuck-in' and plays her role with great gusto and flounces around in her eccentric, 'girly' clothes and even more grandiose costumes.  Her vocal chords must have been stretched to their limit, since it is much harder to sing 'off-key' and we all know that Streep can carry a song or two…
Hugh Grant gives a genuinely touching performance as her husband, St Clair Bayfield, a failed Shakespearian 'actor'. His range of emotions show affection, tenderness and stalwartness and are absent of any cynicism.
Simon Helberg as Cosmé McMoon, her 'long-suffering' (in silence) accompanying pianist, is a delight to watch.   He doesn't need to speak, his repertoire of facial expressions knows no bounds and kept me amused throughout!
The script written by Nicholas Martin is articulate and very well written.
Consolata Boyle's fabulous and hysterical, over-the-top stage costumes embody Florence's own creations and add even more character to the eccentric persona.
It is so easy to ridicule an obvious lack of talent – but at least she had the guts to 'follow her dream' not dissimilar to 'Eddie the Eagle'.  This appears to be the year of the underdog and perhaps we should all be learning something from these stories.  Neither Eddie nor Florence before him, sought glory, they both had a passion and wanted to live their dreams and this they certainly did;  Eddie got to take part in the Olympics and Foster Jenkins 'sang' at a sold out performance at Carnegie Hall.  How many talentless people or otherwise, can turn a fantasy into reality?
I say, good luck to all who want to achieve something in life, whether or not they have the talent, but at least they can look back on their lives and say they tried …….
As an aside, there is another film doing the rounds – Marguerite – by French film-maker Xavier Giannoli (which I haven't seen) based on Jenkins' life, but set in Paris.  She may not have reached great acclaim during her lifetime, but she has certainly gone down in the history books and now it seems that everyone wants a piece of her.
Twitch Factor:  Sub, Sub Zero